31st July, it was an awesome day for all of us where by we are the first in Malaysia to test drive in the All New Honda FREED with Paul Tan. Test drive themed as "4 Seater + IDEAS". Thanks to Honda Malaysia, all of the 32 Advertlets bloggers are very excited about this event.
Photos will load a bit slow. Pls be patient. It's worth the wait :)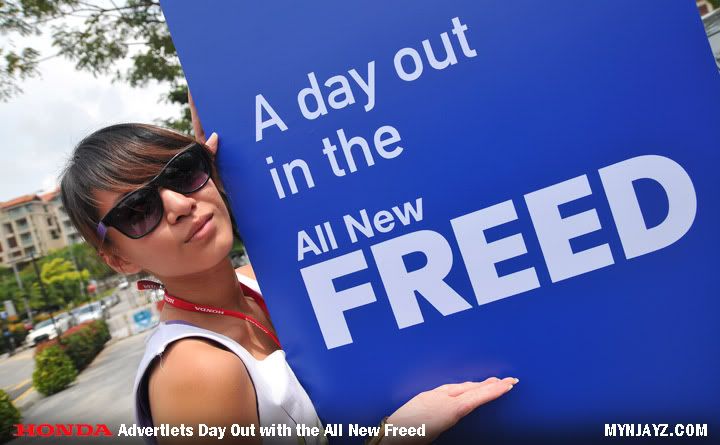 Let's start off which our very own Lifestyle/Fashion blogger, Hanie Hidayah from
http://haniehidayah.com
posing for the All New Honda Freed banner!
The All New Honda Freed is an interesting MPV as it is categorized under its own category - A Mini Premium MPV. This is how the Mini MPV looks like.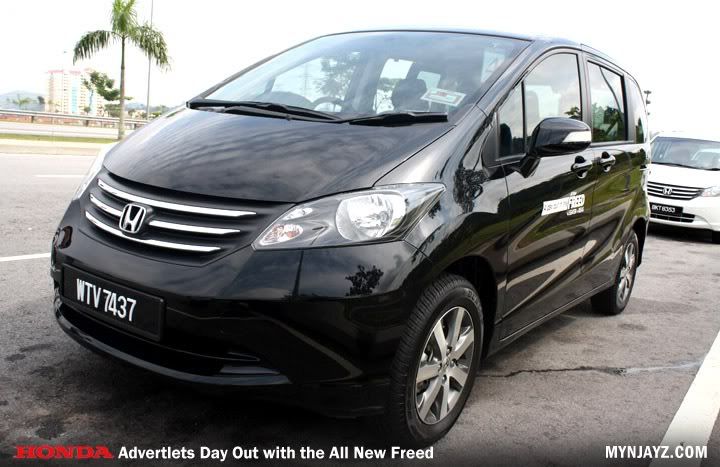 Honda Malaysia hosted a group of 32 bloggers for the test drive session. There were 8 Honda Freed allocated to the bloggers. The Special Guests whom were with us were Paul Tan and Harvinder Singh Sidhu who was with us on that day to shared their opinions, reviews and insightful tips on what to observe in the test drive.
We started our journey from Soul'ed Out in Desa Sri Hartamas to Putrajaya Waterpark and back covering a total of 80km where 4 bloggers were allocated to 1 Honda Freed. Each blogger gets to drive 20km and they were all excited and set to go!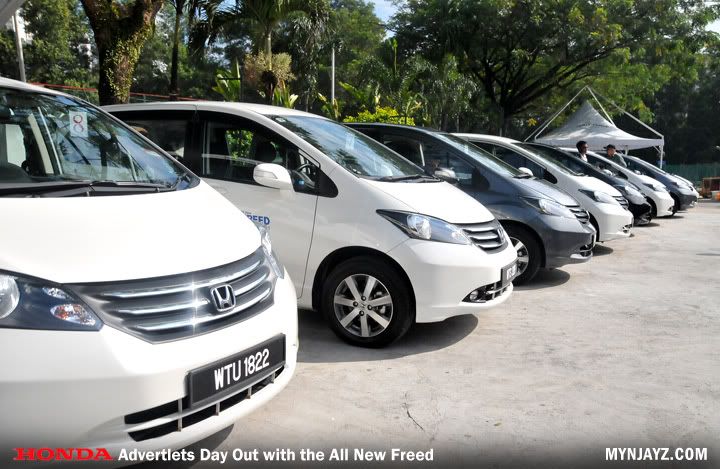 The 8 Honda Freed lined up at the parking lot outside Soul'ed Out. It comes with 3 different colours. White, Grey and Black.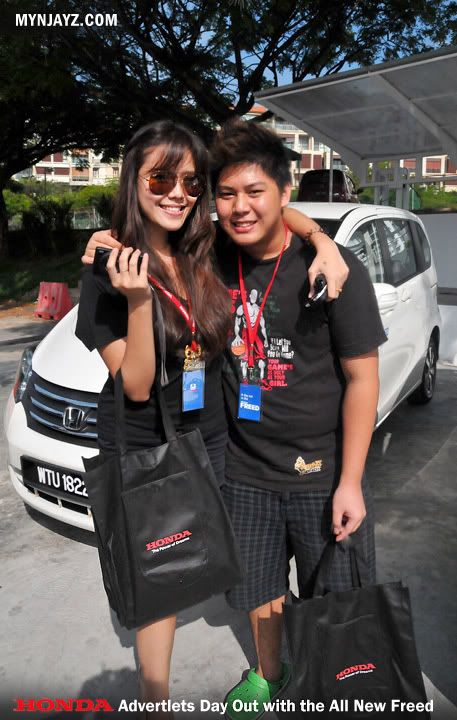 A photo with darling Esther Ng before boarding!
Hanie Hidayah, Ruzen Chung, Eric Yong and Jason Ong was in Car no 7.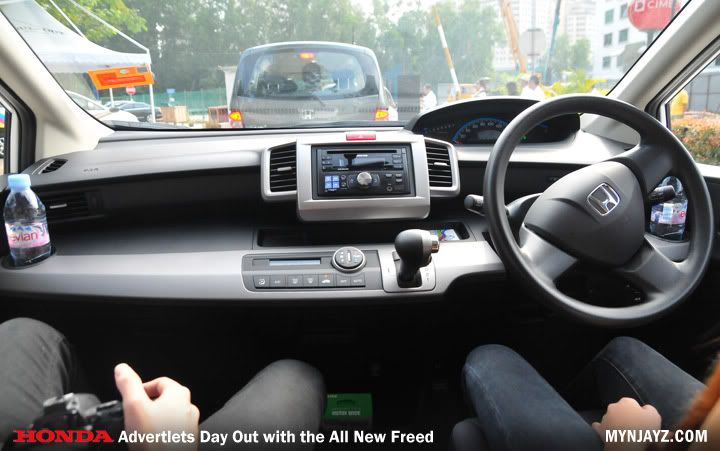 A view of the dashboard. It's very spacious with lots of space/compartments.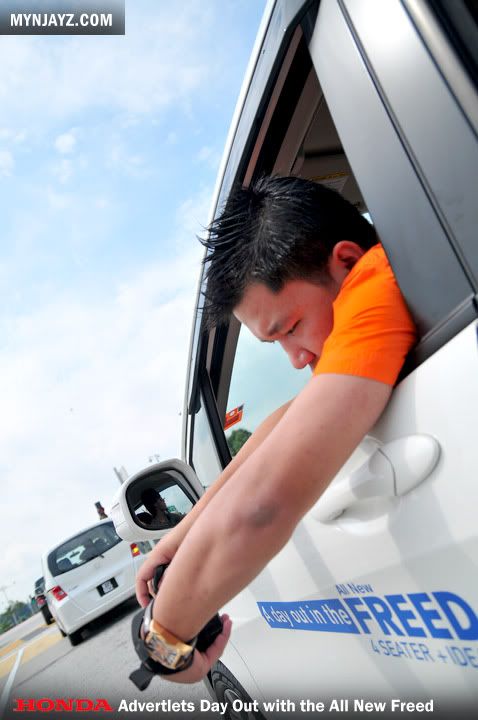 Eric Yong
having fun using the NEX-3 to take some HD videos.
Pit Stop No.1 Bloggers Ivin, Naomi, Josh and Dan Khoo.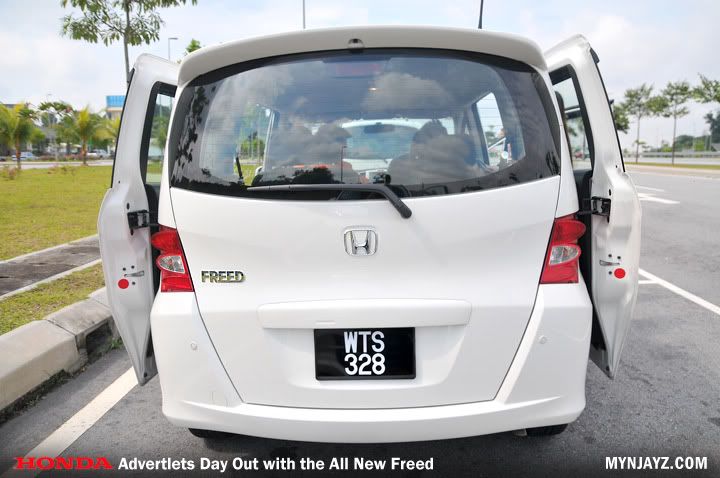 Rear View of the Honda Freed. Very stylish indeed. Spot the Dual Automatic Sliding Doors with Remote Control as most MPVs do not have. The dual automatic sliding doors are equipped with an Anti-Pinch features, thus the sliding doors will not harm you in any way possible, very safe for family with kids. Also, the alarm will ring whenever the sliding doors are not close. Very strongly explains one of it's safety features.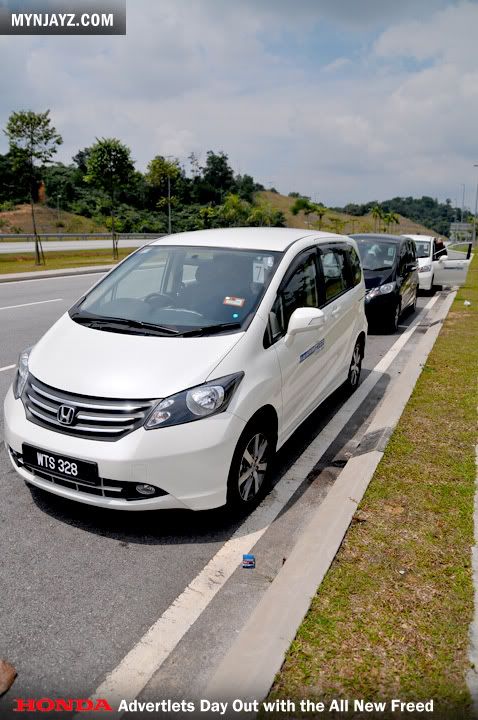 All 8 MPV's had a short break while we started to take photos using the Polaroid cameras provided for the contest!
Proposed games : "4 Seater + IDEAS"
TASK : We are assign to take 20 shots using the Polaroid cameras according to our creativity based on the theme "4 Seater + IDEAS" during the drive. We will be given a variety of props and fit in as many and as creatively possible into the car. Submit our BEST 10 shots for the contest to win prizes. Sounds interesting!
There's several categories for this contest. (3 Types for 3 categories, Total 7 prizes)
BEST Group Shot (4 members in a team)

BEST Individual Shot (3 individual winners)

Group which has the BEST fuel consumption. (4 members in a team)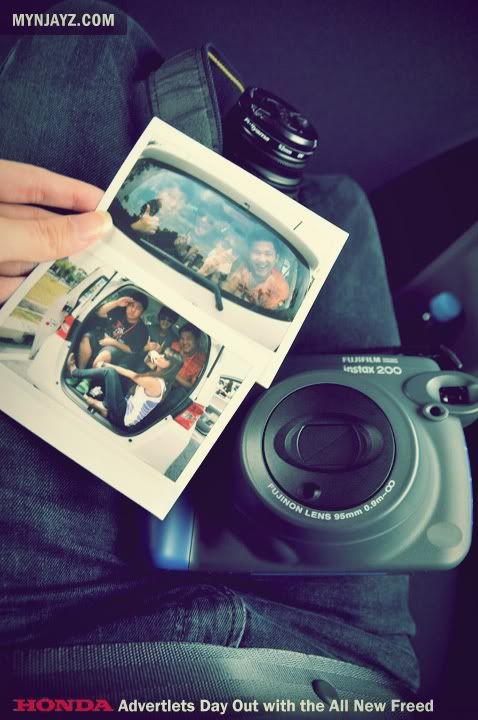 An example of the Polaroid shots. Pretty fun games involved instead of just test driving the Freed. The bloggers surely enjoyed camwhoring/ snapping photos all day long.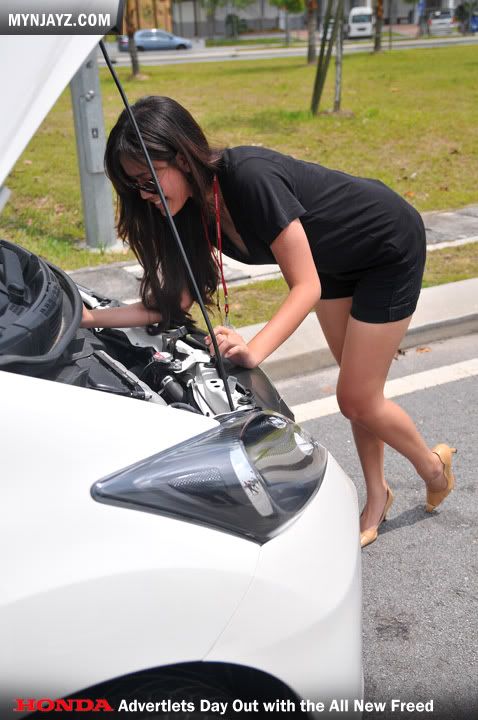 Megan Fox in the making. Our very own Esther got potential weyh!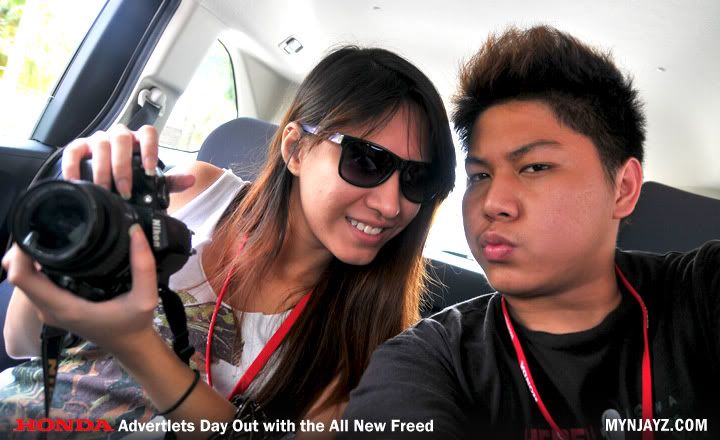 Partner in crime, Hanie Hidayah :)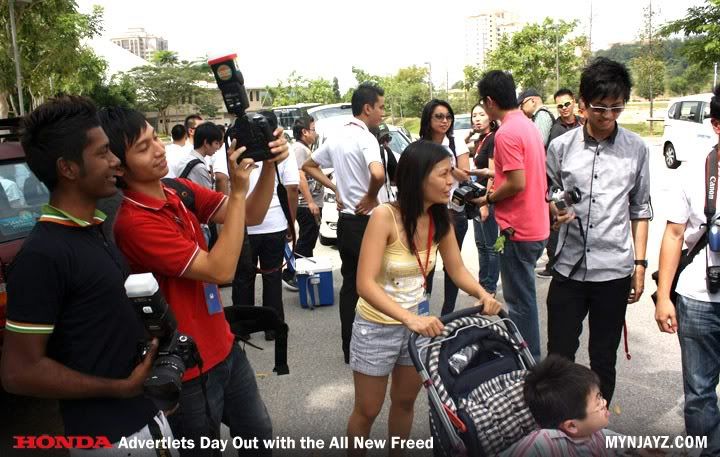 Reached destination - Putrajaya Waterpark.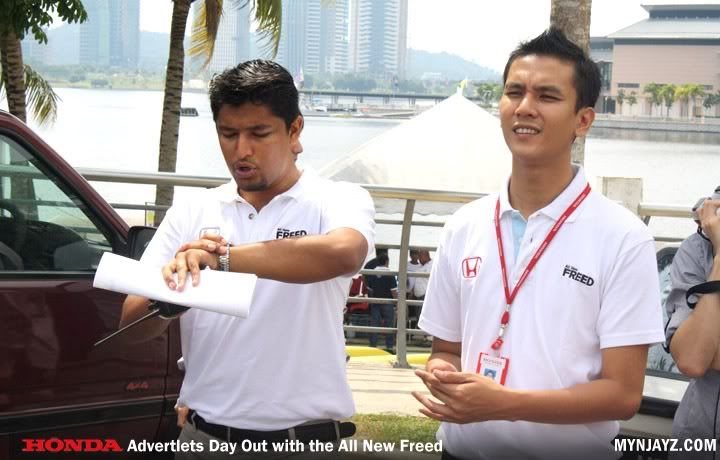 Harve Singh and Jordhatt Johan from Honda team giving the bloggers a short brief on the agenda.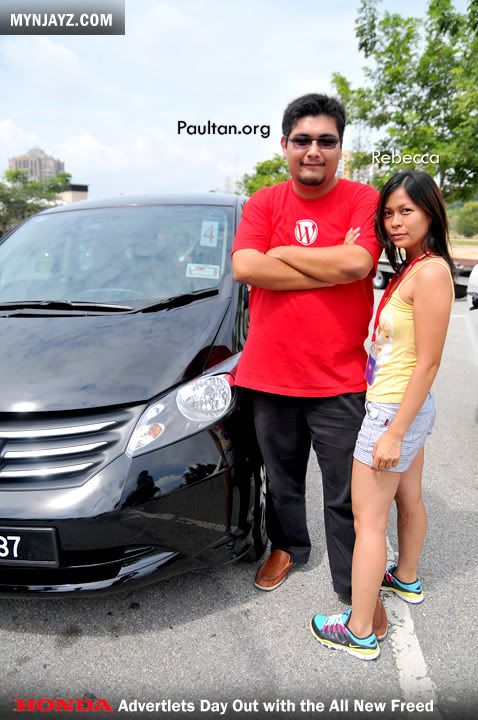 Well known automotive blogger Paultan from
http://paultan.org
and Rebecca Saw from
http://rebeccasaw.com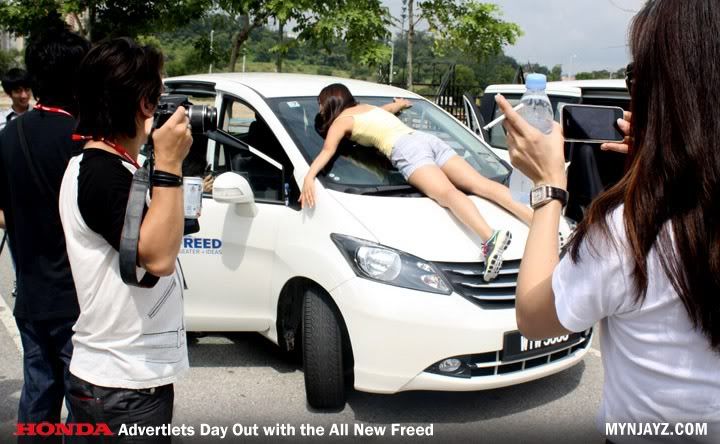 This is Rebecca Saw's winning Plaroid photo. Epic much!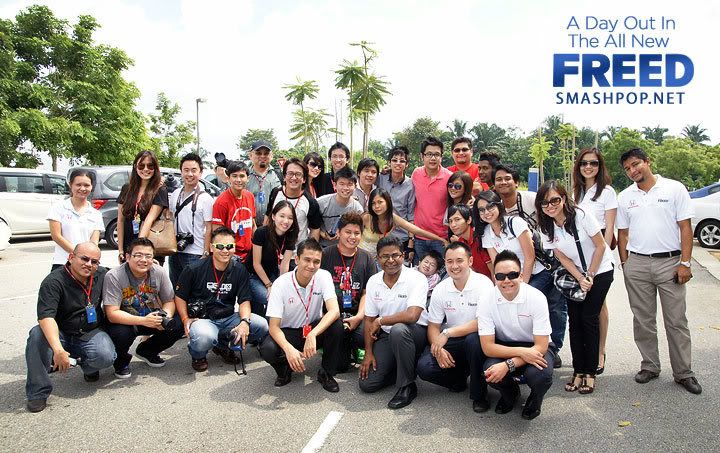 We had a group shot with the Bloggers + Honda Crews at Putrajaya Waterpark. Credits to
http://smashpop.net

Photoshoot session time. Continued our "4seaters + Ideas" Polaroid activity.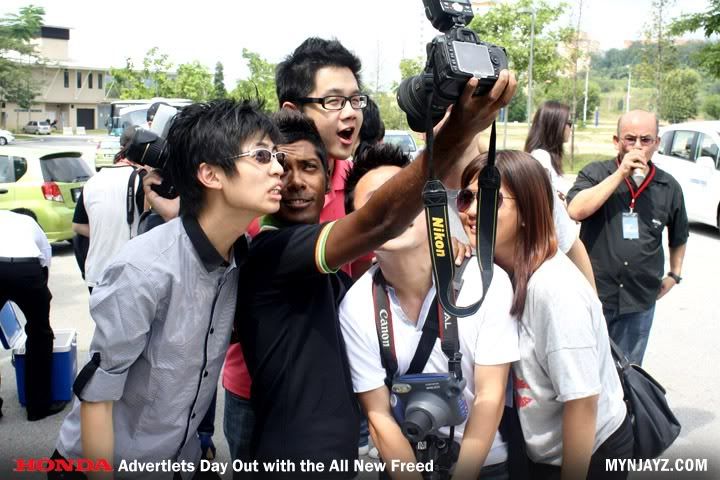 Happening bloggers camwhoring.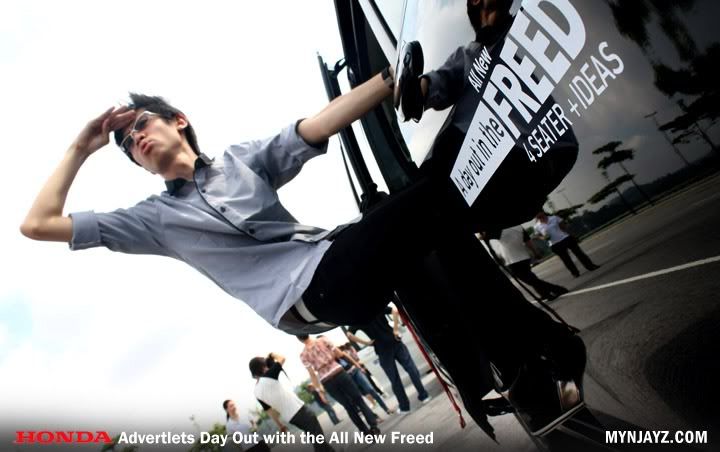 Leonard Chua from
http://leonardchua.com
Poser!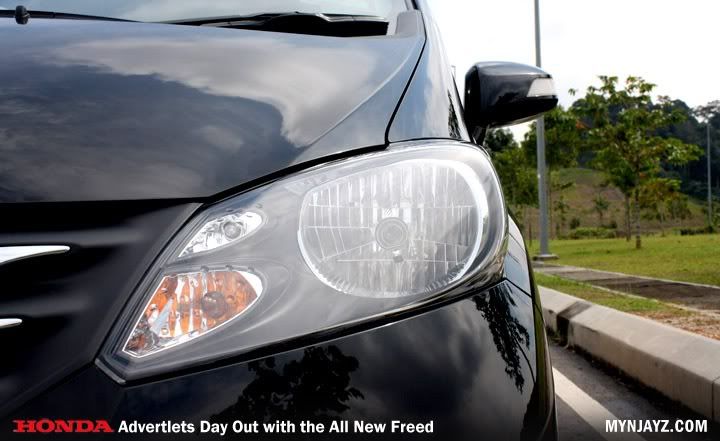 Stylish head lamp.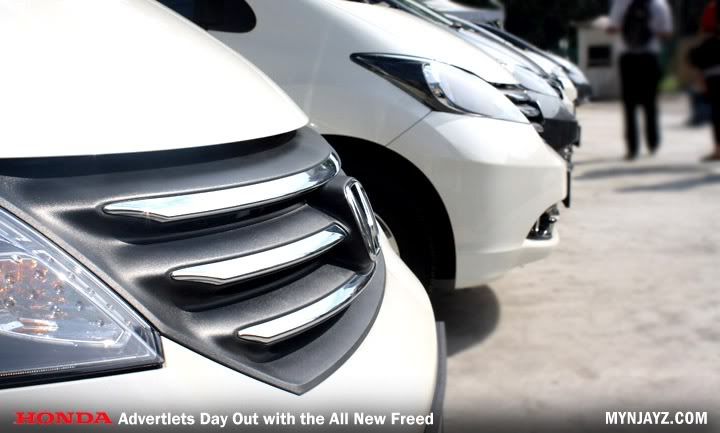 Stylish front grill.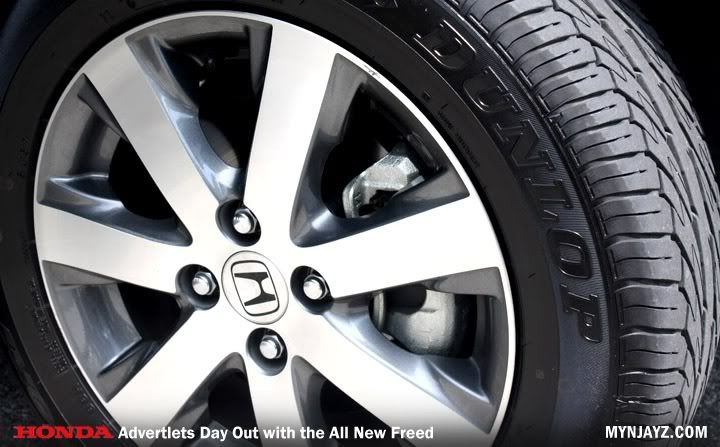 Stylish Alloy Rims.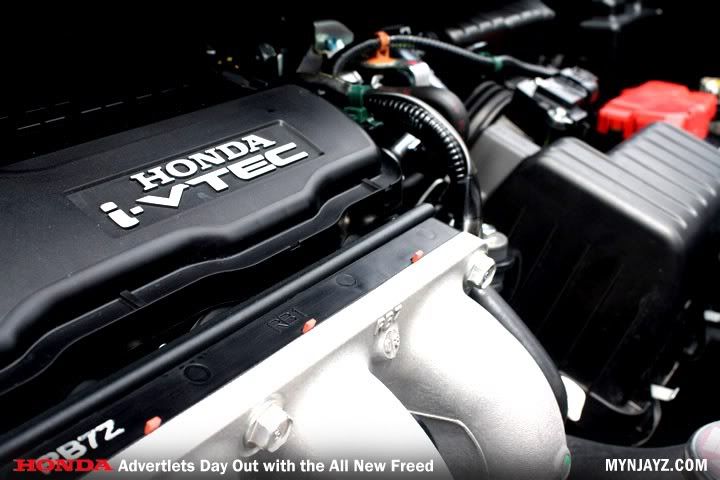 Close up view of the 1.5 Honda i-VTEC Engine that gives 118PS at 6,600rpm, 114Nm at 4,800rpm. The engine is mated with a CVT gearbox that comes with a torque converter as its startup device.
Honda Freed car specifications. Which you all need to know.
4 Seater + Style
- Automatic Dual Sliding Doors with Remote Control for easy access
- Forward Tilting Hinge Front Door to avoid accidental knocks
- Easy Access and Low Tail Gate Opening for easy loading and easy access
- One Step Low Floor with Grip Assist for elderly and handicapped easy access
4 Seater + Technology
- High Rigidity Structure for better handling and stability on the road
- Suspension System with front McPherson Strut & rear H-Shape Torsion Beam
- Small Turning Radius of 5.2m
- Active Lock-Up System
- 5 speed AT and Drive by Wire
4 Seater + Space
- Walkthrough Cabin with a 200mm walkway for easy access
- Big Cargo Capacity
- 3rd Row Foldable Seats that folds up in 3 steps easily
- Flat Roof and Flat Floor creates more head room and cabin space
4 Seater + Observation
- Tilt Steering for different driver's needs
- Multi Layer Meter Cluster display all necessary information
- Double DIN Stereo System with radio, MP3, CD Player + USB and AUX for iPod and other digital media players
- Foot Parking Brake
4 Seater + Safety
- JNCAP (Japan New Car Assessment Program) Rating at the highest of 6 Stars
- Dual Front SRS Airbags
- ABS: Anti-lock Braking System
- EBD: Electronic Brakeforce Distribution
- BA: Brake Assist
- Fuel Lid Auto Lock Safety System prevents the sliding door from opening fully when the fuel lid is open
- Shift Hold Control + Grade Logic Control
- G-Force Control (G-CON) Technology
4 Seater + Utilities
- Backrest Hook
- Glove Box
- Glove Box Card Holder
- Front Seat Back Pocket
- Illuminated Centre Tray
- Large Door Pockets
- Cup Holders – Total of 7!
4 Seater + Accessories
(Optional Items)
- Tail Gate Spoiler
- Fog Lights
- Door Visors
- Cargo Tray
- Child Seat
- GPS Navigation
For the dynamic features/engine and handling, the overall drive was not bad. None of us did gave a bad feedback on the new Honda Freed. Despite of it's size, the maneuverability of the car is quite stable. Not to say it can perform like a racing car, but it's perfectly good for a mini MPV. I would definitely rate 5 over 5 for the engine performance. Personally I felt that the car is a very fuel efficient car. Though is under power but we wont be putting 4 heavy sized people into it cause it's more on a family car. Make sense? Well, compared to a Proton im driving right now, Honda does everything better in all ways. Especially having the best feul efficient car brand in the market. Besides, it's spacious inside with a huge cargo capacity. No matter what object/what amount, the Freed is flexible enough to accommodate various modes to suit our needs. It's proven!
Also, I love how sensitive are the breaks. And with a footbreak is something rarely seen in normal saloon car drivers. Normally we see handbreak in cars. I didn't know what was that at the first place, and I was driving with the footbreak locked. Woops? But no worries, the car will constantly ring an alarm to notify drivers that the footbreak have not been pressed.
Other than that, Honda Freed is stylish on the outside as well, utilities features is sufficient, Safe city/vacation driving. Also I like the 200mm walkway for easy access walk through cabin concept where kids can walk through freely and easy. Certainly the technology is there on the New Honda Freed. Rm110K. Worth buying as well.
For more information, visit Honda Malaysia @
http://www.honda.com.my
Direct Honda Freed site @
http://www.honda.com.my/freed/overview/
These are all the bloggers Polaroid photos taken with captions. Basically the winner is judged though voting system. Bloggers are in control !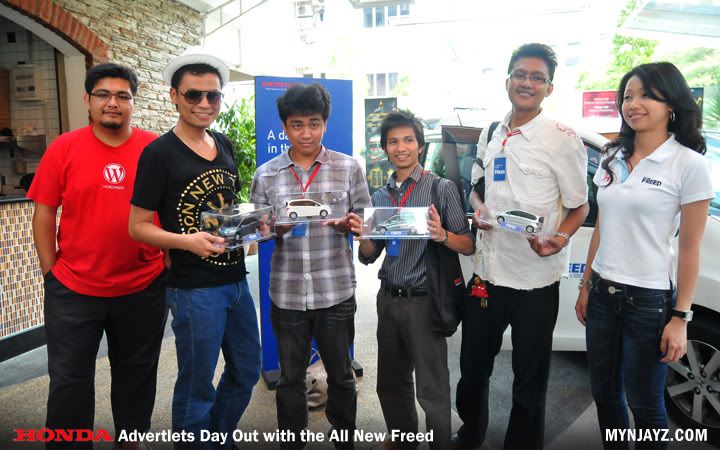 Paul Tan with winners of the Fuel Efficiency contest
(From Left) Hafiz, Hanif, Faiz, Ridzuan, accompanied by Monique Low, Head of Public Relations of Honda Malaysia. Winners won a mini Freed model from Japan each.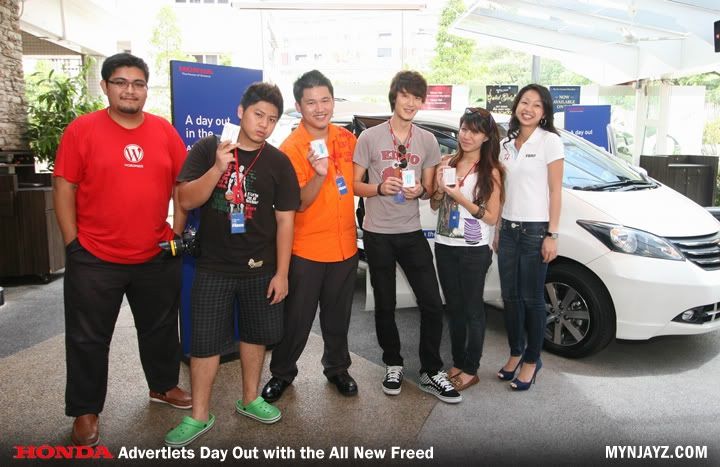 1st Runner-up of the Group Shot Contest
(From left) Paul Tan, Eric Yong, Ruzen Chung, Hanie Hidayah and Monique Low.Winners won an iPod Shuffle 4GB each.
Winners of the Best Group Shot Contest:
(From left) Lim Ee-Van's spirit, Paul Tan, Leonard Foong, Rebecca Saw and Jason Chan. Each won 500GB EX HDD !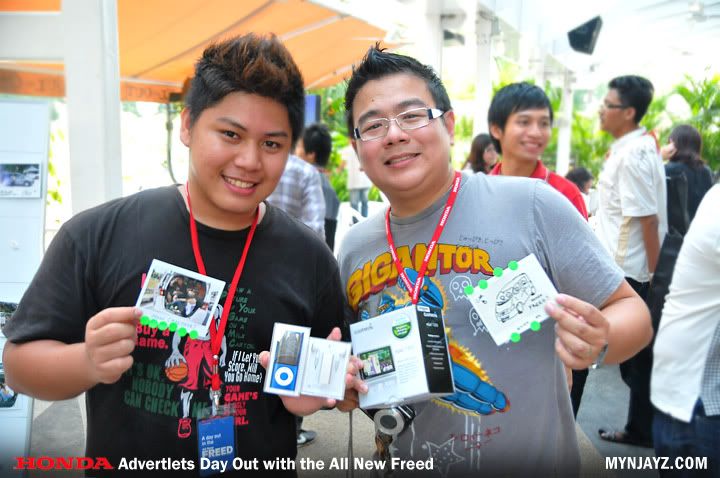 1st Runner-up & 2nd Runner up of the Individual Shot Contest: Jason Ong and Wilson Ng. iPod Nano and Garmin GPS !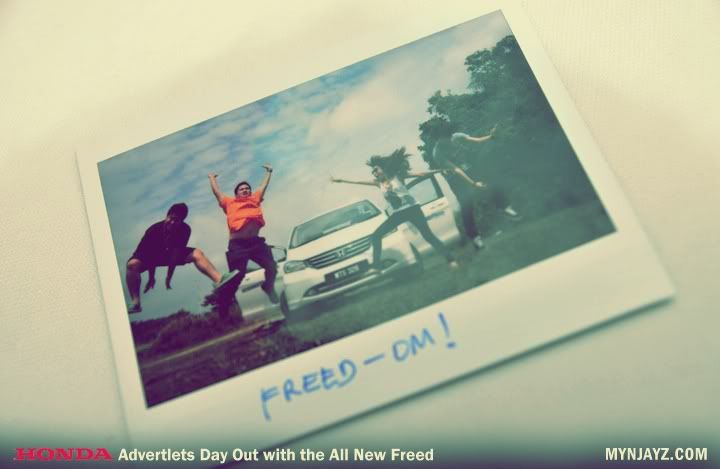 My Team winning photo! Speaks a thousand words. "FREED-OM"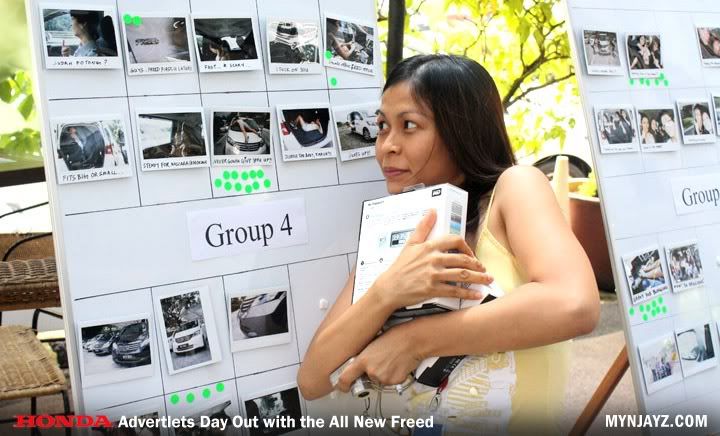 Selfish Rebecca Saw! With her winning photo.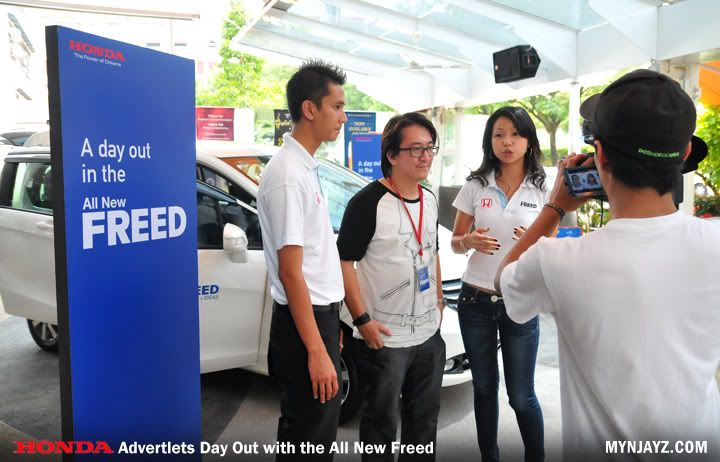 Interview session with Joshlim by a hired videographer :)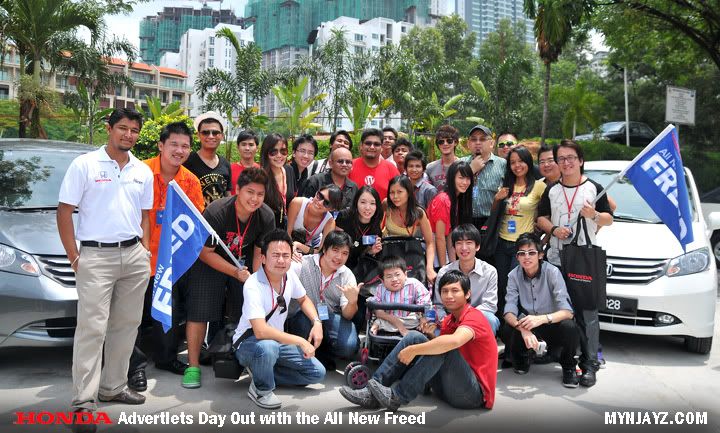 Our Final Group Shot with the Honda Freed before the event ended.
Read more exclusive coverage with full reviews from Advertlets Bloggers here:
So far there's only 5 blog updates. Will update this section when the rest of the bloggers had posted up. Click open link in new tab & check them out.
http://opstupe.blogspot.com
http://walauweiwalauwei.blogspot.com
http://theclippingpoint.blogspot.com
http://mynjayzphotos.blogspot.com
http://mynjayz.com
http://eforericyong.blogspot.com
Also, do check out a video did by myself for Advertlets Day Out in the All New Honda FREED :)
MUST WATCH!!!
cause someone's speeding!
Max speed you can go is 150km/h. Best if it's 110-120km/h. Don't go over the limit cause its a high MPV. Not a low sports car, Eric.
Anyway, it was fun to see 8 Honda Freed Convoy together! My first time yo.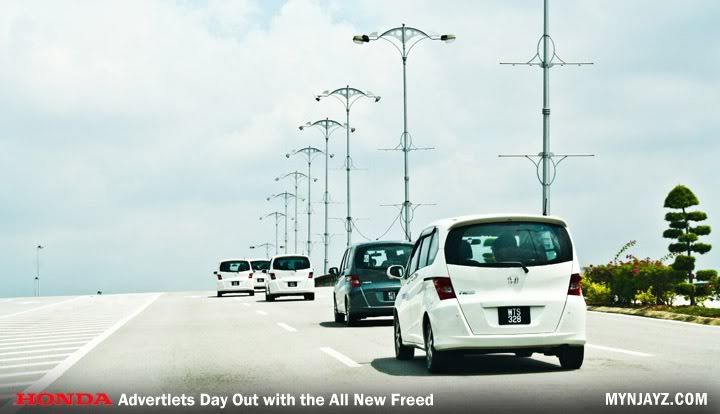 We had loads of fun at "Advertlets Day Out in the All New Honda FREED" Thanks HONDA MALAYSIA.
For those who is interested in joining us (
Advertlets.com
) in any of our events/outings/parties in the future, here's your chance to join us. Register as an Advertlets member. Please notify us and send in ur profile of personal details, blog URL and email address to jason.ong@advertlets.com with the title 'Im interested to join Advertlets.com'
Many fun events are coming soon only with Advertlets.com. Signing Off.