As you know that OSIM is Asia's number one brand in health and lifestyle products in Malaysia, Thus we are proudly to welcome you, our very own Belinda Chee, a fast rising multi talented artise, an
Advertlets
blogger appointed as the first local ambassador to the Osim uKimono in Malaysia.
She will be joining international celebrities like Taiwan well known Lin Chi Ling, Taiwanese group, S.H.E for OSIM's uKimono in Taiwan. Belinda has become the latest celebrity to join the health and lifestyle endorsement bandwagon.
If you remember my
Teaser post
regarding to this uKimono. You should check it out as well!
A week back, me and a few Advertlets bloggers friends attended the media event for this where Belinda did made an appearance to show up and promote herself to the press as the first local ambassador and also to introduce the product, uKimono.
You may wonder, how does uKimono looks like? what benefits can it gives us? Worth it buying? A lot of facts about uKimono you should know. Read on to find out more!
This is OSIM uKimono. Comes in choices of red, purple and orange colour. Anyway, we were given each a goodie bag and Spot sexy Belinda on it.
What benefits can it gives us you ask? OSIM uKimono, features the Duo+ technology which combines OSIM's signature Twin Power Osimotion with kneading massages, for an improved and effective method to get rid of flab by breaking down fatty tissue around the tummy, butt and thigh areas. Of cause, by creating a perfectly trimmed body, you need to combined it with an effective diet plan as well.
Best thing is, we could keep fit or burn our fats while we're doing our work in front of the computer. Which most working people could hardly find time to go out for an exercise or even going to gym. Why not try uKimono, it would do everything for you on the go while you are in a stationary position. Anywhere, Anytime you desire. Bare in mind, I'm a working man, I don't really have a fit body to be honest and I'm always facing in front of the computer most of the time.
I guess, uKimono could help me to solve my problems in terms of burning those stubborn fatty tissue around my tummy. That's partly my main concern right now. I'm gonna set aside toning and tightens out muscles first.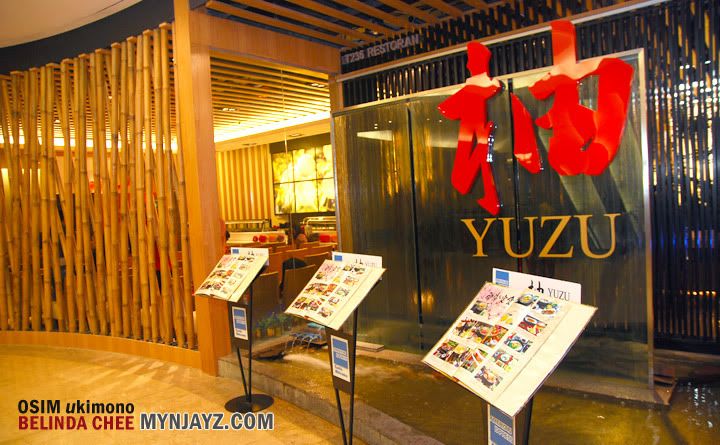 Exclusive media event happening at YUZU Japanese Restaurant, The Gardens which was attended by more than 40 guest (Thursday, 5 August 2010)
Bloggers, Xiang and Jeremy trying out the uKimono. As you can see, they're already fit. Perhaps toning and tightening up their muscles is what they're looking for.
Bloggers, Shereen and Amelia was very exited about the uKimono as well.
For me, I did get myself to try uKimono as well. It feels very pleasant when the thing is vibrating around my tummy. For once I felt like I'm exercising without moving an inch! With just one remote control attached with the uKimono, you can change the mode anytime.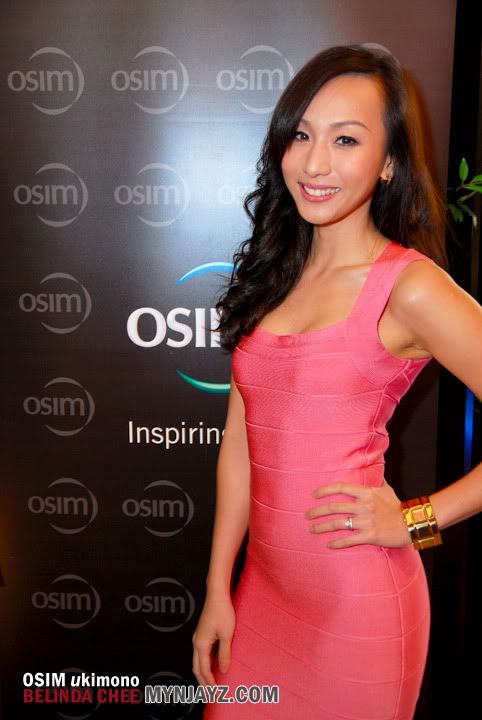 Oh hey, It's Belinda Chee! An old friend of mine since I joined blogging with Advertlets. She's hot, pretty, fit, sexy, smart. What else? you name it.
Belinda says, "I am thrilled to join the OSIM family. OSIM has been on my radar not only because of their great range of health and lifestyle products, but because the brand inspires people to achieve a sense of well-being and to stay healthy and feel beautiful, inside and out."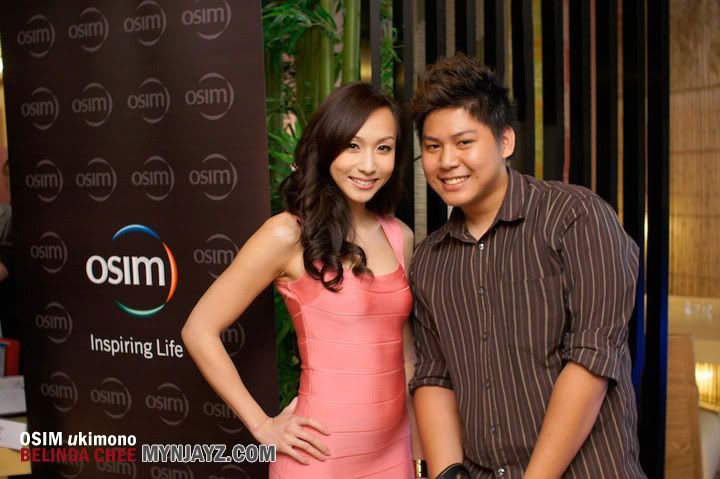 That Me and Belinda. I love her pink dress! Shows how fit she is.
Group shot with Belinda Chee. Walauwei, Xiangcool, Mynjayz, WackyBecky and Thong Kai also.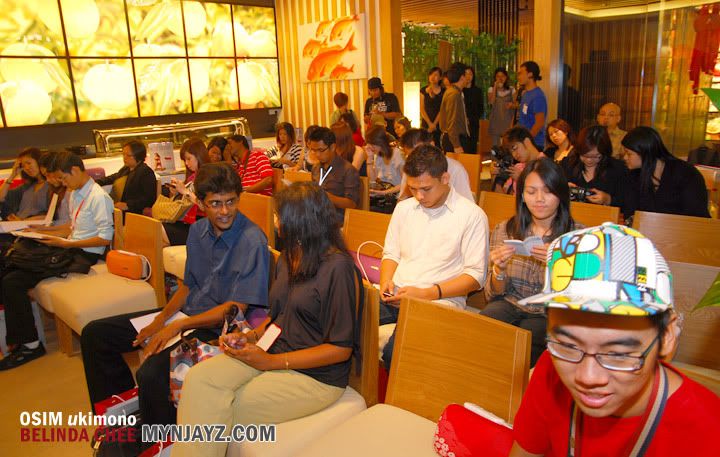 The peoples who attended the media event.
Belinda demonstrating how to use uKimono and the
features & benefits
of using it.
And She shares just one tip: "I have been using the uKimono diligently. I put on my uKimono at least three times a day – once in the morning, once in the afternoon and once at night. Due to my busy schedule; it is hard to fit in a gym session or go for a jog in the park. The portable uKimono not only makes me feel great; but it helps me stay slim and trim; whenever and wherever I want to. It's a wonderful respite after a hard day's work as well."
That's Belinda and Mr. Gary Gan , Marketing Manager of OSIM (M) Sdn Bhd. He claims that Belinda Chee's endorsement underscores OSIM's commitment to providing innovative health and lifestyle products that can be enjoyed by all Malaysians.
Considering her charm, bubbly personality, sexy and energetic appeal; the 29-year old forayed into the entertainment world as a television host for a popular TV program called 8TV Quickie; and since then, have landed numerous gigs as advertisement talent, actress, emcee and model representing many consumer brand giants all over Malaysia. Also not to forget, She's also a blogger from ADVERTLETS which she blogs at http://belindachee.com
Belinda will actively endorse OSIM's uKimono via a multi-media campaign which launches this month; featuring in editorial and advertising, and showcasing the products to the public at promotional and marketing events.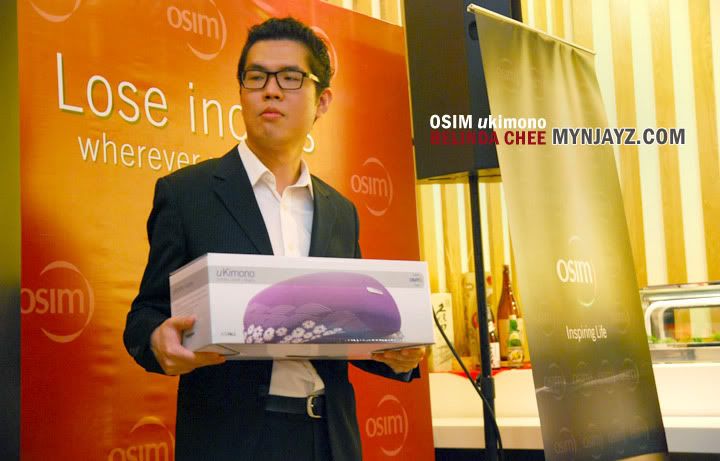 On the media event itself, there's a lucky draw session as well and 6 lucky attendees will walk home either a OSIM uKimono or OSIM uKimono Mini.
Our blogger Jeremy Choy was lucky that day and walk away with a uKimono Mini! Well, I'm not really lucky afterall. Was 1 number after him.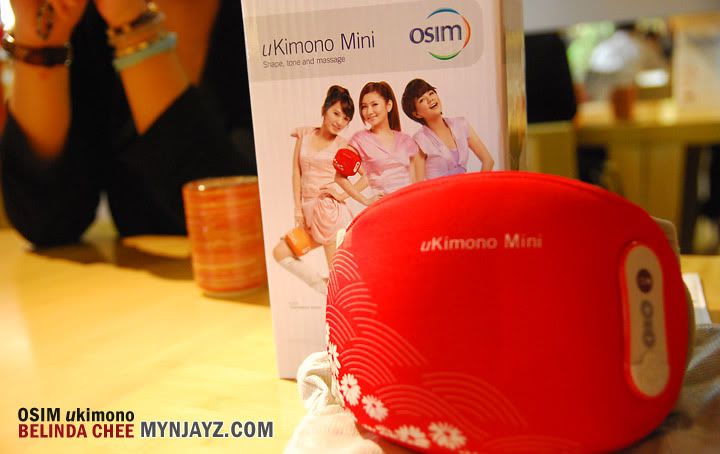 The retail price for OSIM uKimono is RM799 while the OSIM uKimono Mini is RM 298. Targeted towards women of varying ages and backgrounds, the portable OSIM uKimono is ready to provide an experience for those wanting to lose inches around their tummy, thighs and calves, anywhere and anytime.
Now it's LUNCH TIME! Thanks to OSIM for the lunch. Their food was awesome. I had myself Unagi Sushi and I did enjoyed having my lunch with fellow bloggers friends..... And slso with Belinda Chee!
Belinda's sassy look! and me as usual. the same smile.
For more information on the benefits and features of the OSIM uKimono and OSIM uKimono mini, please visit
www.OSIM.com
.
* Pictures taken using Nikon D40x.
...