Why I Deserve to meet Wayne Rooney in Person?
Give me a chance to meet him in person is a once in a life time opportunity for me. Wait, who's Wayne Rooney? A question everyone should know.
Oh well, who doesn't know who is Wayne Rooney? He's the Oh-famous-football-player currently playing in the Premier League club Manchester United and the England national team. He's on my blog
HEADER
By the way. Keeping an eye of me.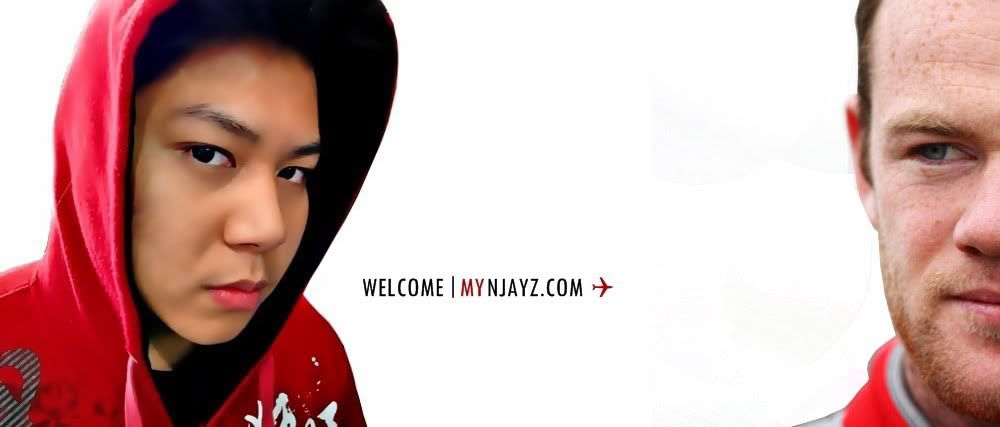 Not to mention he's the Nike Football ambassador and a TIGER BEER ambassador as well. He's like an icon to me when ever it comes to football.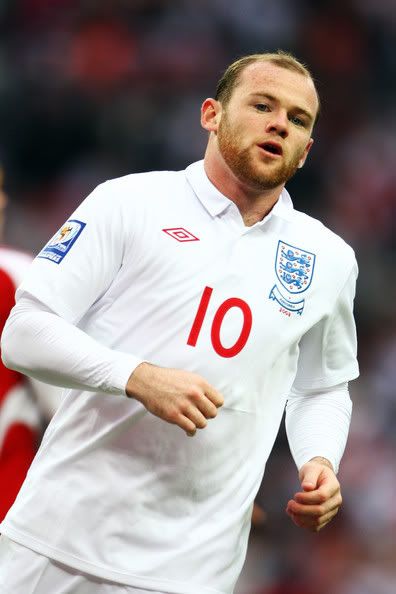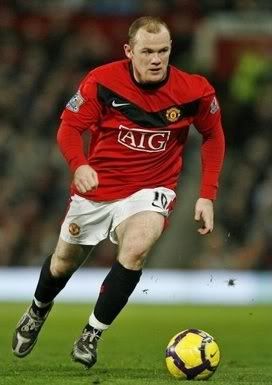 This is Wayne Rooney. Very talented player, a play maker in the field. He has the skills, the technique and all. He has aggressiveness but sometimes its a lil too over, but he's slowly growing up ever since he joined Man Utd. Now, he's a more mature football player and I don't see him fighting all the time anymore. It's good thing! I still remembered how hot tempered he was when he's 17-18 years old. Horrible. He can protest and fightback when ever he's not happy with the ref decision Or someone tackled him badly. When he does that, SURELY a RED card and off he go.
Although he's bad tempered that time but he's a super rising star. On his first match when he played for Man Utd, I was watching him playing. Yes on TV. I've to go to school the next day and I Scarified myself by staying up early in the morning 3am just to watch him play on his first match. He scored a hat trick with 3 goals on his own at the debut against Fenerbahce in 2004. On that first sight onwards, I was truly a big fan of him already. He's a deadly striker! So far, England's BEST striker. Other than being a striker, for me, I think he's good in play making. Not just a striker. He can pass, he can cross better than anyone else as a striker position. Not to mention, he's a goalscoring machine last season when Ronaldo's departure to Real Madrid.
Besides, Rooney made his England debut in 2003 and, at UEFA Euro 2004, he briefly became the competition's youngest goalscorer. He has also been awarded the PFA Players' Player of the Year and the FWA (Football Writers' Association) Footballer of the Year in 2009–10. A very influencial football player. That's why he is one of the young famous footballer in the WORLD. Appart from his ex-teammate; Cristiano Ronaldo. Both of them are awesome players! They're invetiable in the field.
How I get to know about Man Utd?
It was when I was still young. I couldn't recall. Perhaps when I was as young as 12 years old. An England and Manchester United Fan.
2002-2003

Very obvious, I looked like a kid in these 2 photos. How fit I was and active in playing futsal every weekend. It's been 8 years a true Man Utd fan. Now, I'm getting rusty! But I'm more to watching him playing on the EPL. Last time I would have just seen him a few times on the TV, mostly on pictures of him in da newspaper!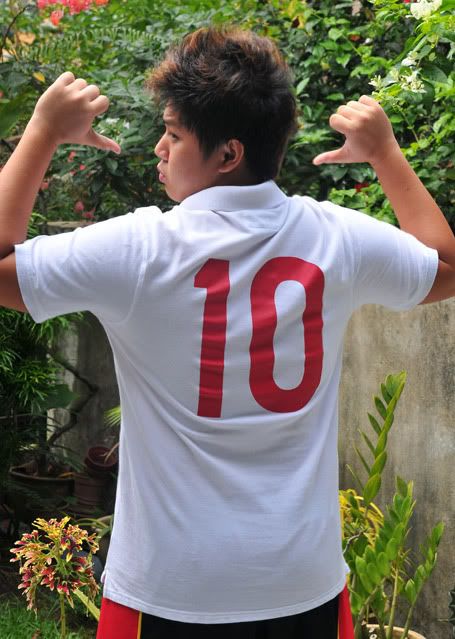 2009-2010

Hurm, I think it was when the World Cup at Korea is going on. I was so crazy about football. People betting balls and all, I couldn't be bothered. But the country I supported was, ENGLAND. Why England you ask?
Because MAN UTD = ENGLAND. In a way. If you realize most of the players in England is playing for Man Utd! Majority of em. Players like Rooney, Ferdinand, Scholes, Owen, Carrick, Brown, Neville, Hargreaves, Alan Smith, Eric Cantona and so much more.
I remembered, it was last year when they had a Man Utd Asia Tour. Our Country, Malaysia is selected! I was so exited that I must attend all including the press conference, 2 days training passes + match passes. Even including the rematch! So happy at that moment. Let the photos speaks for me.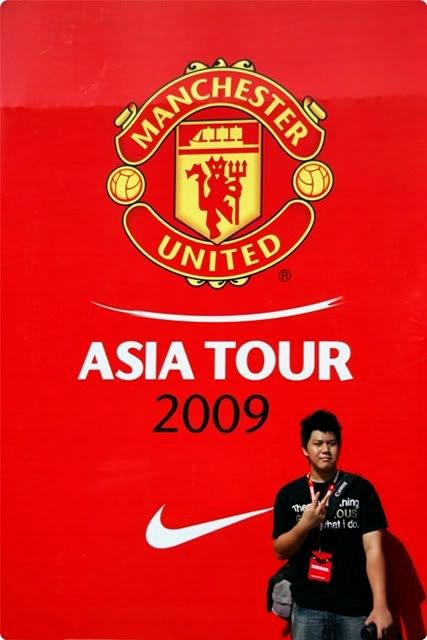 Me with the 20 ft. huge poster!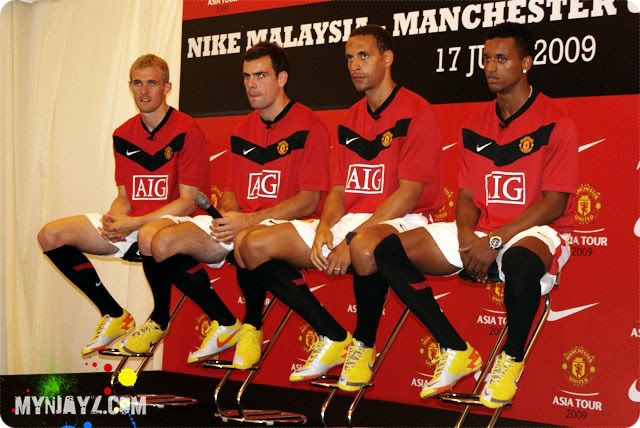 Press conference. Only 4 of em appeared! Flecher, Gibson, Ferdinand and Nani. My put high hopes on Rooney to appear on the press con. But.... it's okay. But i think I manage to tap Ferdinand's shoulder! :)
Up they go! They're playing with our Malaysians enthusiast young football players.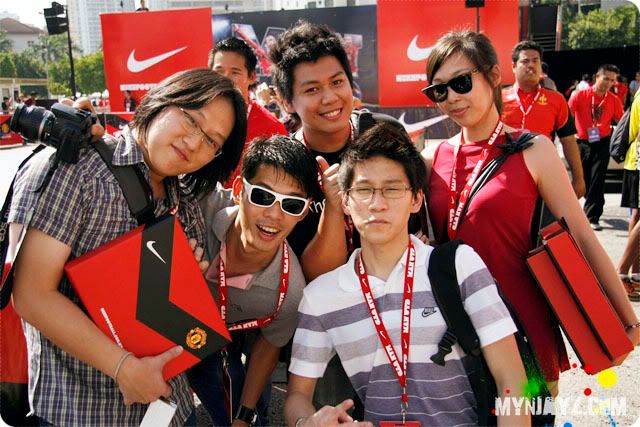 I was with Joshua, Kim. And not to forget, Niki Cheong, Ian from the Star Rage.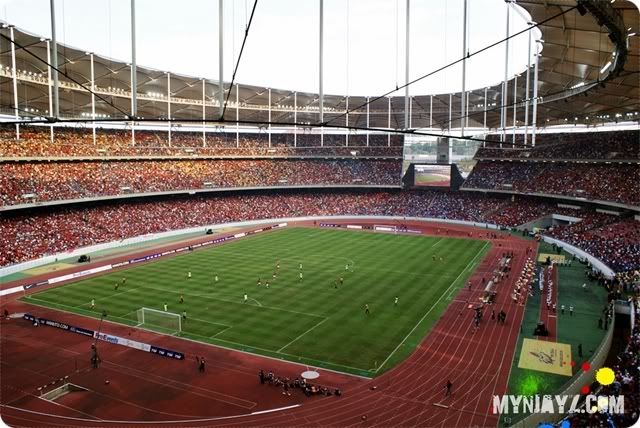 Bukit Jalil Stadium in Malaysia. Perfect birds eye view. Enjoyed the match! it ended an exiting 3-2. A win to Man Utd.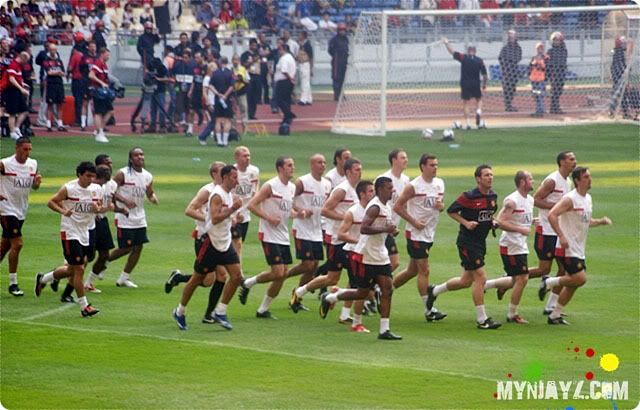 Training session with the Man Utd players. It's my first time seeing them in real life. But only behind my viewfinder. :(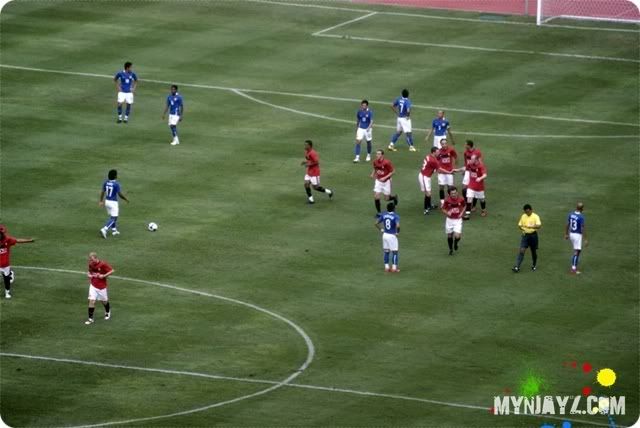 Spot Wayne Rooney in No.10 !!! You can't see his number, I think you can spot his body figure.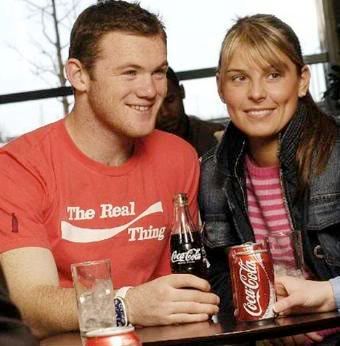 Other than that, Rooney had his own family too! His wife, Coleen Rooney with their son name, Kai Wayne Rooney. Hoping to meet them as well? Kai looks like his father. So chubby and cute. PINCH* Don't you think so?
On the other hand,
I've Attended this Tiger Beer regional online influencer challenge last week. And Team Captain, Me and Eric Yong from Advertlets each of us won a carton of Tiger Beer back home! As you can see. I'm up there for anything. As long it's for meeting Rooney in Person. Well, this is just a head start!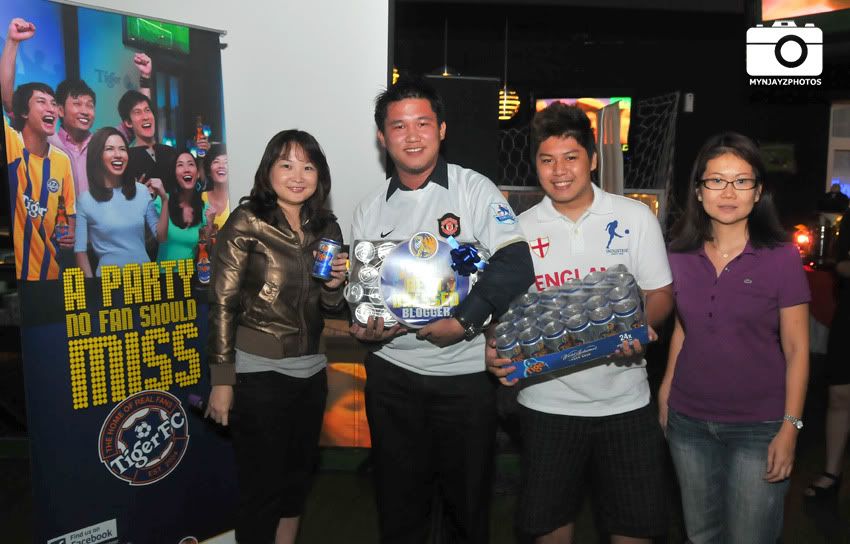 BTW, Here's a video of Wayne Rooney's Tiger Beer Advertisement before I explain what is it all about.
Tiger Beer is offering something GOOD for us! and let me tell you what's it all about.
Here's how it works
!
A brief of what I needa focus on. I'm in a run to meet the famous football player from England and Manchester United, Wayne Rooney in PERSON. I get to PARTY with him, hang out with him, have lunch with him, get his autographs, get some official merchandise, Q&A session and the best part is, I get to play some balls with him on the field.
I'm competing myself with 3 other regional countries in Asia. Singapore, Vietnam and that includes bloggers from Malaysia as well. Fellow friends of mine, I need some of your huge support to support me! I need 10 supporters to support me.
Here's my 10 Influential Supporters for my TIGER DREAM TEAM line ups !
MY BEST EVER FORMATION MADE!
Basically, I'm the captain of this team. The rest are my team mates! Supporters in a way. They're HERE to support me!
THANKS TEAM MATES!
These 10 teammates of mine will get a
FULL EXPENSE PAID PARTY
courtesy of Tiger Beer for those who have the most comments in his/her blog post. If lets say i'm the chosen one, you 10 people are gonna PARTY with me courtesy of TIGER :)
Here are my teammates who supported me through out the whole campaign for me to meet Wayne Rooney! Check out their blog people.
Striker Josh lim from
http://josh.my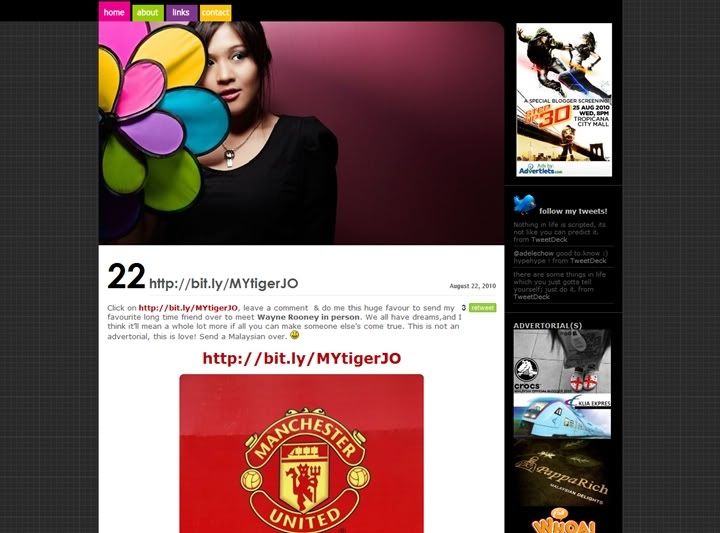 Central midfielder from
http://missycheerio.com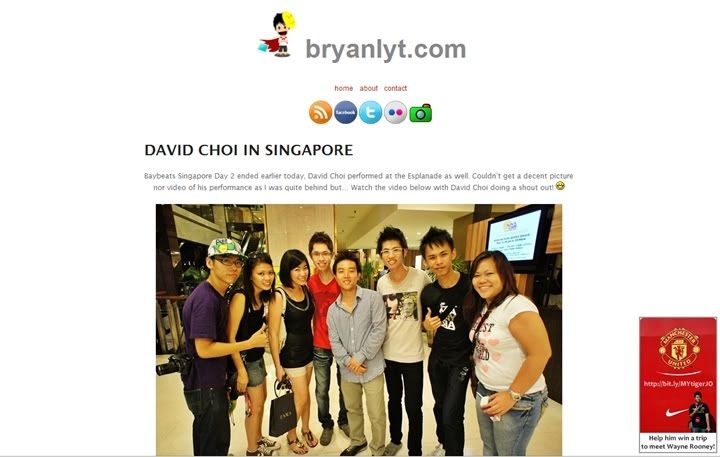 Left winger from
http://bryanlyt.com
Center back midfielder from
http://haniehidayah.com
Central defender from
h
ttp://www.perfectionistarevealed.com/
Side back defender from
http://xiangcool.com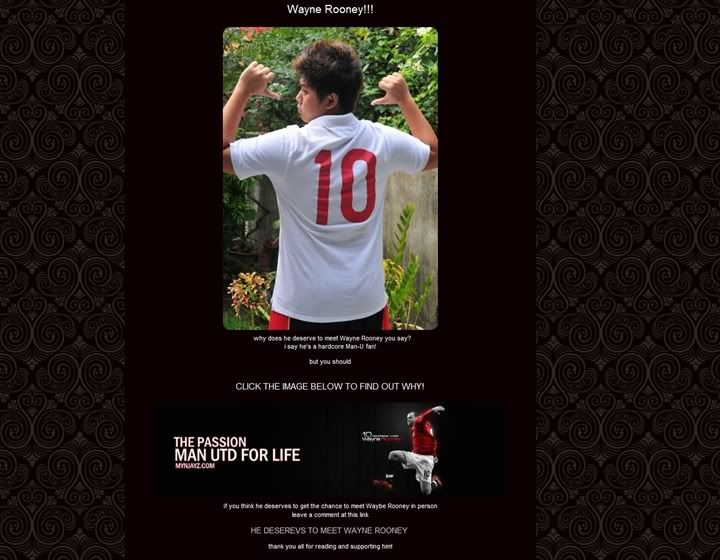 Center back from
http://bboyriceakajeremy.blogspot.com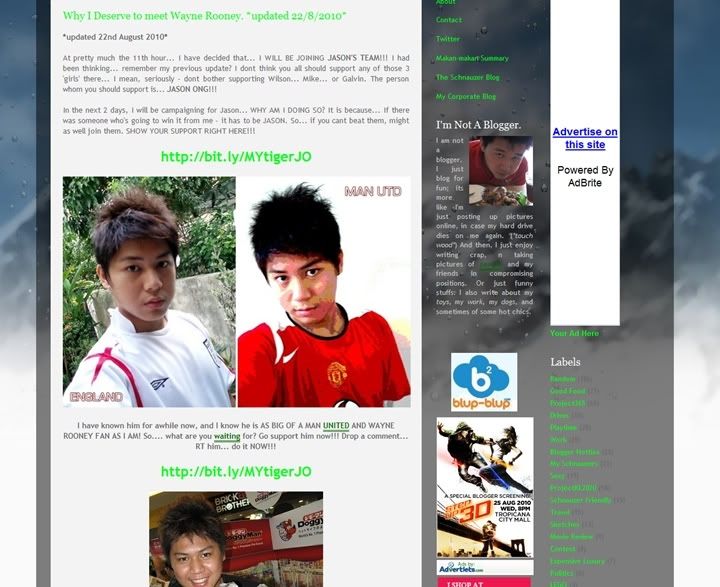 Lastly, Goal Keeper from
http://ericyong77.com
Even
Feeqsays network
blogged about me. Aweosmeness i love em all!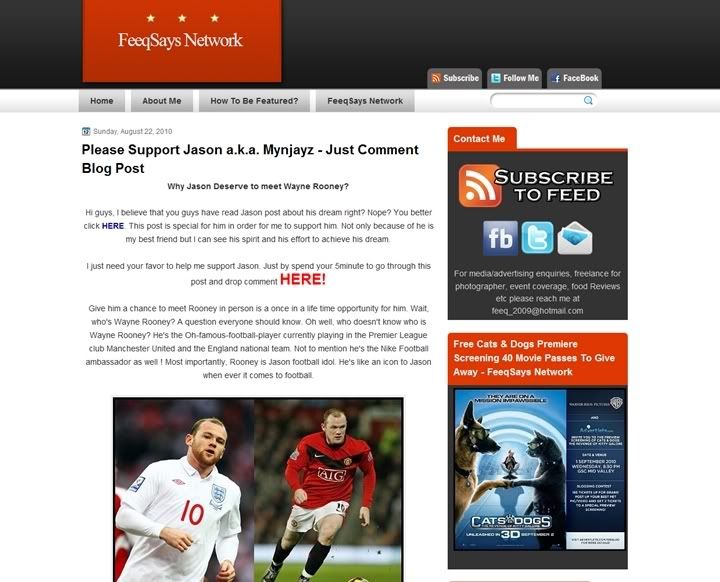 It's good that my supporters are there for me to support me all long. I really appreciate all their effort in helping me as a friend, wanting me to be there to meet Rooney and share with everyone back here in Malaysia. Thanks a lot guys!
And Of cause I will not forget the ones that supported me all along as well. Show your support alright.
I've always wanted the chance to fly out of the country and see the world. But Sadly, the opportunity wasn't there yet for me. I hope, this is my chance to really fly out of the country and to Manchester to meet Wayne Rooney! Not just by taking photos or just shacking his hand. Imagine, the feeling of sitting down with him, lunch while having a talk session with him, being in Old Trafford stadium with all the other fans watching Live matches, having a tour around the Stadium. 5 Days 4 nights there in Manchester. Like What? It's like my ultimate dream for me to be there.
Old Trafford, The Theater of Dreams! Oh man i wanan small the grass there!
Send a representative from Malaysia to Old Trafford. Send me there and I'm sure I will take this opportunity to share with you guys my journey there to Manchester with Wayne Rooney. As you can see, I'm really serious on getting this and I'll do whatever it takes.
I'm similar to Tiger Football Champion, Wayne Rooney because I used to play futsal very often when I was in secondary school. Tho I play basketball at times. But I love kicking those balls as well. Being a striker on the futsal field is my position. I love to score goals! WHY? The feeling of scoring goals is the feeling when everyone is eying on you, talking stuff about you, talking how great are you and then, you'll be as great as him and become a legend like him.
I think I deserve to meet Wayne Rooney in person and play football with him because we share the same passion and FIRE in what ever I do; just like Rooney !
Why I Deserve to FLY all the way to Manchester and meet Wayne Rooney in Person?
For you guys who's really a HUGE Man Utd/Wayne Rooney fan. Support me to be there by giving your opinions/suggestions/feedback/questions/comments regarding to this whole thing that you've read in this post.
Before I end this, " What is one question you would like to ask Wayne Rooney about "The Game Never Ends TVC" ? State your questions on this comment box, who knows you're question might be the lucky one to get picked. And you will win a piece of signed merchandise from Wayne Rooney himself!
Thank You so much for your time reading this. Appreciate it a lot. Also, support me by sharing this link to your friends!
http://bit.ly/MYtigerJO

Now, I need you to tell me why I deserve to meet Wayne Rooney?
...