24th September 2010 - Arthur's Day 2010 happened last Saturday at Sunway Lagoon, Surf Beach. I was invited to attend the Arthur's Day and It was one of the best concert of 2010! Apart from World Stage. I was privileged to get a Media Pass, giving me full access to all areas to cover the event.
Let's check out the line up Performers for Arthur's Day in case you didn't know.
Flo Rida:
Two-time Grammy award nominee who received worldwide acclaim and popularity with the chart-topping success of his first single, "Low". This catchy song won him several awards, which include "Favourite hip hop song" at the People's Choice Awards in 2009 in the United States, as well as the "Highest selling single" award by the Australian Recording Industry Association Music Awards (ARIA Awards). His latest single, "Club can't handle me now" is also featured in the soundtrack for the blockbuster movie, "Step up 3".
Sean Kingston:
This Jamaican-American singer broke through the music scene with his first album in 2007, self-titled Sean Kingston. His first hit tune, "Beautiful Girls" took Malaysia and the world by storm and he has been producing more chart topping hits ever since.
Colby O'Donis:
At a young age, this star was already opening shows for major recording artists including Backstreet Boys and 'N Sync. His latest single with Malaysia's very own Mizz Nina, titled "What you waiting for?" made its way to the top, and has been a frequent favorite on many radio stations recently.
Thaitanium:
Known for bringing in a new era of Thai hip-hop, influencing every genre in the Thai music industry. Comprising of Khan, Day and Way, the Siamese boys have mixed their native Thai language with American hip-hop's street vocabulary, creating a unique blend of tradition with hip-hop culture.
PopShuvit:
PopShuvit came into the local music scene in 2001. The band had successful releases throughout Asia, notably in Japan, Thailand and Singapore. Their adrenaline packed live shows and eclectic blend of hip hop and rock has made them known as Asia's leading hip-hop rock band. In 2003, PopShuvit was the first Malaysian band to hit the music chart in Japan and Top 20 on the Tower Records sales charts.
Mizz Nina:
Hip-Hop cultured Shazrina Azman, better known for her stage name Mizz Nina, is the co-founder of seminal Malaysian hip-hop group, the Teh Tarik Crew in 1999. She also runs her own recording studio and collaborated with many of Malaysia's leading artists such as Reshmonu and Vandal. Mizz Nina also recently teamed up with American hip-hop artist Colby O' Donis in her new single "What You Waiting For", which topped local charts such as the Freaky Fly 30 of FlyFM.
Melissa Indot:
This talented singer has recently bagged 2 AVIMAs – the World's Biggest Independent Music awards in over 20 countries – for having the "Best Collaboration" and the "Best Pop / R&B Song".
DJ Fuzz:
DJ Fuzz began to shine as a member of the Teh Tarik Crew, the groundbreaking hip-hop group which served to cement his presence in the Malaysian hip-hop scene. Currently, DJ Fuzz is also a resident at almost all the major clubs in KL, including Zouk KL, Maison, Laundry and Republic.
With all the line up performers, I bet you will be regretting right now that you've missed Arthur's Day concert.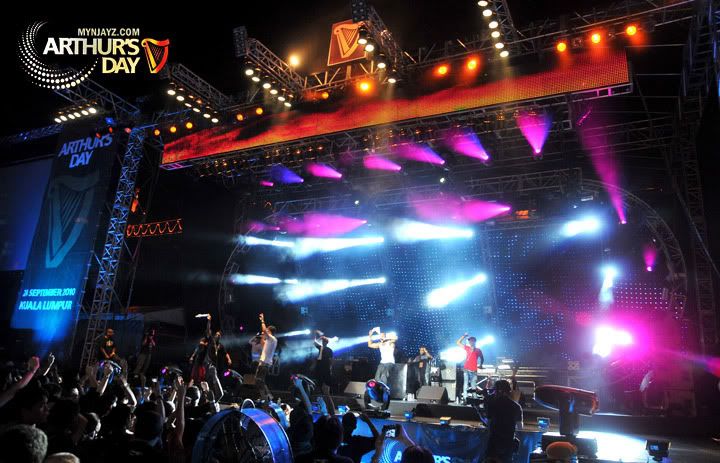 Woots! Lets start off with Arthur's Day Press Conference before I proceed to the concert!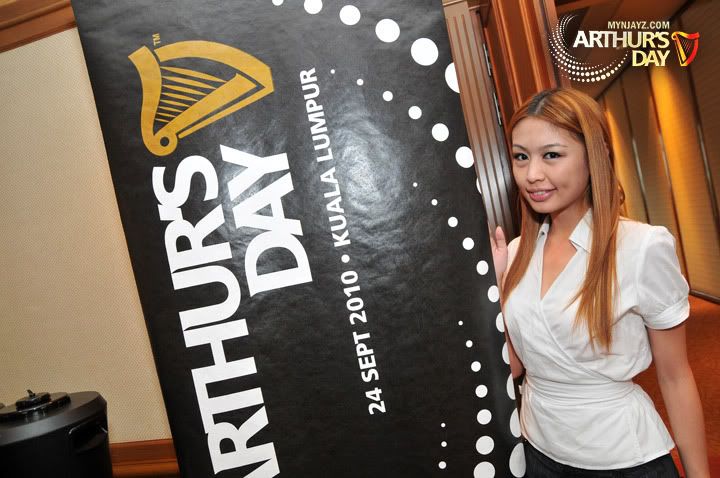 Arthur's Day press conference warm welcome by all time seen Elaine Chua.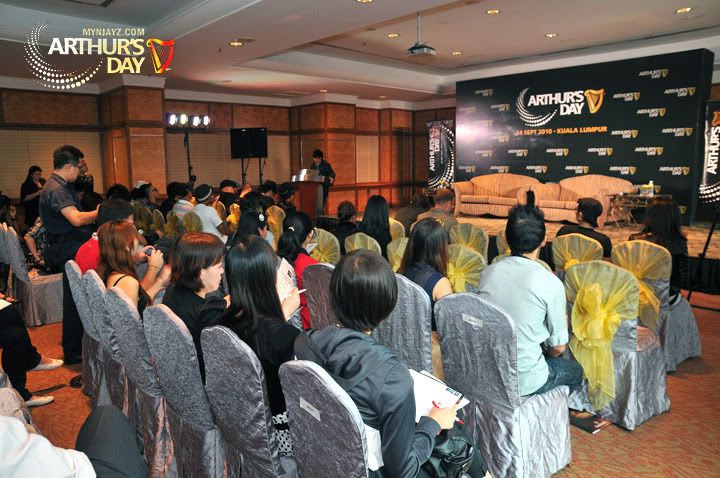 Jin from Hitz.fm and Advertlets blogger was the host for the press conference.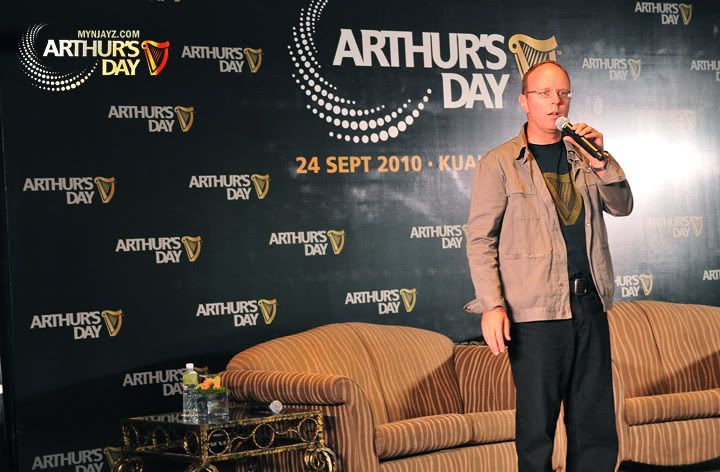 Welcome remarks by Mr Mark Jenner, Marketing Director of Guinness Anchor Marketing.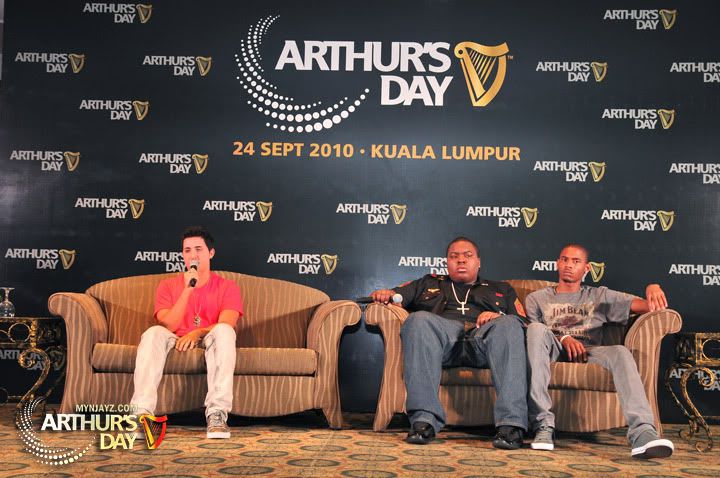 Introduction of International Line up's. Sean Kingston &
Colby O'Donis
.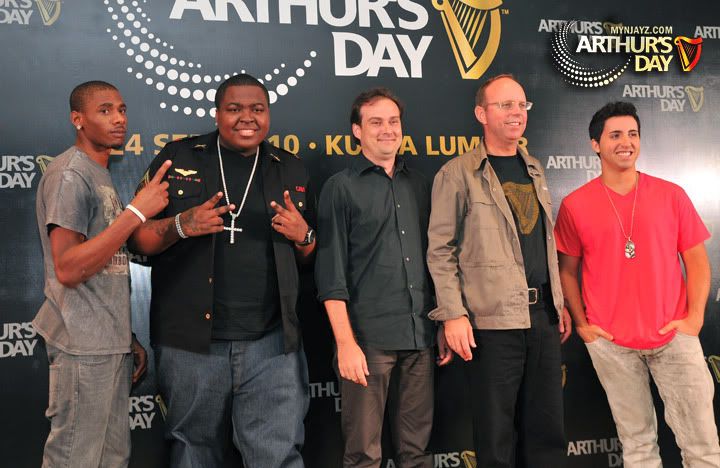 After all the Q&A session, All artist have a photo opportunity for the press media.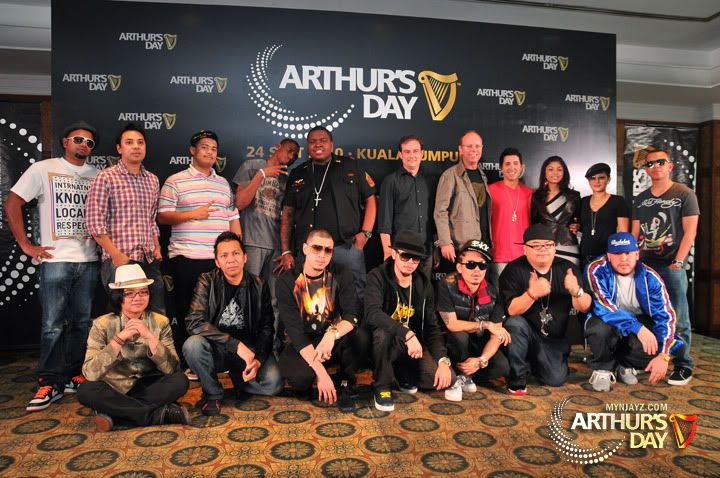 A group shot of all the Artists. Flo Rida, Sean Kingston, Colby O'Donis, Thaianium, PopShuvit, Mizz Nina, Melissa Indot and DJ Fuzz.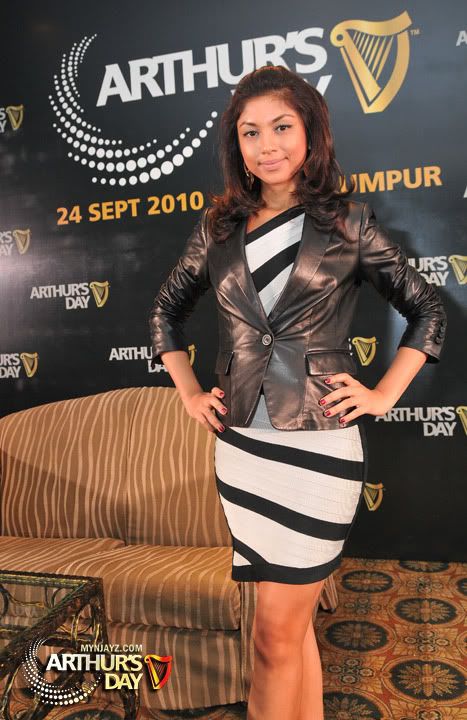 Our local favourite, what chu what chu waiting for! Mizz Nina.
Camho time with Mizz Nina after interviewing her.
Here's a video of Mizz Nina shout out for all the Advertlets bloggers out there.
It's concert time. I was there a lil bit late. Arrived when the Balls are falling!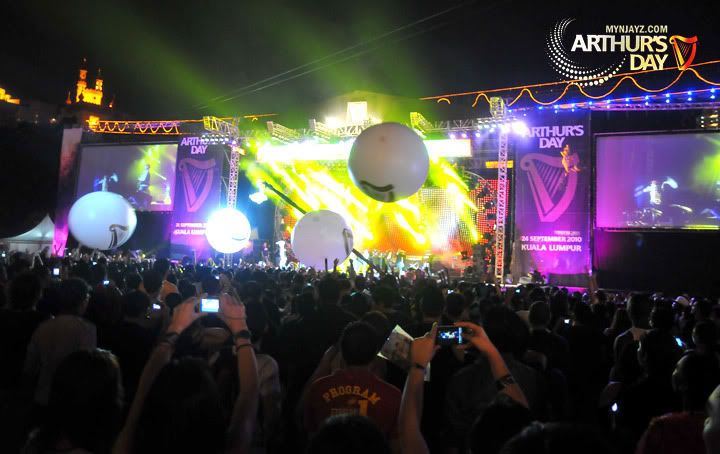 As you can see, the crowd was awesomely good! Packed, full house.
Going a lil close to get better shots of what's going on stage.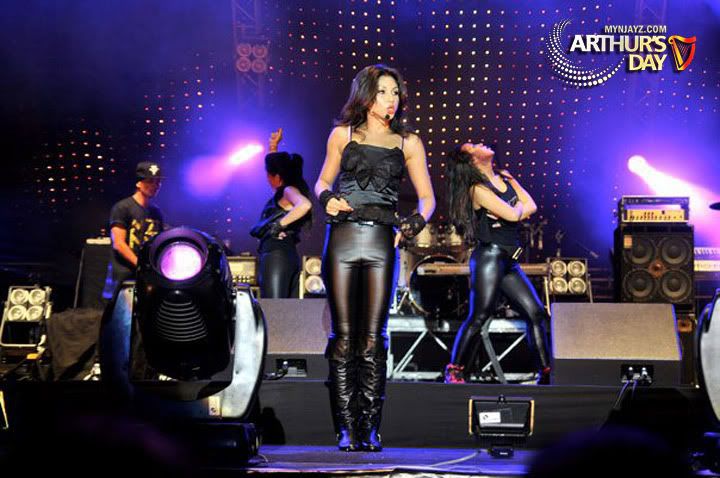 Mizz Nina Performed What chu what chu waiting for!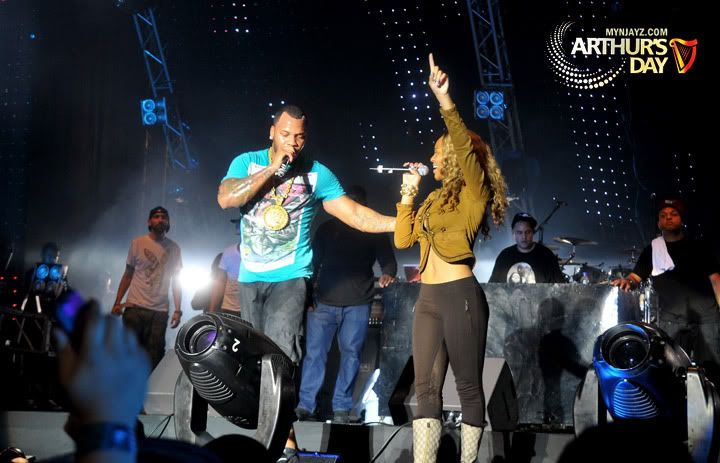 Flo Rida and crew on stage performing SUGAR, LOW, etc.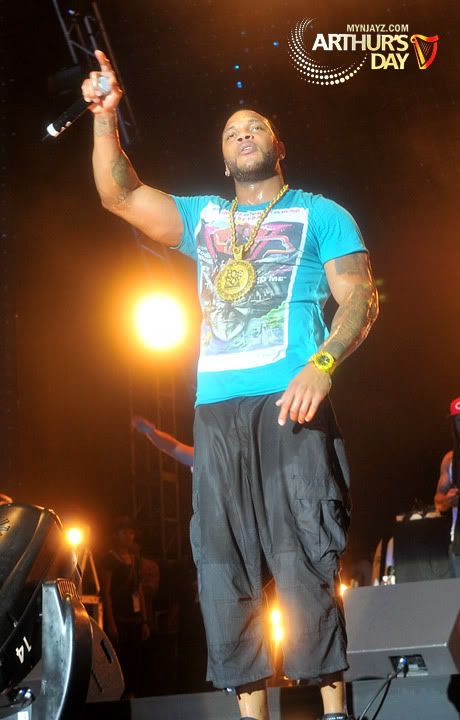 Flo Rida Portrait!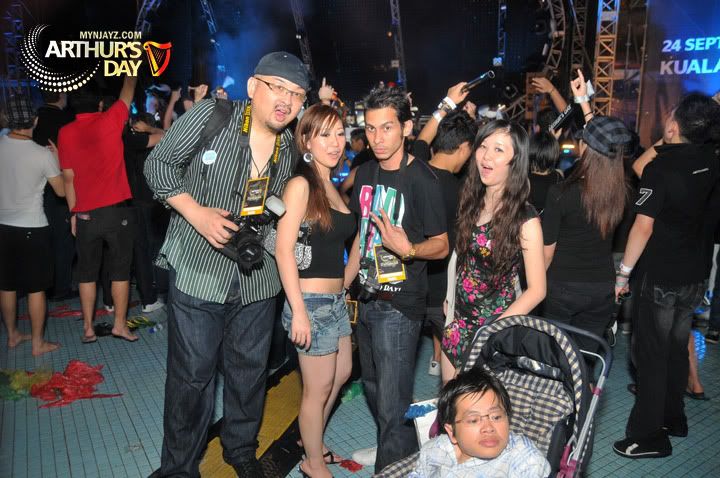 Some of our Advertlets bloggers was there to cover the event as well.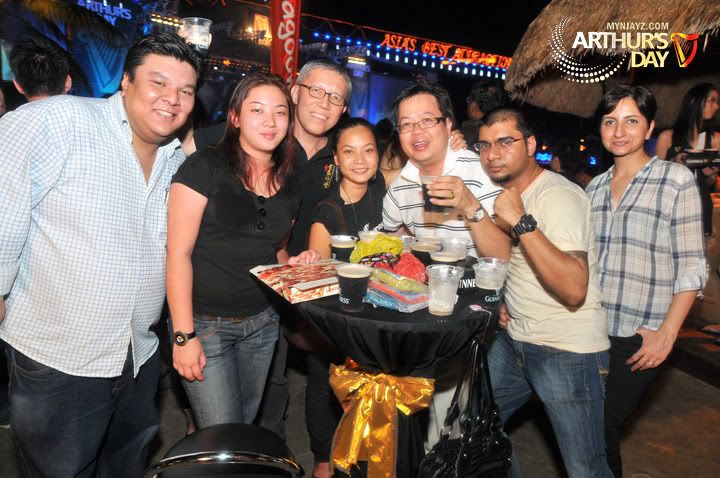 Ashley and friend's colleague's table at the VIP.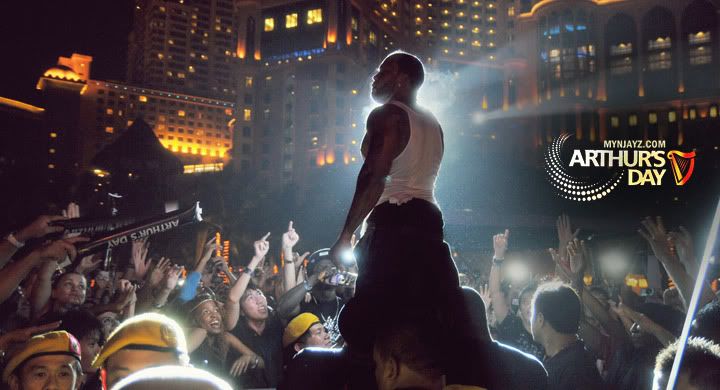 This is my BEST shot of the that night so far! Manage to snap this silhouette shot of Flo Rida when he crawls into the crowd! GOD LIKE PICTURE!
This is the Black and White version -
HERE
!
Capped off with a fireworks display at the end, and made smooth by the non-stop free flow of Guinness draught and draft throughout the night ! AHH nicee....
After party happening at Lighthouse. Was too tired for the after party. I went back home instead.
By the way, here's a video of the final song performance by Flo Rida which is his latest single, Club Can't Handle Me which is featured in the movie Step Up 3D. Performing on Arthur's Day 2010 in Sunway Lagoon Surf Beach, Malaysia. Enjoy!
Do check out last my year's coverage on Arthur's Day 2009 featuring Black Eyed Peas. I didn't get much coverage. Stand far away behind. :(
http://mynjayz.com/2009/09/arthurs-day-celebration.html
That's all for now! Once again, Thanks Advertlets and everybody put your hands up and say: To Arthur! Arthur's Day Concert ROCKS!
...