It's Funky Villa Grand Launch, E@Curve exactly happened around a month ago.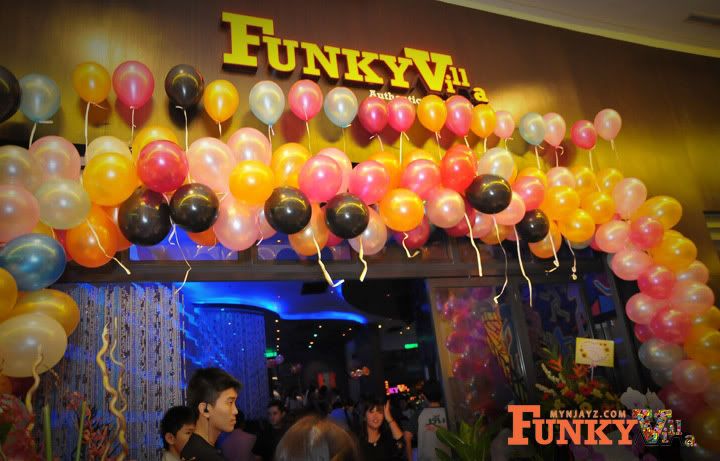 Attended Funky Villa's Grand Launch on the 9th June 2010 with a bunch of bloggers. If you like authentic Thai food, with a dash of the infamous Thailand's beach parties atmosphere and love to be social, there is one place where you should go in town - Funky Villa e@Curve is the place to be. A funky new place to celebrate life, revelry, great food and company!
Funky Villa grand opening was a blast. With great fanfare with pole dancing, salsa dancing, fire eating shows, games, competitions and vibrant music played. The party was fuelled with free flow of beer and food throughout the night. We really enjoyed our selves!
The Concept of Funky Villa. Trendy and Unpretentious Thai Costal Resort Ambience
First up, Good news! There's outside area for people who smokes or prefer to breath fresh air!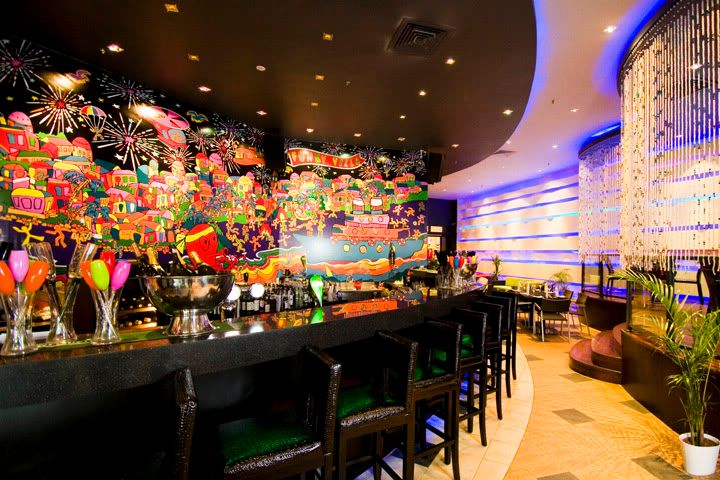 Funky Villa has set a new trend in the dinning and chill-out experience of the vibrant F&B scene of Klang Valley. Its fresh concept of Thai Costal Resort ambience combined with delectable Thai food, a long list of wines and drinks has added a new dimension to the F&B scene. Patrons are invited into an unpretentious and cozy environment where great food and company are celebrated with zest!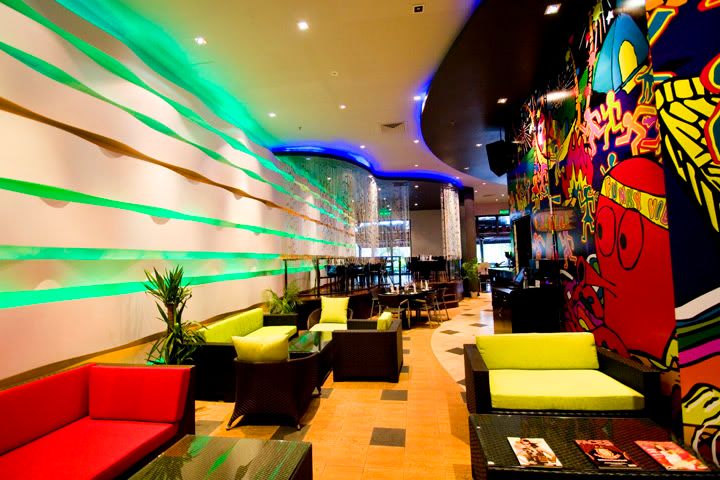 What strikes you when you step into Funky Villa is that it does not look like a typical Thai restaurant. Its airy surrounding against a backdrop of colorful murals, comfy orange sofa lounge juxtaposed with elegant black dining chairs and tables give the place a contemporary, fun and funky vibe.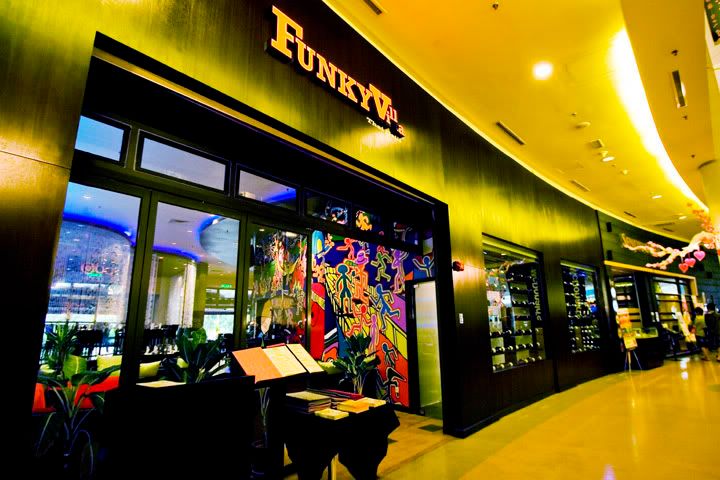 The 5,500 square feet restaurant and bar is open from 12 noon to 2am on weekdays and 12noon to 3am on weekends. Parking rate is only RM2-3. Very reasonable.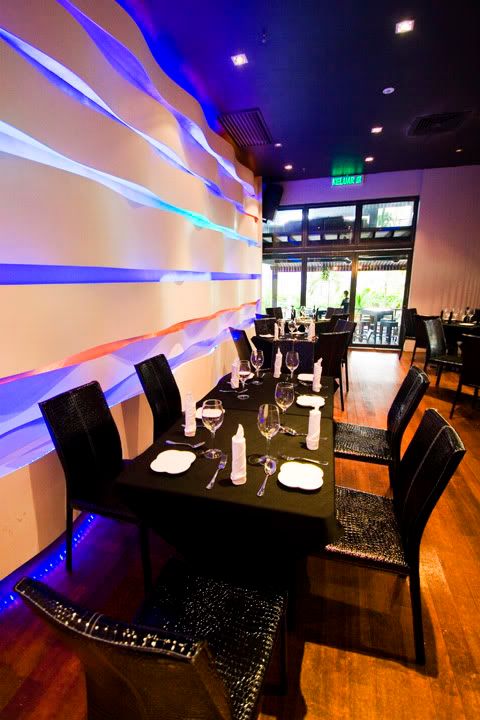 The tidal wall feature basked in mesmerizing blue lighting and partitions of glistering rain beads create an ambient glow that will make you feel like you have stepped into a tropical beach paradise in a rain shower.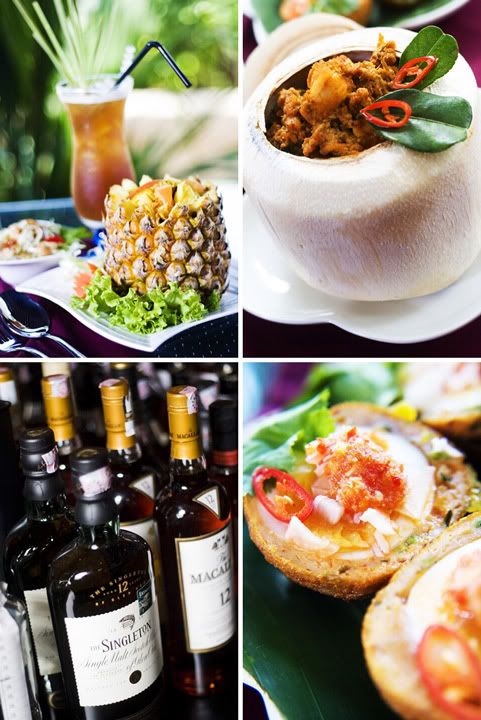 Whatever you eat here will be a meal to remember. A feast at Funky Villa leaves you salivating for more and pondering on spices. The tom yum and green curry are to die for, the Thai herb fried rice makes you yearn for more, the succulent barbeque skewers are surprisingly tender and tasty, the otak-otak are steamed and served in a coconut that is so refreshing, the fish cakes come wrap around a soft boil egg that is a curiosity and the mouthwatering deserts are devilish.
The gastronomically long menu of food selection will take the boredom out of dining and open your taste buds to the wonder of Thai food!
Here are some of my bloggers friends which attended the grand launch as well.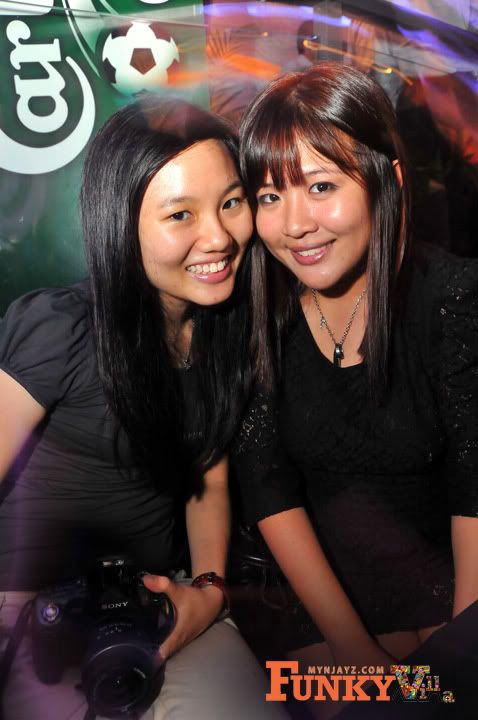 Lovely YinXie and Ellie Chee.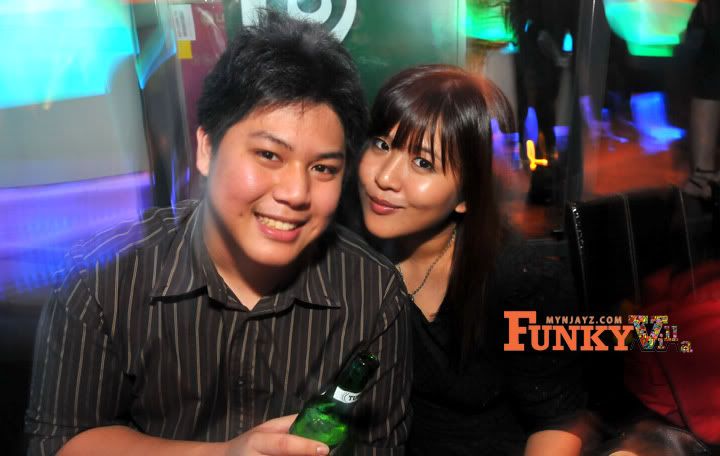 Oh hey that's me and Missycheerio.com! We certainly enjoyed much the freeflow beers whole night.
The whole bloggers gang. lol. Others are all customers who attended the launch at Funky Villa.
We will come back again to Funky Villa for a proper food review on their Thai FOODS !
That's all from what I had at Funky Villa, E@Curve. Funky Villa is right beside MCD and a japanese restaurant. Easily found!
For more info, you can refer to Funky Villa
Facebook
page
Lot No G-03A, G-06 & EG-06,
GROUND FLOOR e@Curve (formerly Cineleisure)
No. 24 Jalan PJU7/3, Mutiara Damansara,
47810 Petaling Jaya, Selangor.
Tel: 03 7725 2308
...