Once again, on behalf of
Advertlets.com
, we are giving away 30 movie premiere tickets exclusive for Advertlets bloggers! This premiere is only for chosen Advertlets bloggers which are loyal to us (
which is why this is not on the Advertlets website
)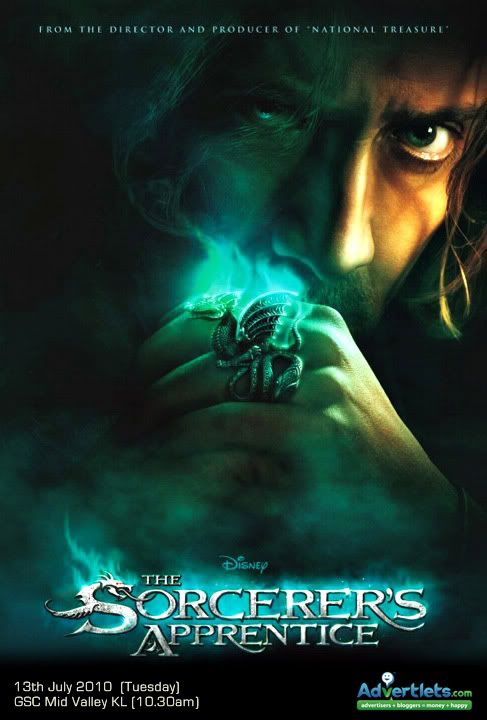 Advertlets Media Screening Sorcerer's Apprentice, details below:
Date : 13th July 2010 (Tuesday)
Time : 10.30am
Venue : GSC Mid Valley KL
Hall : 10
Plot Summary for The Sorcerer's Apprentice.
Balthazar Blake (Nicolas Cage) is a master sorcerer in modern-day Manhattan trying to defend the city from his arch-nemesis, Maxim Horvath (Alfred Molina). Balthazar can't do it alone, so he recruits Dave Stutler (Jay Baruchel), a seemingly average guy who demonstrates hidden potential, as his reluctant protégé. The sorcerer gives his unwilling accomplice a crash course in the art and science of magic, and together, these unlikely partners work to stop the forces of darkness. It'll take all the courage Dave can muster to survive his training, save the city and get the girl as he becomes The Sorcerer's Apprentice.
Will be showing in Cinemas (Malaysia) on the 22th July. As usual, we get to watch it a week earlier. How awesome is that!
Check out the Trailer.
For those working/schooling people, surely you guys can't make it for this screening. Sorry about the timing!
NOTE :
Invites are only available 1 ticket for each ADV blogger. Guest/friends/relative etc are not entertain. PLEASE Comment at this post if you are available or not. If you're not able to make it, I will allocate your tickets to other ADV bloggers which could to join us for the screening.
PS :
Im looking forward for a proper blog post about the movie review
after the movie.
As you may include details about the how you think about the movie, the cast and all it's up to you. At least 150-300 words long with your opinion on the movie. Remember to post up some pictures as well about the movie and not to forget your camho/groupshots/dinner photos as well (if you want to).
As usual, do help me to accomplish this for me so we'll have more free movie screenings in the future!
Thank You so Much and start RSVP now!
For those who is interested to join us (
Advertlets.com
) events/outings/parties in the future, here's your chance to join us. Please send in ur profile of personal details, blog URL and email address to jason.ong@advertlets.com with the title 'Im interested to join Advertlets.com'
...