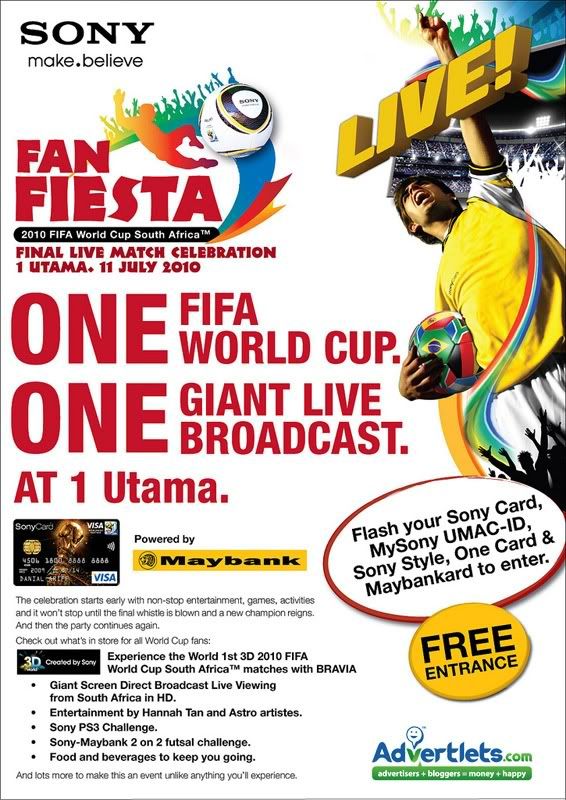 As you'll know, it was almost a week ago since Spain won the World Cup 2010 @ South Africa. NO more staying up late watching football. No more hearing the sound of the vuvuzela. #NED lost? Life goes on. #ESP won and thanks to the vital last minute goal on the second half extra time by this guy.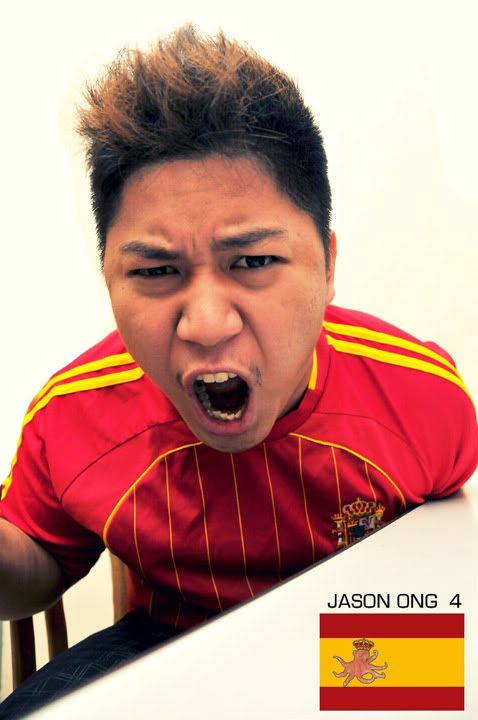 Remember this guy? From FC Barcelona. Also playing for Spain Squad. He's the goal scorer.
LOL nah im just bullshitting. It's by Iniesta.
Anyway, if you were following the World Cup this year, the name "Paul The Octopus" might have came up quite a bit. Interestingly enough, he has predicted all the World Cup matches quite accurately. How he did it?
For those that don't know:
Paul (hatched January 2008) is a common octopus living in a tank at a Sea Life Centre in Oberhausen, Germany, who is used as an animal oracle to predict the results of football matches, usually international matches in which Germany is playing. He came to worldwide attention with his accurate predictions in the 2010 World Cup.
During a divination, Paul is presented with two boxes containing food in the form of a mussel, each marked with the flag of a national football team in an upcoming match. He chose the box with the flag of the winning team in four of Germany's six Euro 2008 matches, and in all seven of their matches in the 2010 World Cup. He correctly predicted a win for Spain against the Netherlands in the World Cup final on 11 July by eating the mussel in the box with the Spanish flag on it.[1] His predictions have thus been 100% (8/8) correct for the 2010 World Cup and 86% (12/14) correct overall.
Adapted from Josh.my

Paul the Octopus also inspires an iPhone application which is so far being the top sales in the World Cup period. Check it out
HERE
As for now, I shall update the event which I attended to on that night itself to watch the finals between #NED vs ESP. It was Fan Fiesta event by SONY Malaysia which was happened at One Utama Central Park Avenue. It was my first time Watching the World Cup with so many people. Kinda intense feeling when Iniesta scored! Everyone either gets HAPPY or EMO. lol.
Photos below taken by Sony Nex-3 & Sony WX-1. I'm very lazy to bring my Nikki D300s.

Panorama shot! The place was quite pack. Almost 7-8K fans turned up. I guess it's still better compared to Telawi Bangsar! It was madness over there. Single tiny lil street turned into a football screening. At least here in One Utama, it wasn't that bad!
In Fan Fiesta, You get to watch Football in 3D and also in HD! With free flow of Coke! The healthier choice. Lotsa games, quiz, 2 on 2 futsal, PS3 battle, artist performance by Hannah Tan and Akedemi Fantasia entertainers.
I went there as a MEDIA from Advertlets.com. We got special privilege thoughout the whole night. Oh ya did I mentioned I got myself 2 Jabulani footballs which is imported from South Africa? lol. Thanks FanFiesta & Sony Malaysia.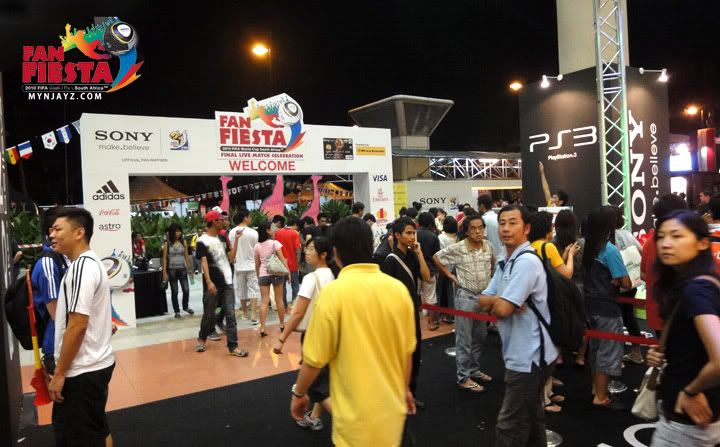 The event is open to public. Anyone is invited to join. And lucky draw winners from the crowd get to win prizes like 40' BRAVIA LCD TV ! Jealous max.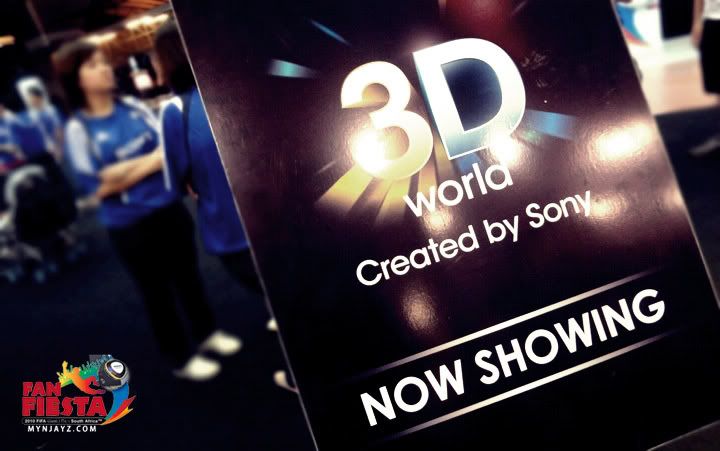 It's something rare we get to watch TV in 3D. Especially Football matches. Well, Sony was there to give a chance to all public to experience it themselves.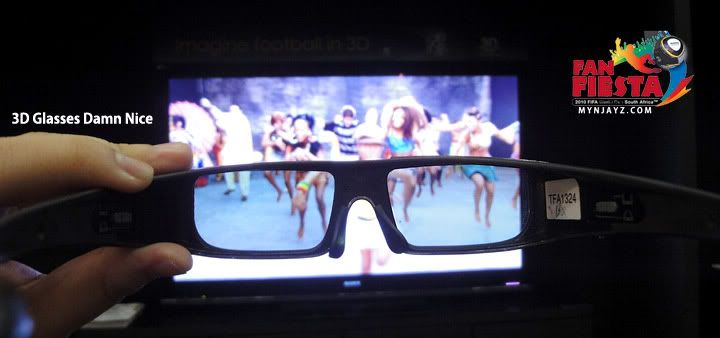 You many wonder how it looks like when u wear it. Oh look! People popping out from the Video of Waka Waka by Shakira. It's good to experience it yourself!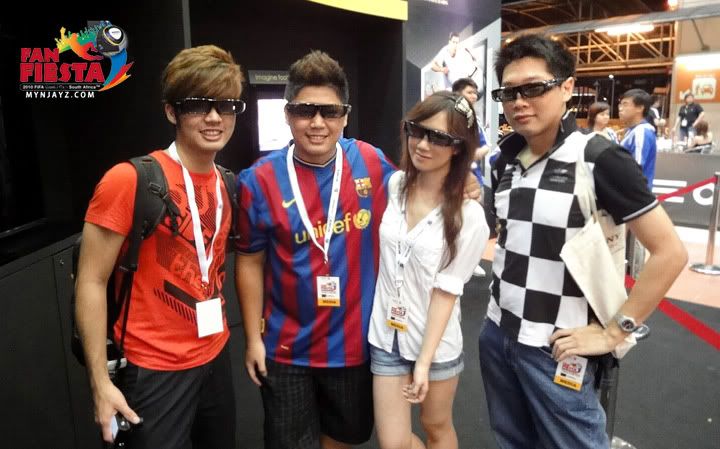 My bloggers friends. Xiang, myself, Waiyan and Justin.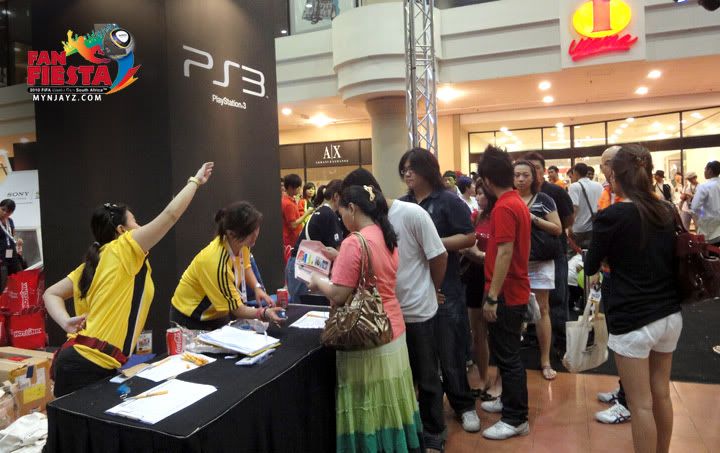 After watching football in 3D as we walk around the area, the registration counter is still filled up with lotsa people. All lining up to go in.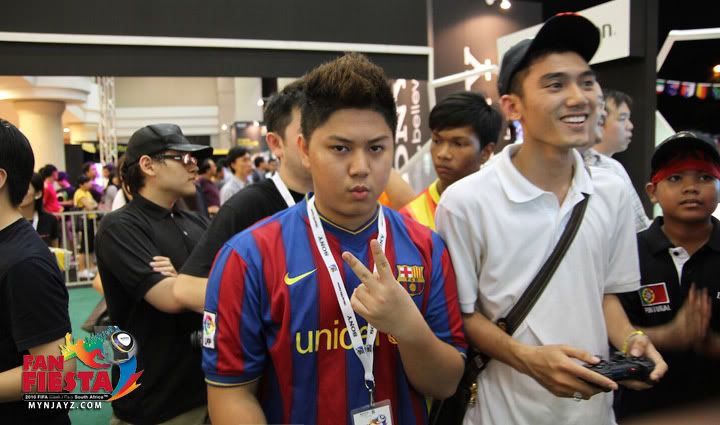 Im in action for PS3 Football tournament. Well, I manage to go into the FINALS but lost in the Finals. :(
People can't wait to paint flags on their face in support of their teams!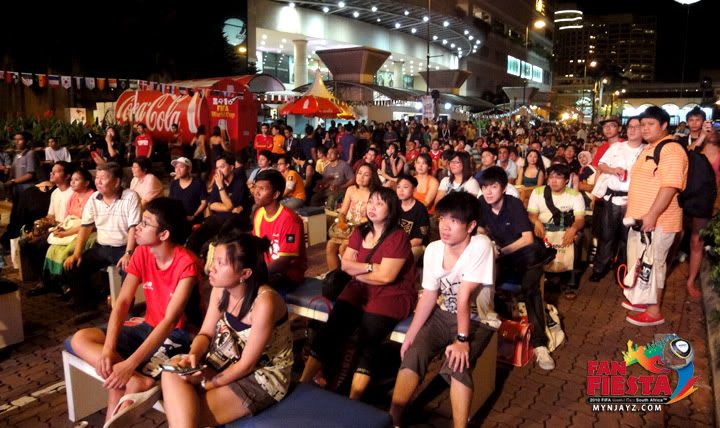 Audience for the night. All very focused. Why?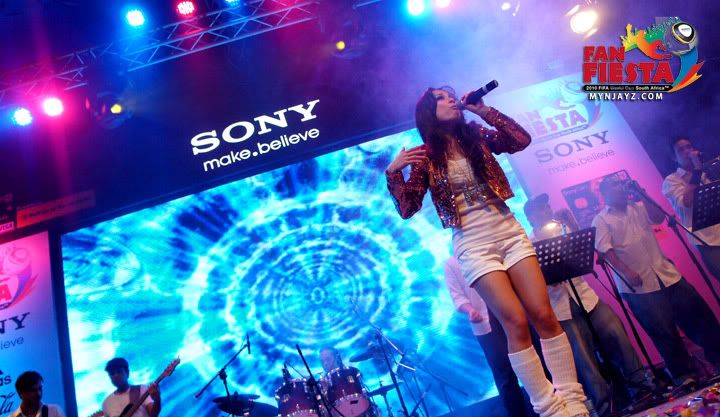 Cause Hannah Tan was on stage performing.
Botakai was so happy that Hannah called his name on stage. OH well, jealous!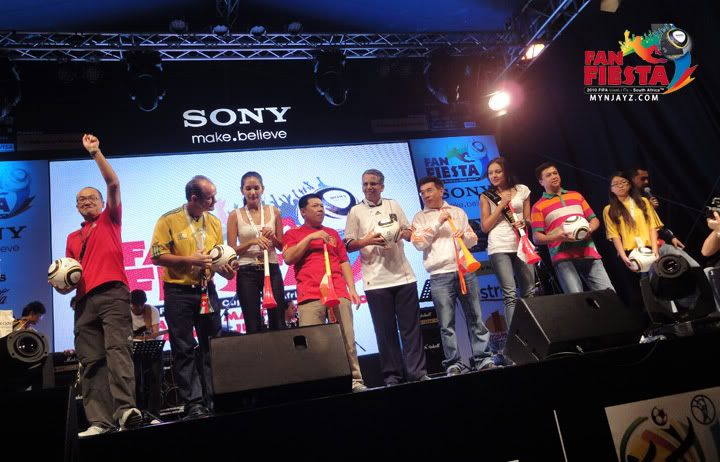 The moment where they officialize the event. Calling up all the co-partners, sponsors, organizer, VIP etc upstage. Spot Miss Universe Malaysia, Nadie Ann Thomas was there as well.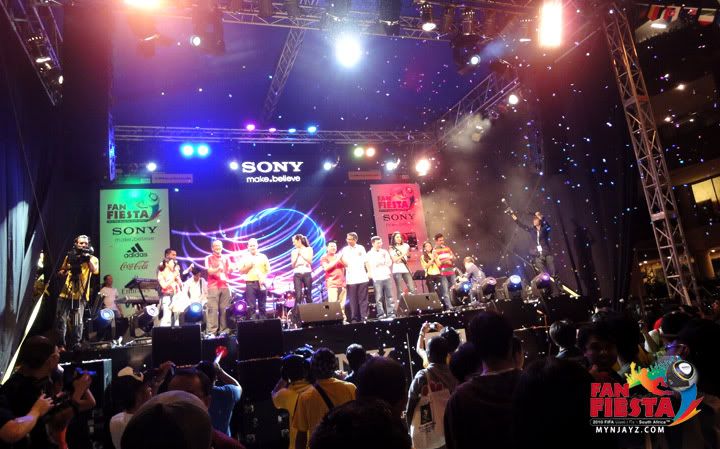 Blowing vuvuzela, kicking jabulani balls! Let's start watching the FINALS!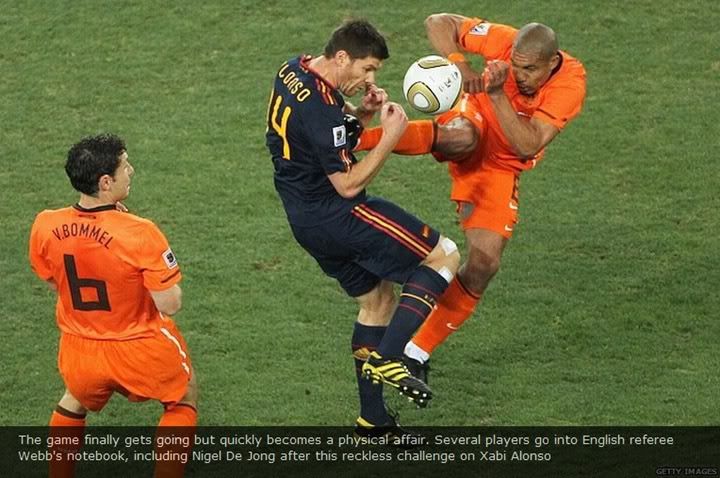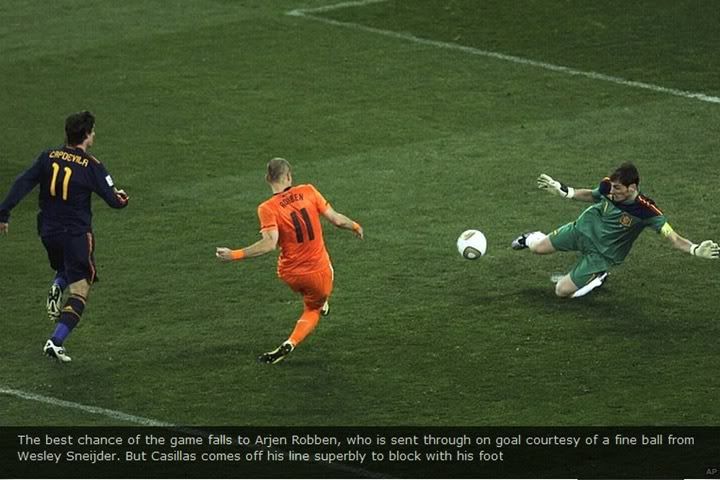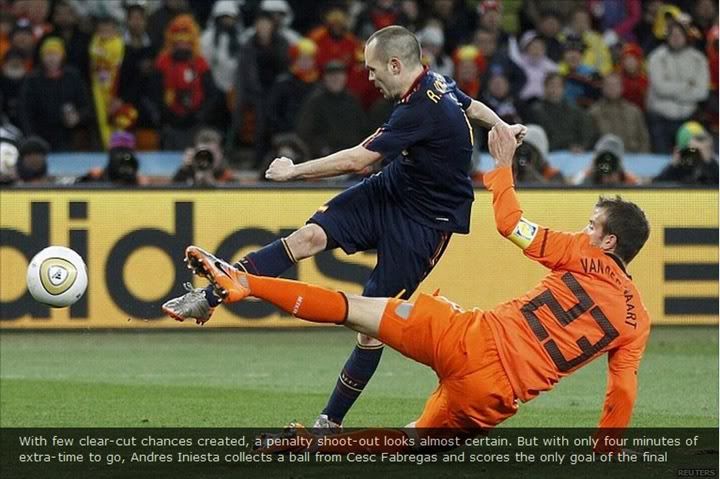 The World Cup 2010 Champions goes to Spain. Viva la Espanol !!!
That's all for the WORLD CUP 2010. See you again in 2014.
The 2014 FIFA World Cup will be the 20th FIFA World Cup, an international football tournament that is expected to take place between June and July 2014 in Brazil.
Anyway, even though the World Cup is over, remember you can catch up on your favourite moments of all the matches of the World Cup - just check out
this link
(Bplayer). There were a few matches I missed, and this is really one of the best legal places to watch the World Cup online from here :)
...