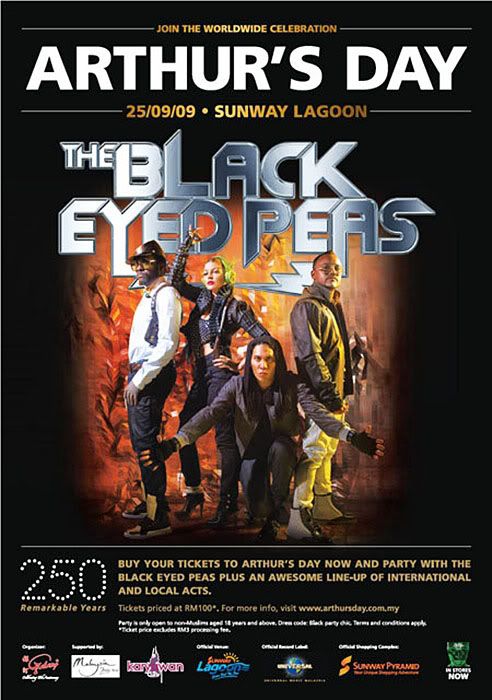 Hello People ! Did you know that Itz Arthur's Day this Friday ? Itz happening at Sunway Lagoon. Itz a Global celebration culminates in Kuala Lumpur. We are rocking it at Arthur's Day with the Black Eyed Peas plus other international and local acts.

and the BEST thing is, im going to Arthur's Day !
But all i care is meeting the Black Eyed Peas live in person !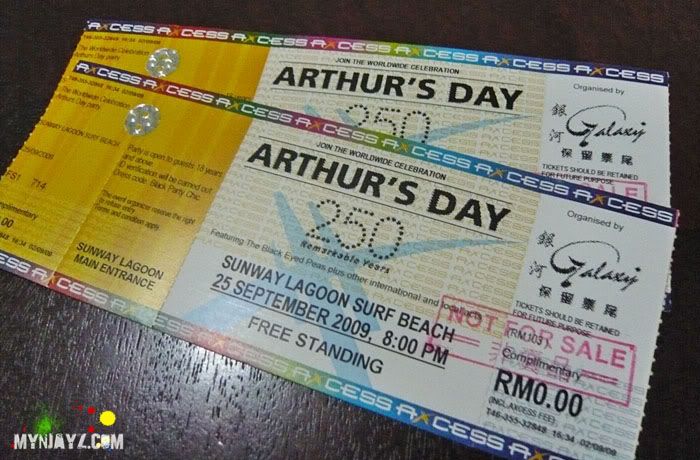 Helped her to collect the tickets and I can't wait the day tomorrow to come !
Exited sial. For those who haven manage to get your tickets yet, click
HERE
.
......
Advertorial. Maison paid me for Advertising this.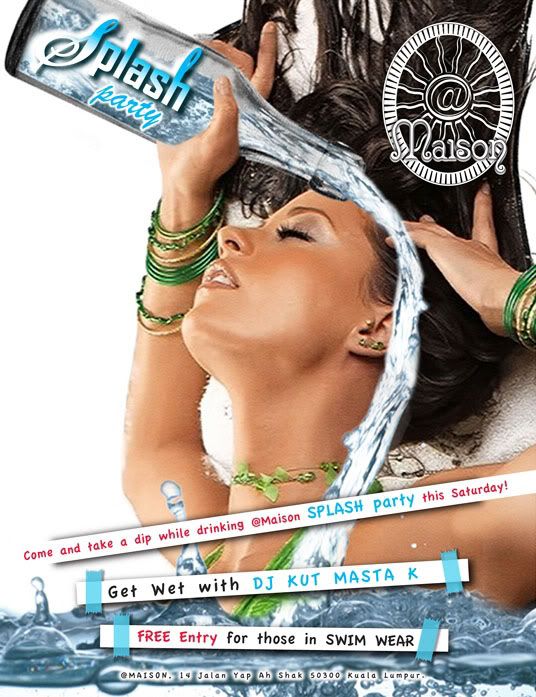 Holla party junkies !
Come and take a dip while drinking @Maison SPLASH pool party this Saturday! 26th Sept 09.
You've heard it right; we are transforming our outdoor space into a pool area for a day just to make this happen! The beautiful, the tattooed, the rich, the famous, large and small—everyone gets down on SPLASH Saturday. We will be making waves with exhilarating dancers, grooviest music, live DJ, and drinks!
With live pumping music by DJ Kut Masta K, this evening will be splashing! We serve only the grooviest R&B, Hip-Hop on the platter!
We break the rules for you! Come ONLY in beach wear (t-shirts, shorts, towels, flip-flops, swimming attire, goggles, rubber ducky float if you really need to!) because you're bound to get WET! Flash any of the relative item above and GET IN FREE ALL NIGHT LONG! Yes, you can flaunt your rubber ducky too. Dress at your own risk if you come in JEANS, SHIRT, and DRESS because we don't say SPLASH for nothing.
By reading the details on top, it reminds me of this video.

SPLASH pool party. Exactly the same. Wanna experience it in a club, drop by maison !

Also, we are shamelessly having the BEST if not BESTEST bottle promotion in town!
BOTTLE PROMO RM418 1+1 (2 Bottles)
DEWAR'S 12yrs
BOMBAY SAPPHIRE
RUSSIAN STANDARD VODKA
COURVOISIER VSOP
BACARDI (limon, razz & apple)
For further info or RSVP, kindly contact 012-3971207 (Chris Ee)
Im going there too under Chris Ee, if you're planning to go, let me know too yeah !
Don't forget to follow my
twitter
to get updated from the Arthur's day celebration.
...