Yes The Samsung Galaxy Tab Launch took place last week and it's now available in the market! By the way, checked out The New Samsung Galaxy Tab launch post already? If not, you gotta read it first! Click
HERE
:)
Yes! I was one of the lucky blogger to get the Samsung Galaxy Tab from Samsung Malaysia and thanks to
Advertlets
for it. And again, just a brief introduction, recently Samsung just launched it's very first tablet device called the "Samsung Galaxy Tab". Which guarantees more possibilities on the GO! The new device from Samsung looks like this! (below)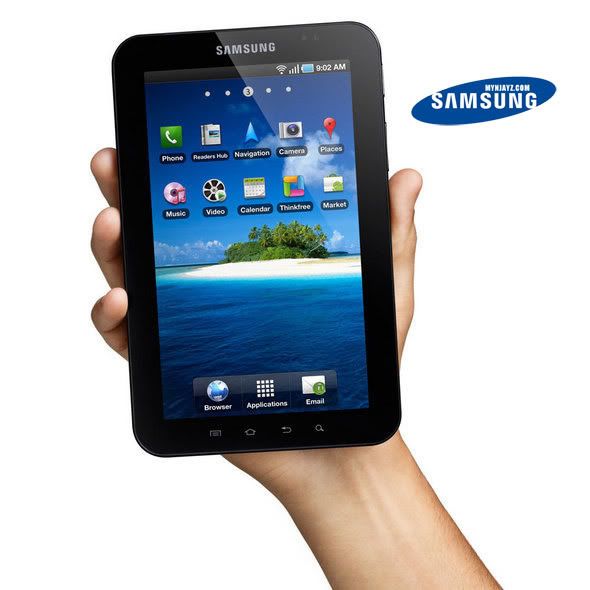 Beautiful isn't it? It caught my attention when I first saw it. The LOVE at first SIGHT. It looks like a smaller version of the iPad and also the bigger version of the Samsung galaxy S smart phone. Photo (below)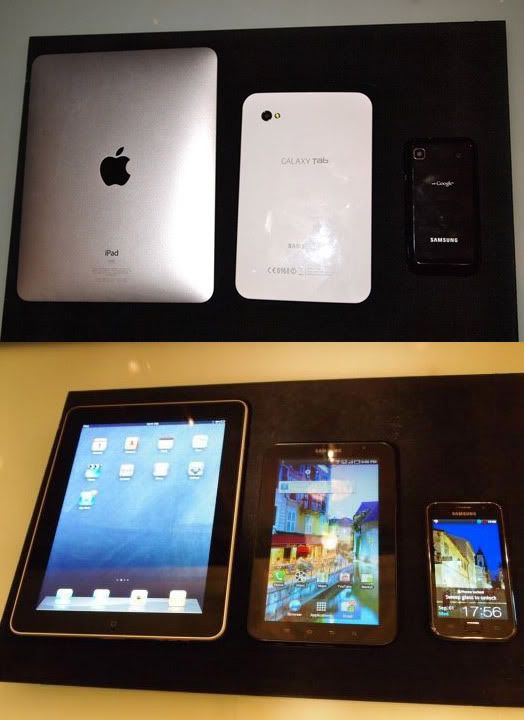 Well, you can see the difference sizes of the device above.
On second thought, is it good enough to compete with the iPad? What makes them both a true competitor among each other in the market? When Apple introduced the iPad, many were probably disappointed to learn that it would run the same operating system found on Apple's iPhone and iPod Touch devices. "Isn't the iPad just a big oversized iPhone?" people wondered. Samsung has a similar problem to overcome with the Galaxy Tab. Isn't the Tab, which runs Google's Android 2.2 Froyo operating system (the same one found on nearly a dozen smartphones out there), really just a big Android phone?
It's gonna be a showdown between the Samsung Galaxy Tab specs versus the Apple iPad. Everyone has the same thoughts as well?
The answer is YES or NO? We shall find out.
As an iPad owner, at times i felt that it's a lil too oversize for me to bring out for a casual outing, meeting and so on. Felt a lil clumsy to hold which leads to discomfort. Thus, the size of the Samsung Galaxy Tab would be perfect! It's exactly half the size of the iPad and it fits my whole palm holding it.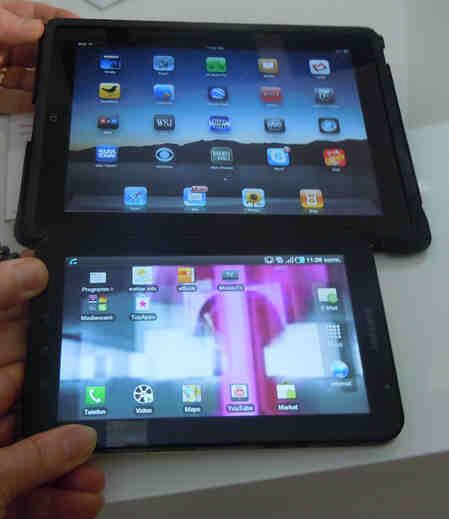 As you can see, it's a lot smaller than the iPad at 7-inch TFT LCD with 1024 x 600 resolution (WSVGA) compared to the iPad's 9.7-inch LED-backlit glossy wide screen with IPS technology. I can be honest to you that both iPad and Samsung Galaxy Tab is a great product and both has it's pros and cons. Lets find out!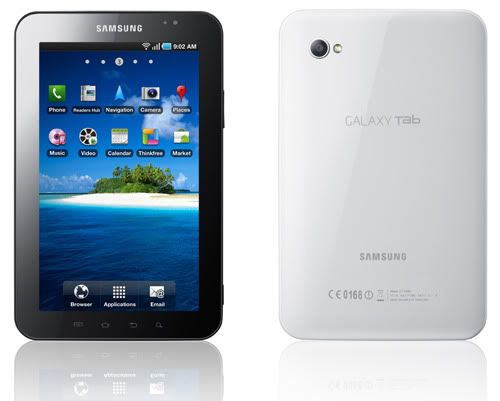 One GREAT thing about the Samsung Galaxy Tab is.... You wouldn't believe it, it can make calls and able to function as a PHONE. That's how MAXIS telco service provider got involved. At once I brought the Tab out just to try out and phone calls went in, picked up and put the Tab over my ears and talk. Well, it does look cool to most of the people but it looks weird to me. What?! The stone age era is evolving eh?
Haven't said that, I realize that it only functional as LOUDSPEAKER. If you don't really wanna look like a freak holding that oversize phone onto your ears, you would prefer getting an earphone jack or a bluetooth headset instead. like this dude (below)
On the other hand, the Samsung Galaxy Tab has 2 sides cameras function which the iPad doesn't! Another plus point. With 3MP for the back camera and 1.3MP for the front camera.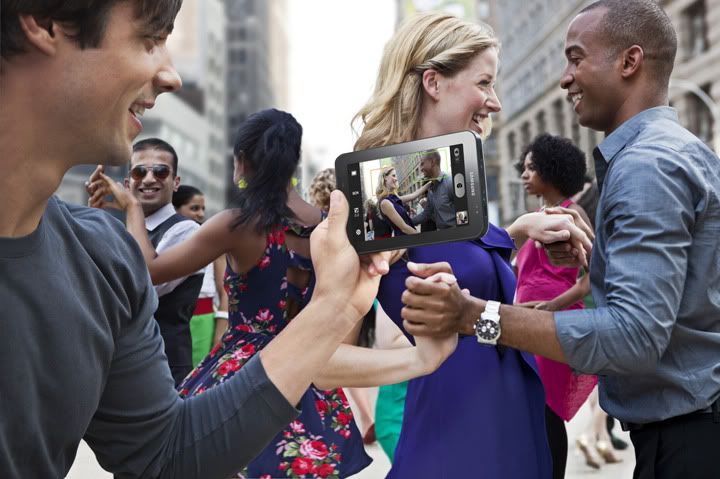 Back camera for taking pictures and HD videos. It's great taking it on daylight and I think it's not really useful in the dark.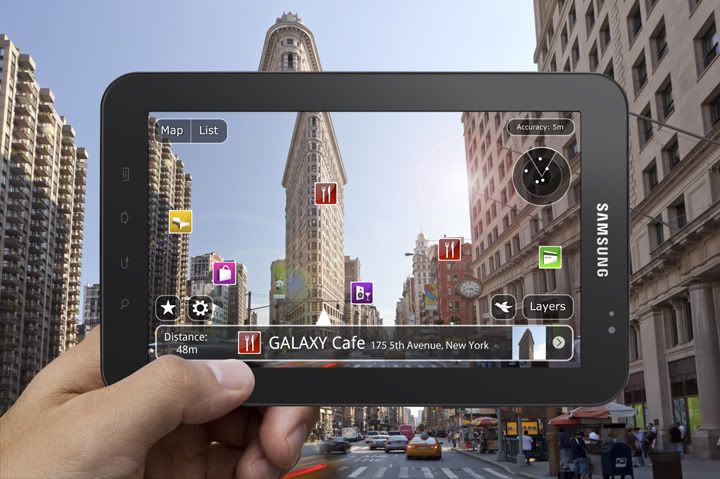 In addition, you can even search for what places/restaurants are nice to dine/ places to go using the camera with GPS system. Pretty cool. It's somewhat like the foursquare app thing, people check in places, leave tips, remarks and share with everyone around the world!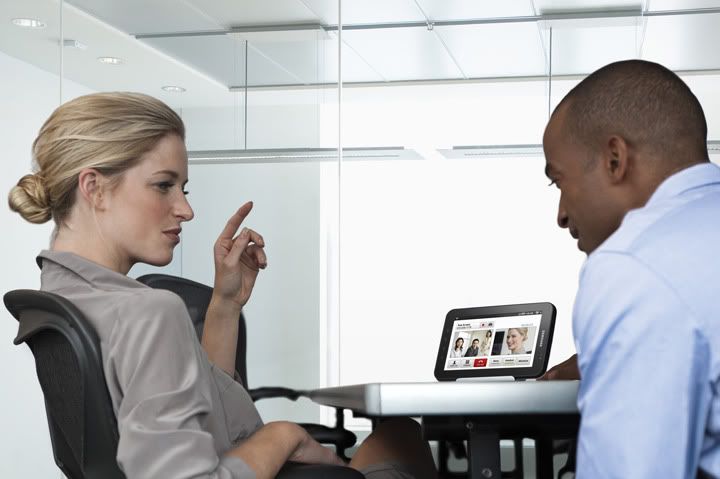 For the front camera, it works for stuff like video conferencing, skype and so on. Either using 3G or WIFI connection. Works on both ways. Not bad....
Haven't said that, With 3G HSUPA connectivity, WiFI and Bluetooth 3.0, the Samsung Galaxy Tab enhances users mobile communication on a whole new level. Video conferencing and push email on the large 7-inch display make communication more smooth and efficient. For the telephony, the Samsung Galaxy Tab turns out to be perfect speakerphone on the desk, or a mobile phone on the move via bluetooth headset.
The Samsung Galaxy Tab is designed for the perfect balance of portability and function. WIth its striking 7 inch TFT-LCD screen, light body, users are able to experience PC-like browsing while enjoying a full mobile experience, perfect for watching movies, clips, viewing pictures, play games and e-reading in such handy device.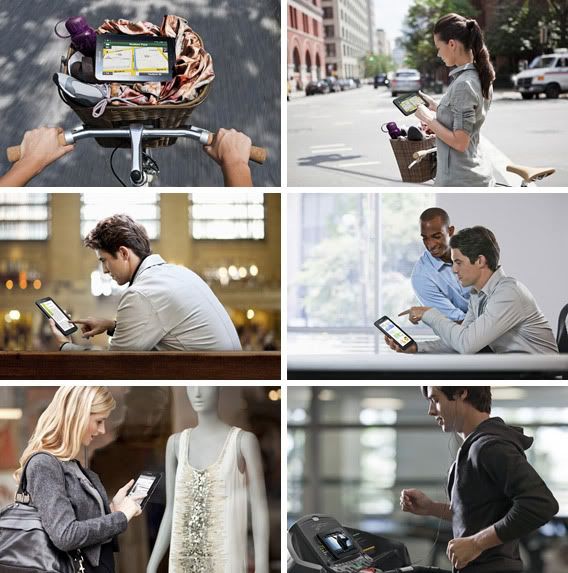 Samsung Galaxy Tab is easy to carry, it's handy, it's perfect sized for a mini computer plus phone and it enable you to use it anywhere and where ever you go! Compare it to the iPad. Definitely you will have a problem bringing it around.
Speaking of the pros and cons of the Samsung Galaxy Tab and the iPad, there's MORE!
The thing I like about the Samsung Galaxy Tab is transferring folders/files from PC to the TAB makes one life easier. It's way easier compared to the iPad which you needa access iTunes and SYNC over whatever stuff you wanna transfer over to the iPad. Also, the Samsung Galaxy Tab supports all sorts of video format compared to the iPad which only support certain format which gives you a big hassle on converting all the media folder and transfer it over to the iPad.
Thus, I wouldn't admit that the touch sensitivity of the iPad wins the Samsung Galaxy Tab by a mile which they needa improve on. Other than that, it's all good for the Samsung Galaxy Tab.
Also, the Samsung Galaxy tab provides memory card slot and the iPad don't. However people might think that 32 or 64GB is way more than enough. But think twice, perhaps movies/clips that you wanna put in there would occupy a lottt of space so there's still an advantage on having a memory card slot on the device itself.
Battery wise on both devices, the iPad would last longer than the Samsung Galaxy Tab. Way longer than you expect. At once, my iPad last for 6 days straight without charging, for just casual use. By playing games, did some surfing, download apps, viewing photos and watch a lil videos from youtube. Do take not why? Because the Samsung Galaxy Tab itself works as a phone, with other battery consumption like camera + internet 3G + entertainments etc.
Price range for both devices are quite similar. But the iPad seems to be cheaper it seems. Retail Price for the Samsung Galaxy Tab in Malaysia is RM2,699. Apple iPad pricing will be different depends on the currency of the particular country you're at. I bought mine from Australia, which cost me (convert into RM) is RM2,230.
Lastly, applications which you can find in "iTunes" & Android Market. I would give a conclusion that iTunes would be a better choice for Application wise and they're the leading market for applications. Thus, the iPad get to have more apps compared to the Samsung Galaxy Tab. But if you're not much a gaming/apps person, the Samsung Galaxy Tab would be perfect!
Anyway, here's a table of the specs comparison for both Samsung Galaxy Tab & and Apple iPad.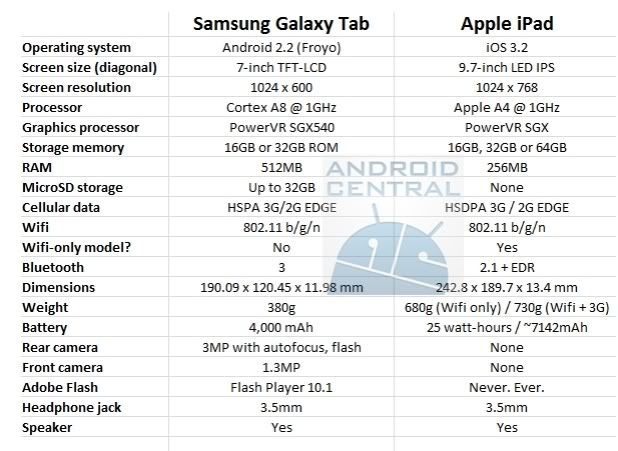 Some of you might think that having an iPhone or a Samsung Galaxy S is good/small enough compared to the iPad and the Samsung Galaxy Tab, that's fine. But for those who loves having huge screens to satisfy your needs in your daily lives, this review would be quite useful for you.
Well at least we know that a competitor came up with something new which is the Samsung Galaxy Tablet and that makes a fair competition in the market for consumers to decide which would they prefer. At least, a CHOICE of TWO. Rather than just ONE! That would wrap up my review on the Samsung Galaxy Tab - in comparison with the Apple iPad.
For more info on the Samsung Galaxy Tab. Do visit their website
http://www.samsung.com/my
.
Lastly, here the Samsung Galaxy Tab promo video. Check it out, quite cool video eh.
* Whatever statement stated here are based on my personal opinion. Thus, comments are allowed. That's all for now, Thank you for your time.
...