Looking for a holiday vacation this year end? Welcome to Singapore!
Stand a chance to win a 3D2N trip to Singapore this year end when you join the Light up Christmas in Singapore online contest. All you need to do is invite 12 friends to help you light up the YourSingapore logo on
yoursingapore.com/lightupchristmas
. The fastest to have their logos lit up each day will win an iPod shuffle while top 10 fastest time everyday will be in the running for the grand prize of a 3D2N trip to Singapore to have 12 special experiences!
Since I will be going to ZoukOut in December I thought I'd compile a list of 12 things to do in Singapore this year (12 because there are 12 days of Christmas). So enjoy!
1. Christmas Light-up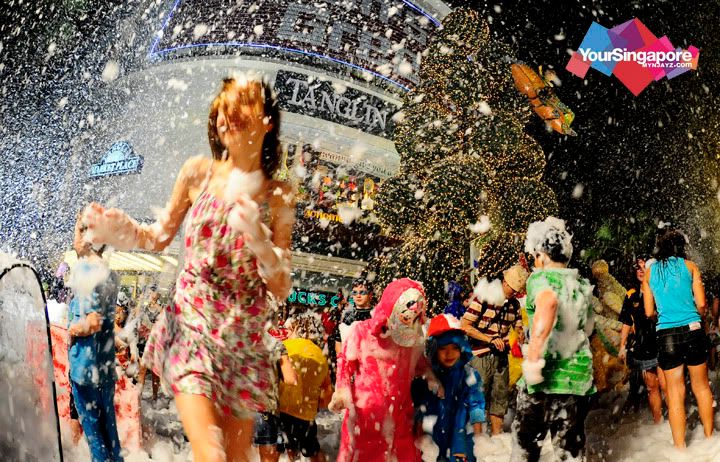 20 Nov 2010-2 Jan 2011, Orchard Road and Marina Bay
Think Christmas and images of sparkly lights, gift giving, melodious carolers and colourfully decorated trees come to mind. In Singapore, Christmas is celebrated with tremendous gusto and panache; you'll find all of the above and much, much more, save of course, the snow and woolly clothes.
Celebrating Christmas in Singapore is especially memorable at its two main shopping precincts in Orchard Road and the scenic Marina Bay area where streets and buildings will be decked out with fantastic lights and glitzy props, lending a joyous, magical feel to this starlit festive season.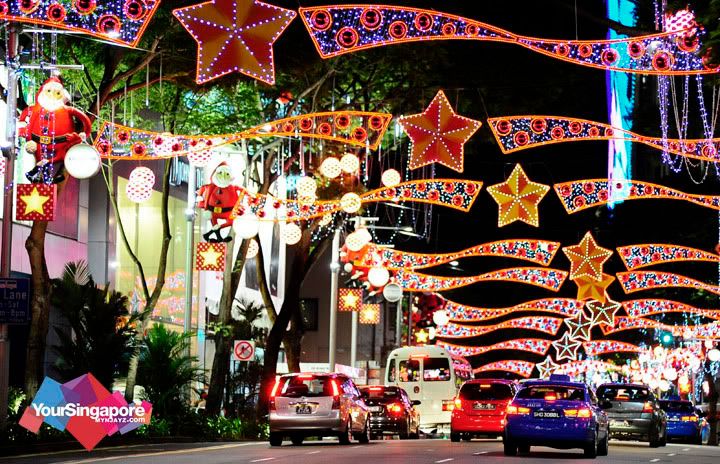 The street light-up theme varies every year and this year you can look forward to "A Starlit Christmas". The 2.2-km stretch will be adorned with sparkling stars of varying hues in its three main areas – Tanglin, Orchard and Somerset. The famous shopping strip will be drenched in a stunning kaleidoscope of twinkling lights with sprinklings of star-shaped lights strewn from treetops and lampposts. You'll still find all the usual seasonal trimmings here too, from street performers and carolers to beautifully decorated storefronts. What's more, tourists will also get to enjoy open top bus rides to view the dazzling lights.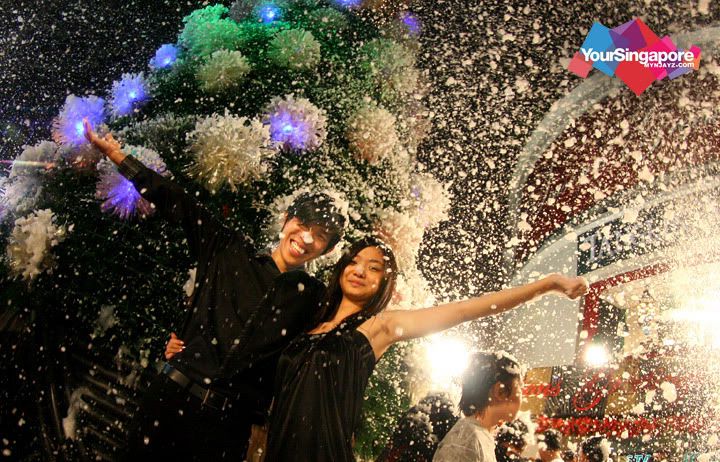 The Starlit theme of Orchard Road's breathtaking Christmas street light-up will be carried on in the vicinity of Marina Bay under the name of "Marina Bay Christmas Splendour". Furthermore, this will be the debut Christmas season for Marina Bay Sands®, so you can expect the new landmark to wow all with their dazzling decorations and superb offers at its Shoppes at Marina Bay Sands®.
2. ZoukOut 2010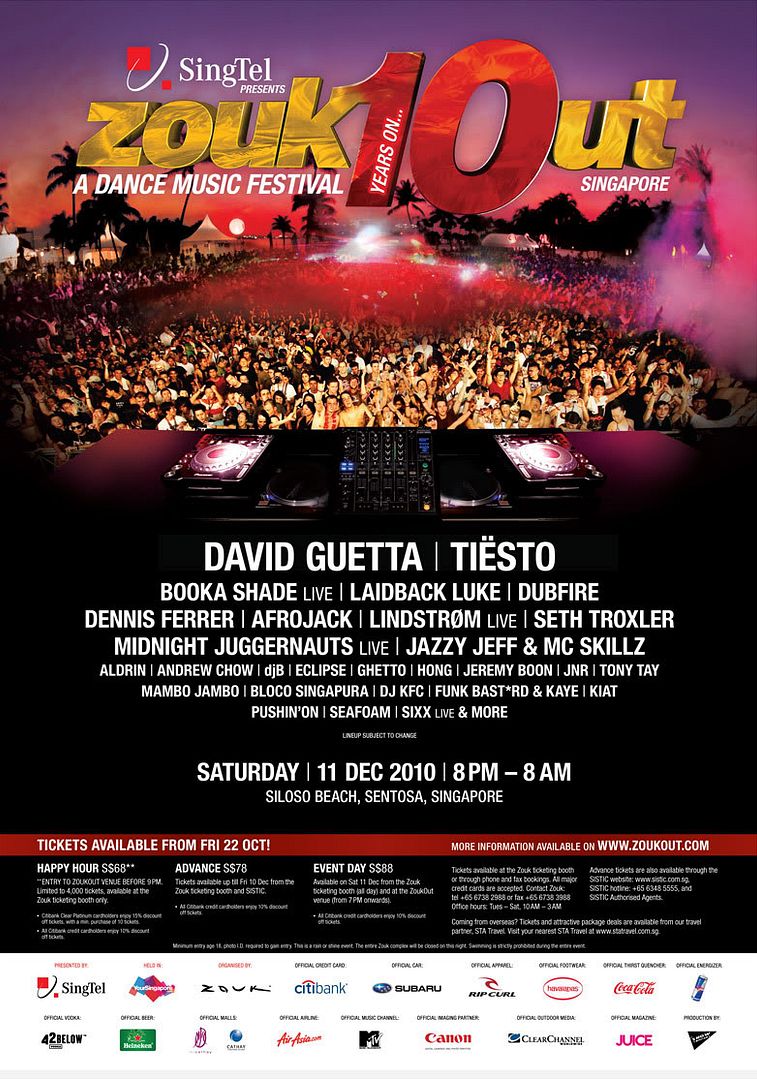 Happening on the 11 Dec - Siloso Beach, Sentosa. Party People rejoice!
The most anticipated party of the year for party animals. SINGTEL PRESENTS ZOUKOUT 2010. Saturday 11 December 2010, 8pm-8am Siloso Beach @ Sentosa, Singapore. It's gonna be The Perfect Beach Party. And guess what? I will be there this year! Woohoo!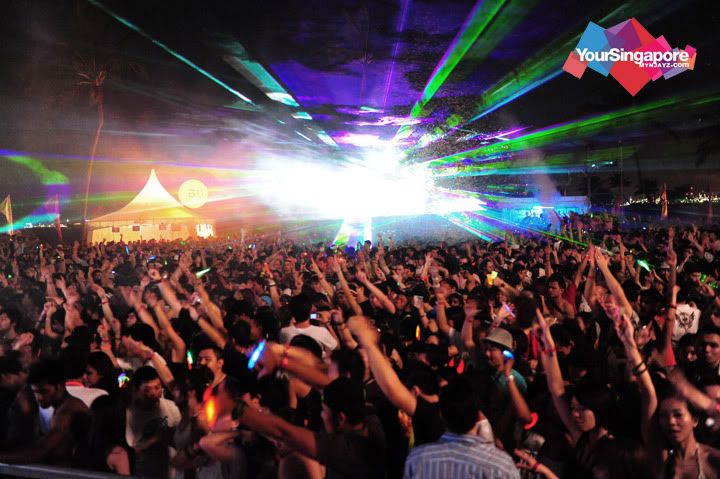 Look at the amount of people attended for the party in all the previous ZOUKOUT. Awesome!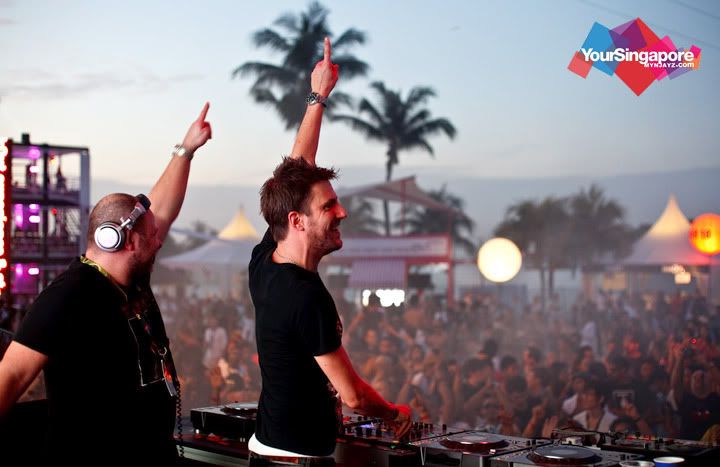 Famous international DJ's like DJ Tiesto and David Guetta is gonna be there to perform their best to entertain all party people in Zoukout Singapore 2010.
Here's a photo of the previous ZOUKOUT 2009. From the photo itself, I can foresee it will be happening and I assume this year will be even bigger and better!
3. Walking with Dinosaurs – The Arena Spectacular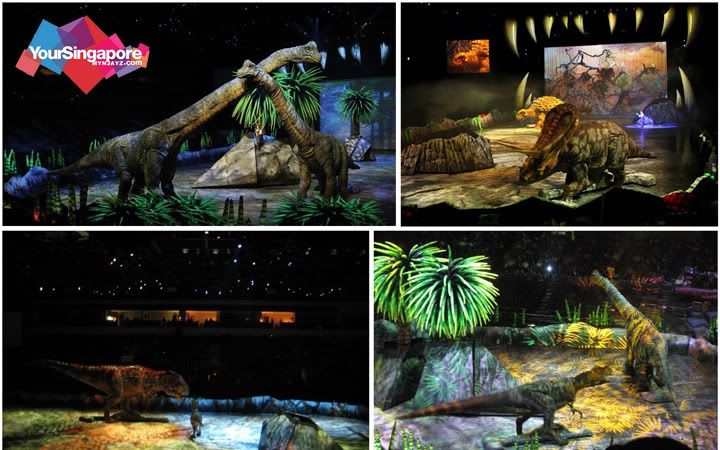 1-10 Dec, Singapore Indoor Stadium
Walking with Dinosours! After 65 million years, they're back roaming the arenas of the world in an extraordinary theatrical production! Watch 20 life-sized dinosaurs, including the Tyrannosaurus rex, rule the Earth again! Be amazed and thrilled as the greatest creatures ever to walk the planet dazzle you in this $25 million production, set to captivate young and old alike. Watch them walk. Hear them roar. Be there as they fight for survival and supremacy. From the ripple of their skin to the glint in their eye, you'll know the dinosaurs really have returned!
More information, do visit
www.dinosaurlive.com.sg
4. Valentino Retrospective Past/Present/Future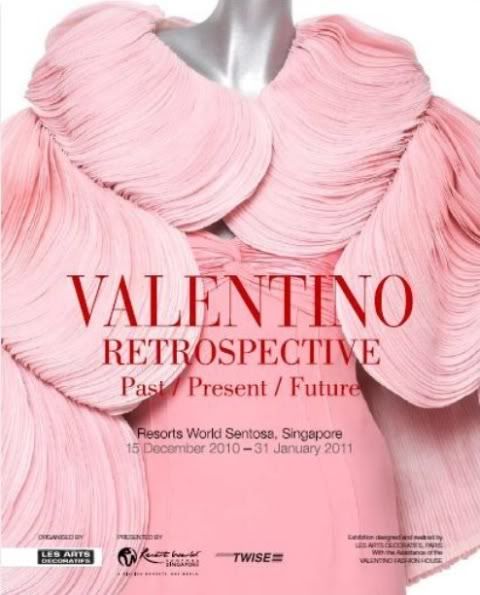 15 Dec 2010-31 Jan 2011, Resorts World Sentosa™
Oone hundred exquisite haute couture pieces from the renowned Italian Maison Valentino will appear in a curated exhibition at Singapore's first integrated resort, Resorts World Sentosa RWS). The exhibition – 'Valentino, Retrospective: Past/Present/Future'– will feature haute couture looks from founder Valentino Garavani's early designs to present-day creations by current Creative Directors Maria Grazia Chiuri and Pier Paolo Piccioli.
Visitors will be able to see gowns that were once worn by celebrities such as Cate Blanchett, Nicole Kidman, Julia Roberts, Jacqueline Kennedy Onassis, Elizabeth Taylor and others.
5. Marina Bay Singapore Countdown 2010/11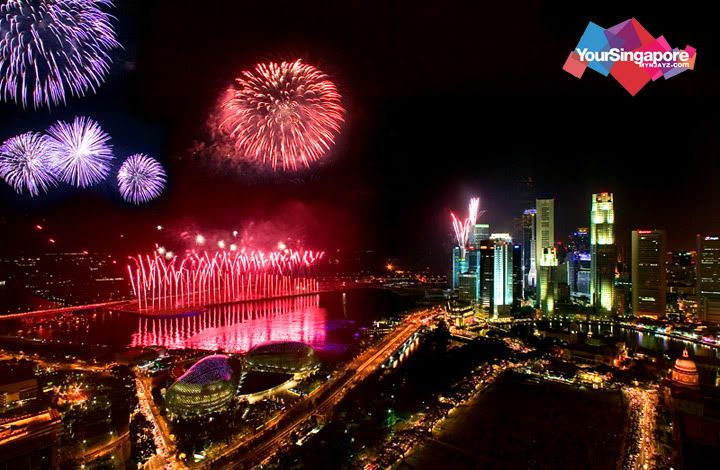 31 Dec, Marina Bay
With Marina Bay quickly becoming the new downtown, there's no better place to usher in the New Year. Set against the backdrop of the majestic Marina Bay Sands® and icons like the Esplanade and The Helix, join the locals and get a taste of a good old Singapore-style party.
Be entertained by musical and dance numbers by both local and international artists, then look on in awe as the extraordinary display of fireworks and pyrotechnics herald the arrival of 2011.
More than just a simple party, the Marina Bay Singapore Countdown has become a tradition in modern Singapore. It's an opportunity for Singaporeans to get together and unite with their common aspirations, hopes and dreams for the year ahead. Visitors to the Marina Bay area can even write their wishes down on special "Wishing Spheres" which will float on the waters of Marina Bay as an art installation.
Visit
www.marina-bay.sg/countdown
6. Siloso Beach Party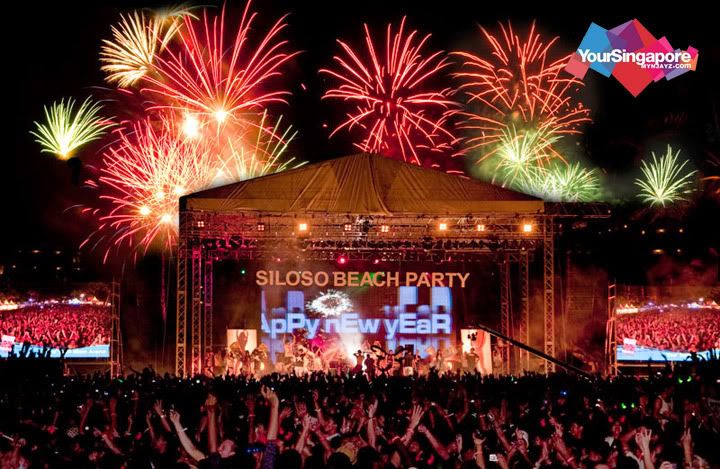 31 Dec, Sentosa
Escape from the city and countdown to the New Year at Asia's Grooviest Beach Party. Expect a night of non-stop music, with 10 hours of partying and lots of fireworks across several party zones. Spread out over more than one kilometre of beach, you can dance the night away at COASTES and Azzura, get a taste of Ibiza at Café del Mar, and even surf at the Wave House Sentosa. Relax at the new Chill-Out stage, dive into the signature foam pool and recharge with an array of food and drinks before hitting the sandy dance floor once more.
Backed by a colourful collection of fire-eaters, stilt-walkers and other performers, you'll have no trouble staying awake until 2011's first sunrise hits the shores of Siloso Beach.
Visit
www.sentosa.com.sg/silosobeachparty
7. Clarke Quay New Year's Eve Countdown Party 2010

31 Dec. Central Square, Clarke Quay
Home to some of Singapore's hottest night spots, Clarke Quay offers all kind of ways to welcome in the New Year. Following up on last year's circus spectacular theme, the whole of Clarke Quay will be transformed into a party zone with a new and exciting theme.
Hopping between the establishments at Clarke Quay is like going on a whirlwind world tour. You can soak in the chilled-out Moroccan ambience at Marrakesh, groove to the Latin rhythms at Cuba Libre and Azzucar! and tell a tall tale or two at Mulligan's Irish Pub.
Visit
www.clarkequay.com.sg
8. Riverdance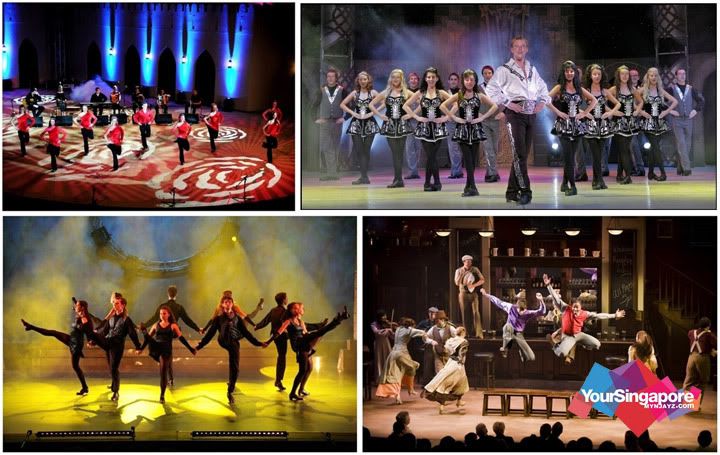 30 Nov – 12 Dec, Marina Bay Sands
Marking the grand opening of Singapore's gleaming new Sands Theater at the Marina Bay Sands, the original international phenomenon RIVERDANCE returns to Singapore from 30 November to 12 December 2010 for 16 performances only.
Few shows have touched audiences like RIVERDANCE. The show focuses on the evolution of Irish dance and its similarities with, and influences on, other cultures. The phenomenon of RIVERDANCE draws on Irish traditions and combines the richness of the music with the magic and sensuality of the dance.
Discover why RIVERDANCE is such a unique spectacle that continues to play to sold-out audiences worldwide and be amongst the first to visit the superb Sands Theater at Marina Bay Sands.
To book, visit
www.sistic.com
.
9. Shopping at Orchard Road
You have not really been to Singapore until you've been to the popular shopping belt, Orchard Road. Make sure you visit the brand new ION Orchard, with more than 600,000 square feet of shopping space spanning over eight floors. The ground level houses luxury brands such as Prada, Ermenegildo Zegna and Louis Vuitton, while the basement levels are endlessly packed with a variety of high street brands such as Topshop, Fred Perry and Armani Exchange.
Another new shopping mall is Orchard Central. You can enjoy alfresco and roof gardens dining while experiencing a breathtaking view of the city, as you admire the world's tallest indoor Via Ferrata Wall and artworks by renowned artists. 313@Somerset is also a new addition to the Orchard shopping strip. It is home to the biggest Forever 21 flagship store in Singapore, which spans four floors in total. With so many different malls selling all sorts of wares – from fashion and ethnic finds, to jewellery and furniture, Orchard Road offers much more than you can imagine. It's no wonder then, that Singapore is known as a shopping heaven.
From 20 Nov 2010 to 2 Jan 2011, receive a $10 shopping voucher from VISA when you charge a minimum of $200 nett (maximum 2 same-day, same-mall receipts) at the following malls: 313@ somerset, Forum The Shopping Mall, ION Orchard, Mandarin Gallery, Ngee Ann City/Takashimaya, Orchard Central, Paragon Shopping Centre, TANGS Orchard, The CentrePoint, The Heeren and Wisma Atria. Limited to the first 50 VISA cardholders per day. Terms and conditions apply.
For more information, please visit
www.visagoexplore.com
or
www.orchardroad.sg
.
10. Sky Symphony Countdown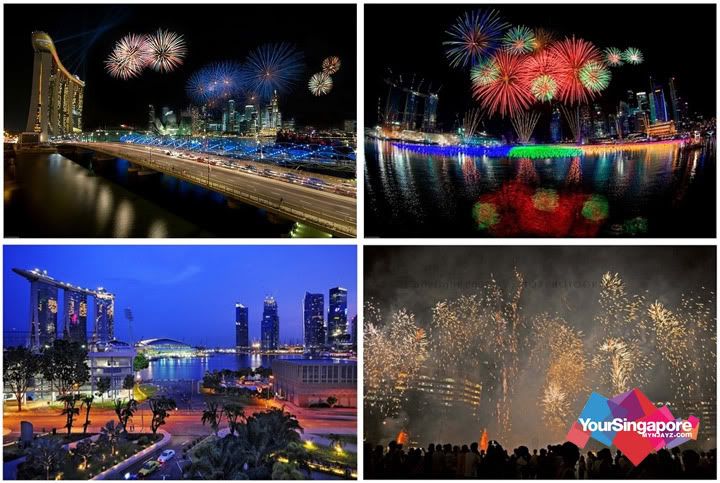 31 Dec, The Jewel Box
With the iconic cable cars of The Jewel Box fresh from a makeover, Sky Symphony Countdown will be one of the most anticipated ways to welcome 2011. From high up on Mount Faber, and across Keppel Harbour to Sentosa, visitors will be treated to a spellbinding display of fireworks choreographed to a symphony and accompanied by a dazzling spectrum of lights. The breathtaking views of the city and Keppel Harbour top off the magic of the night.
Visit
www.mountfaber.com.sg
11. Sands SkyPark®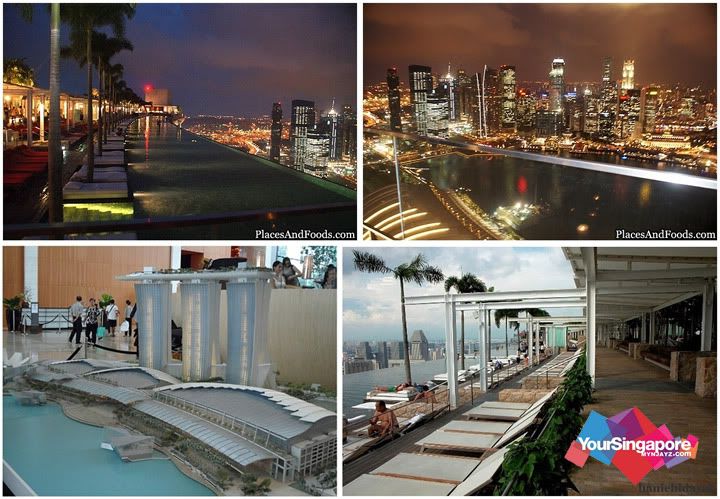 Marina Bay Sands
The Sands SkyPark is an awe-inspiring engineering wonder. This unique structural masterpiece, designed by visionary architect Moshe Safdie, floats atop the three soaring Marina Bay Sands hotel towers 200m in the sky. Stretching longer than the Eiffel tower laid down or four and a half A380 Jumbo Jets, with an impressive 12,400 square meters of space, the Sands SkyPark can host up to 3900 people. The gravity-defying cantilever is one of the largest of its kind in the world. From this privileged observation deck, hundreds of visitors at a time can feast their eyes on the unforgettable panorama view. With the Sands SkyPark pool and Observation Deck open, take in the astounding features!
12. Universal Studios Singapore®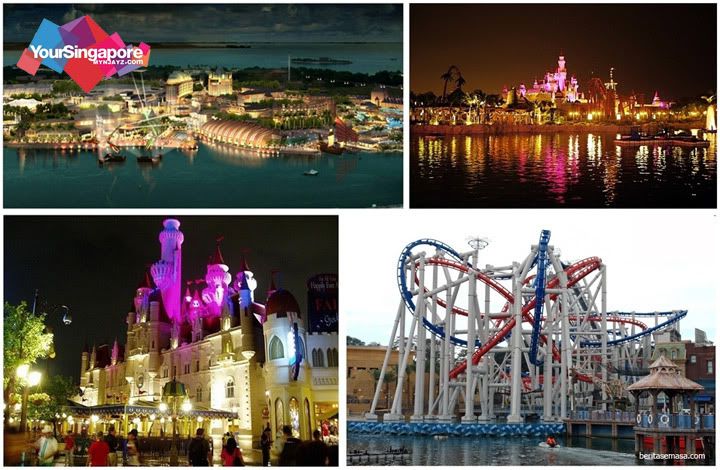 Experience blockbuster adventures like never before. Located in Resorts World Sentosa, Universal Studios Singapore is Southeast Asia's first ever Hollywood movie theme park. Packed with 24 rides and attractions, 18 of which are unique to Singapore, this sprawling entertainment playground is set to take you on a journey of thrills and spills.
Be captivated by the glamor of Tinseltown as you enter Hollywood zone, the first stop of your adventure. If non-stop excitement is your thing, be sure to hop onto Battlestar Galactica, the world's tallest dueling roller coaster. Or get wet and wild at Jurassic Park Rapids Adventure river raft rides and the WaterWorld show.
For the young and young at heart, there's always Shrek and gang to provide family fun at the world's first Far Far Away Castle. You can also embark on an African riverboat ride with wacky characters from the movie Madagascar. With so much in store, what's there not to love about the magic of Hollywood?
www.rwsentosa.com/Attractions/UniversalStudiosSingapore
With all these 12 places I've mentioned and explained above, hope you guys have a rough idea on how to make use of your year end holiday experience in Singapore. If you haven't been to any of the 12 places above, you need to start planning starting from NOW as year-end is just round the corner. As for me, I am really excited to be going to Singapore in December for ZOUKOUT! After that I will spend a few days there for sightseeing as well. Anyone who's interested to join me, do give me a buzz ya! Hopefully, I will have time to experience at least a few places out of the 12 things I've mentioned above.
Hope this post is useful to you guys out there about Singapore. :)
...