It's been a while since I blogged. New Year 2010 I should be updating more often. But sad to say im quite busy with college nowadays I don't really have time for my blog and all. But still I will try to update it once im free.
Okay for now, just wanna share a lil somethin somethin with you all what happen last week on the first week of 2010. This is not an achievement that needed to be proud off or something that some of you might think so. And yeah, I got featured in The Star R.AGE last Wednesday paper if you don't realise it's on Star 2 Page 4. There's this topic about young Malaysians in their blogging world. What are they gonna say about it? You gotta read it yourself.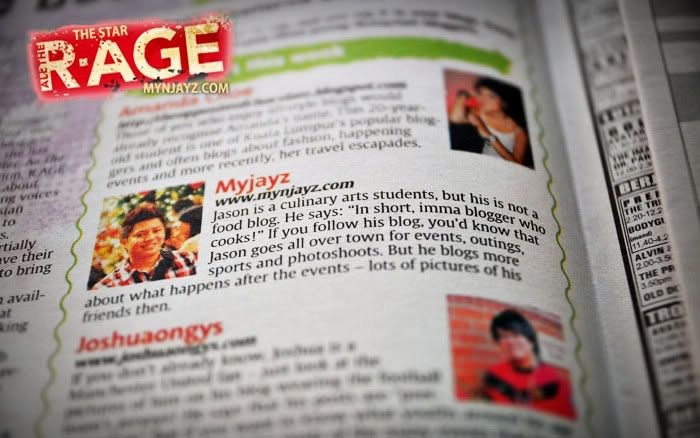 So yeah. Bloggers like
Amanda Choe
, myself &
Joshua Ong
got featured woots!
Ya, they mis-spelt my nickname : Mynjayz as Myjayz. Small problem only larh.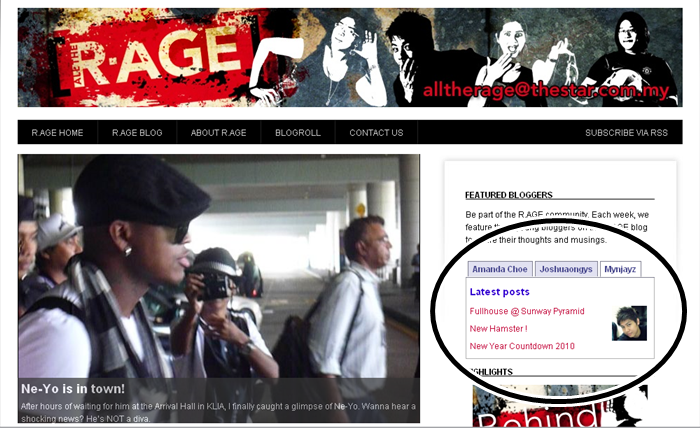 Print screen from Star
R.AGE blog
website. Click and check it out.
Anyway thanks to NikiCheong for it. The contract was made last year actually but manage to come out this year. =) Also, Ne-Yo's concert live in Malaysia was also happening last week.


happening in Sunway Lagoon Surf beach on the 7th of Jan 2010. I went ! YES. and Thanks to Khaisim for contributing me her pair of tickets to me. It was a last minute thing. I manage to get her tickets because im so near to her. I was at college and she's just 5 min away and she's not going. I believe I got a lot of luck this year.
Many wanted one of my tickets once I tweeted but the first to message me get's it. Which was Suetmei. The old old kawan. So I gave it to her.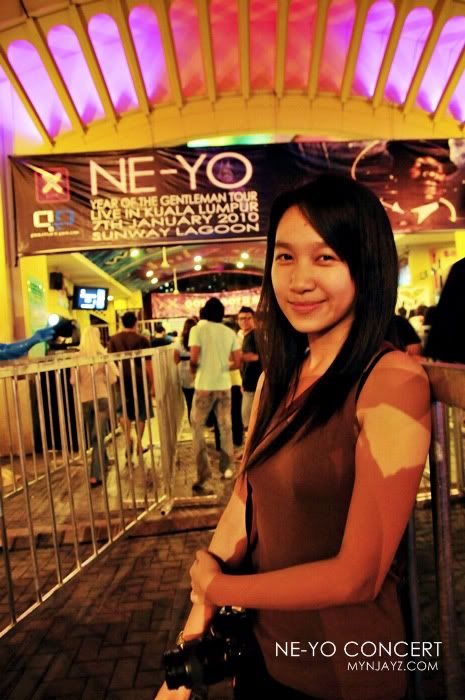 Kimweiwei was there with us as well before getting in.
I was quite FRUSTRATED about the news from EVO and JESS where I heard them tweet saying : We are allowed to bring our DSLR's in the concert. I was so exited, I purposely went home and grab my DSLR back to Subang. And guess what, we got caught and were told that we are not allowed to. GREAT.

Im gonna give up bringing DSLR's when comes to concerts in the future. Totally.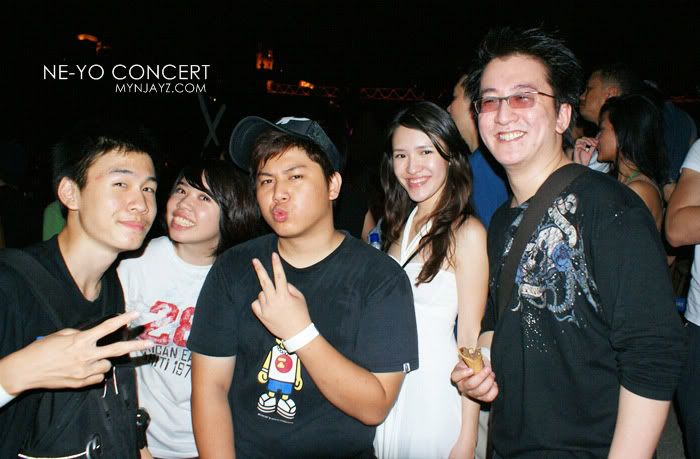 The peoples I hang out with within the concert. Jon, Suetmei, Myself, Meiyingt and Joshlim.
The concert was not bad. All his songs were nice but not really songs good for concerts. Im not jumping for all his songs, I was rather sleepy standing there listening to his slow and love songs. The opening song which was 'CLOSER' was the only song with beat which i like !
I rate his concert 7/10! Was fairly good.
I've got more to blog. I needa find time for blogging. Do stay tune, More year 2009 photos/post will be out soon. Cheers!
Followed me yet on twitter?
http://twitter.com/mynjayz
...