Last week, I was invited by David lai the mentalist/magician and Botakai to attend a food review at Skewers, Subang Avenue with the bloggers. It's all about skewers on hot fire grills. Tasty grilled meat on sticks, barbeque fare etc. I was quite exited about this because rarely we have something like this. I was up for it without thinking whether I have even more important event on that night. hehe.
A new place in town, It's Skewers. A good friend of mine, David Lai owns a part of it.
Look! there's a see through glass kitchen! Very good concept for people to have a look what's the chef is doing.
How does it looks like inside. More like a drinking place concept. This place is surely gonna be pack happening in the World Cup season this week.
We sat outside, and loved the open-air football bar concept where we can chill, eat, drink, talk and just enjoy the night there. Fear not, there's WIFI available as well.
Now let's proceed to the food part! Sorry to say that I've missed 2-3 of the appetizer dishes. Only took the main course and the desert part. Was too hungree.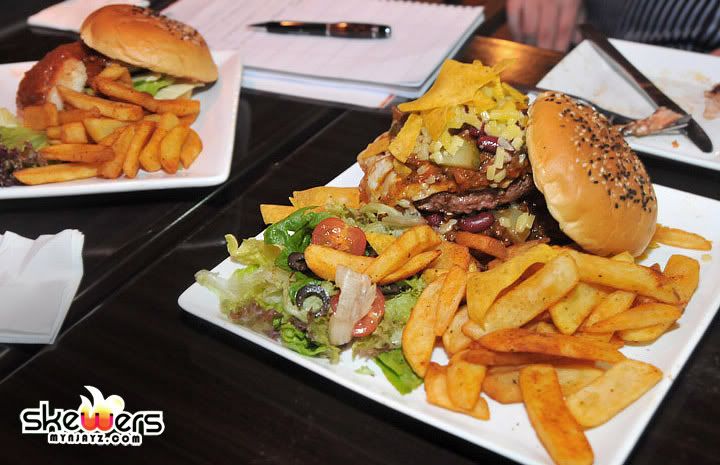 Well, so far the one that amazed me the most was the portion of this plate of BURGER. Look closely in detail, how many layer of meat, how generous was the amount of ingredients inside the burger. Called the DOUBLE ULTIMATE SKEWERS GLUTTON BURGER. It was damn awesome!
Description: 150g beef (+ herbs and spices), oozing chilli con carne and melted shredded cheddar cheese, fried bulls eye eggs, tomatoes, salad leaf, tortilla, gherkins and jalapenos. Served with seasoned steak fries and fresh garden salad. (RM36)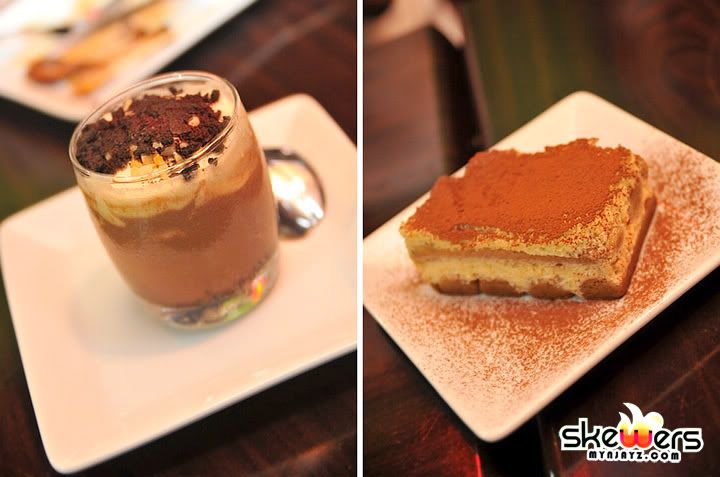 Alcahol tiramisu & a chocolate dessert in glass was served as our dessert. Not to mentioned, free flow of pink guava with lemon juice all night long.
Here are some of the photos taken that night. Hello Advertlets bloggers! Mostly.
Table #1
Table #2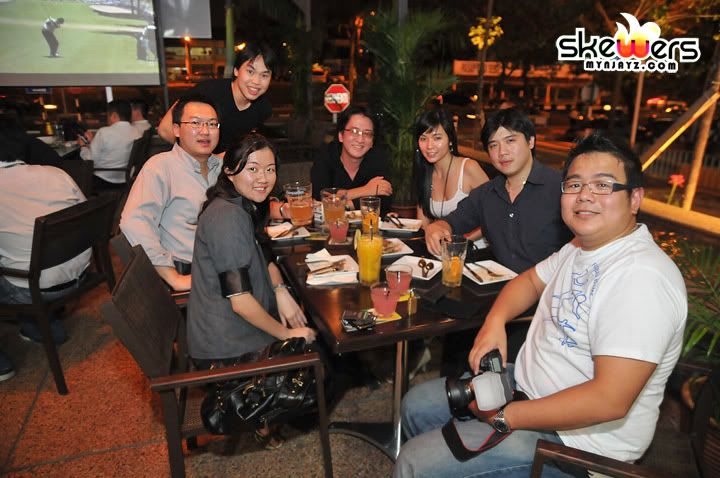 Table #3
To include me inside the photo. Table #4 with Simon So on the left. I miss that guy!
As usual, theres always a girl who wants to take a photo with the hensem Jason's. muahaha.
Massive group shot before we left the place. Sorry my this picture is a bit lousy. Cannot be saved! But no worries, still can see everyone's faces.
Oh well, I was not really satisfied with my stomach not fully filled with SKEWERS foods! I wanna try everything in their menu. The meats tasted so juicy, so flavorful ! Surely gonna go there again someday. Anyone of you haven't tried Skewers, do make your way there for a visit after you read this post. lol
Location: SG-01 Subang Avenue Shopping Complex (Right Next to Carrefour)
Phone: 603-5632-1368
Facebook fan Page:
SKEWERS FB
...