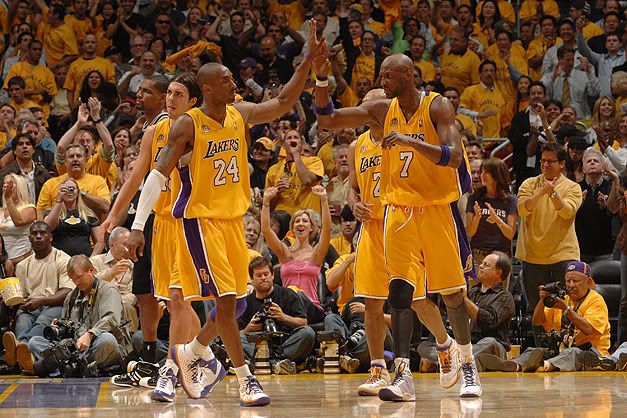 Kobe Bryant #24 and Lamar Odom #7 of the Los Angeles Lakers slap hands while taking on the San Antonio Spurs in Game Five of the Western Conference Finals.



YES!!! The Lakers are headed back to The Finals for the first time in four years. The defending champs San Antonio Spurs didn't have enough to hold on to a 17-point advantage as Kobe Bryant erupted for 17 of his 39 points in the fourth quarter to dethrone the Spurs, 100-92, on Thursday and send the Lakers to The Finals for the first time since 2004, when Kobe is with big Shaq at that moment.

Well, After taking the Western Conference Finals 4-1, the Lakers now await the winner of the Pistons-Celtics series. They are in 3-2 currently. Celtics is leading by winning 3 games whereby Pistons leading winning games by 2 matches. The NBA Finals tip off June 5 at 9 p.m.

And I am proudly to present you the Western Conference Champion, Lakers!


P/S : Elaine Chong, you must be very happy about Lakers entering the finals!!