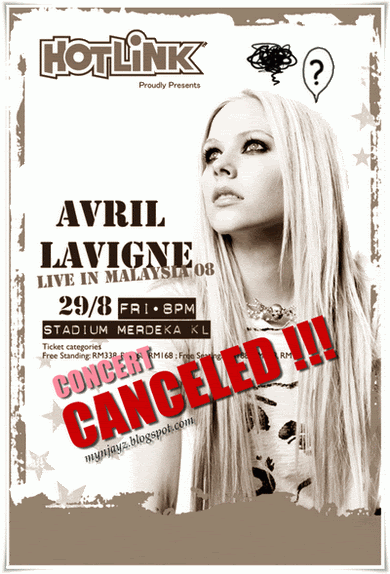 WTF. Avril's concert cancelled? Can't you believe it? Avril Lavigne concert was called off and was canceled 3 days ago according to the news media press saying that it may taint the Muslim-majority country's independence day celebrations on the 31th of August and could not be held on 29th of August, which is two days ahead of Malaysia independence day.

The Islamic opposition also did slammed her show as being "too sexy" saying the singer's "prancing" performances were not suitable for locals. According to the opposition Parti Islam SeMalaysia (PAS), saying the young pop-punk star's loud shows were not in line with local culture.


Said Herman Samsudeen.
"This show is not suitable for our local culture, our independence month should be marked by respect and not remembered by inviting the off springs of colonists who will teach our children how to become modern monkeys, prancing around without any purpose.
We don't want our people, our teenagers, influenced by their performance. We want clean artists, artists that are good role models."


mynjayz says
:
How clean you want?! Avril in tudung and jeans singing when you're gone? Seriously, WTF !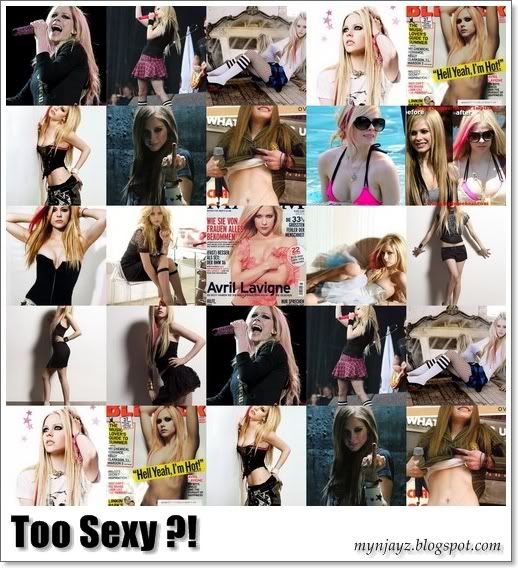 Too sexy? Or is it because how the Malaysians thinks?

Oh ya, about half the concert tickets had already been sold off. How are they gonna deal with it? My friend had 5 tickets in hand, looking forward and was exited about the concert but then... sigh.

Okay lets see what other same cases in the past had happened before in Malaysia.

Meriah Carey had a concert here in Malaysia before and forced to wear jeans.
Pussycat dolls was fined 10,000 Ringgit due to inappropriate dressing.
Beyonce's concert at Malaysia was canceled too. Instead she went to Indonesia.
Christina Aguilera skipped visiting Malaysia on an Asian tour after a controversy over a dress code problem.
Gwen Stefani wearing slim cut and tight jeans also kena diao (hantam)?
Haih.... I wonder why all these controversy of "dressing" could even happen in Malaysia. I heard the organizers went for an appeal today. But 29th of August is 2 days earlier of
Malaysia independence
day. Thus, they need to prepare for the decor and rehearse thinggy there. So i think less possibilities they will approve lor. I really hope she can come. Even though without tickets, I would willing to stand outside the stadium and jump like a mad person just to hear her voice.



EDIT :


Maybe there's still a chance the concert will be on this 29th of August. But I think most probably it will be postpone to another day. Had a strong feelings about that.