Malaysia World No.2 badminton athlete Lee Chong Wei who represent Malaysia for badminton in Beijing Olympic tournament is Malaysian ONLY hope to get a medal back home. He had his place in the finals
against Lee Hyun-il of the Republic of Korea beating him 21-18, 13-21, 21-13 in the semifinals of the Men's Singles competition this evening.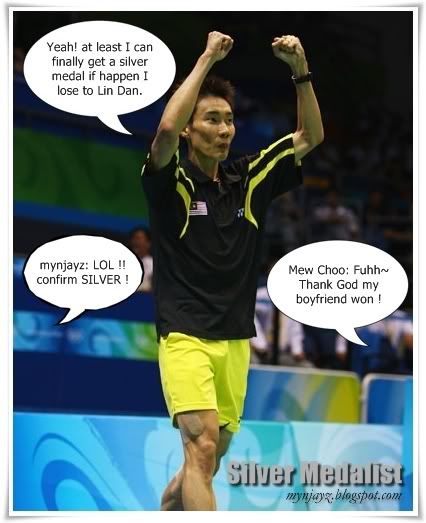 P/ S : Yes, Malaysian badminton women singles Wong Mew Choo is Lee Chong Wei's girlfriend. lol.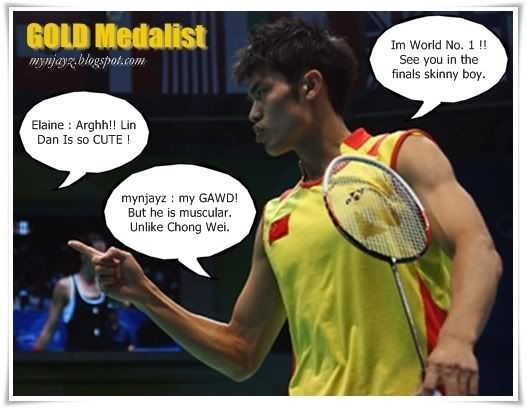 On the other hand, Lin Dan from the China defeating his teammate also from China Chen Jin by 21-12, 21-18 in
he Men's Singles competition this evening.

So the final match will be the World No.1 Lin Dan against the World No.2 Chong Wei. It's on Sunday. Is a MUST to watch. Im gonna be in RED ! lol
. Well, Im not being an obedient Malaysian citizen who doesn't supports Malaysia ! Instead I support the World No.1 Lin Dan. lol.

Being a truly Malaysian, I prefer to SHOUT : Yay! Chong Wei enters into the final for the SILVER medal !


Why me say so? Reason cause if Chong Wei really happen to lose in the finals, I wont be that sad and disappointed about it. And, if Chong Wei happens to win in the finals againts Lin Dan, den I would be happier cause I did aim low for a SILVER. I bet Chong Wei himself doesn't even hope anything but to give his very best in the finals to make Malaysia proud. We dunno cause anything might happen!


Malaysian national swimmer Daniel Bego and Lin Khoo Chai. Both lost in action @ Beijing Olympics 2008. Sadly.




P/ S :
MALAYSIA BOLEH !!