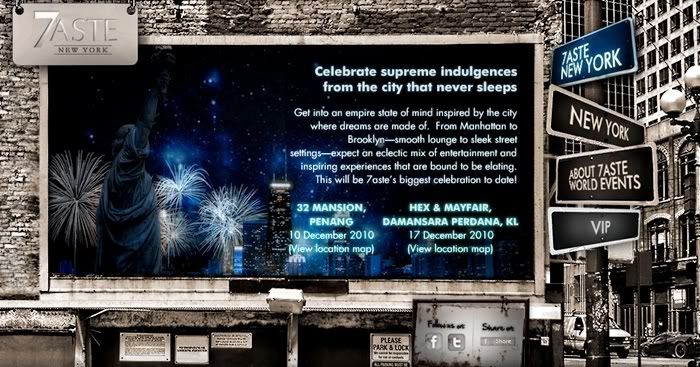 YES! This will be the biggest 7ASTE celebration for year 2010!
7aste New York
Innovate, travel, premium, inspiration, genuineness, sophistication, optimistic, harmonious, contemporary.
Ultimately the brand essence is smoothness – that inspires.
Make sure you join the 7ASTE New York at :
10th December 2010 (32 Mansion, Penang)
17th December 2010 (Hex & Mayfair, Damansara Perdana)
Here are some pictures!
#1
#2
It's pretty fun! You can see all my previous blog post about 7aste here and there's no reason why you are not interested to attend this event.
CAPE TOWN
MONTE CARLO
All you have to do is, log on to
www.7aste.com
. Register and you are entitled to enjoy full access to the world of 7aste! Upon registration, you can take advantage of all the benefits and privileges that 7aste has to offer.
P/S : Take note! Please register yourself and the non-members will be charged RM77 each at the entrance.
Better be early to register! See you guys there this 17th December 2010 @ Hex & Mayfair, Damansara Perdana.
Do check out
www.facebook.com/7aste