After 2 weeks plus using the HTC Desire Z and finally yesterday, I've did a comparison on my HTC desire Z and the Desire HD! I did had my own sweet time to explore around. The pros and cons between 2 gadgets. Also includes iPhone and Blackberry.
First and foremost, the HTC Desire HD is really really HUGE! and SLIM. It's pleasant on the eye but not on your palm or pocket. I prefer the size of the Desire Z. but not the thickness of the Z. lol.
I've also put an iPhone right beside as well to compare on checking the speed of 3 phones. with all the same telco service provider, same location, Google-ing the same thing (Boxing Day). Apparently the (Apple iPhone 3G) loads the fastest, followed by the HD and the Z with almost the same time. WOW! I'm surprised. I don't understand why? In fact it's slower for like 5-6 seconds.
Not to mention, I realize my Desire Z eats up a lot of battery! A full charged battery can't last for the whole day of cause. If continuously using it, (games, music, surfing web, social media sites, notifications etc) guess it would just last only for 4-5 hours MAX. Same goes to the iPhone 3G and the 3Gs. But not too sure about iPhone 4 though. But good thing is, you can do the alternative by purchasing another battery for the HTC Desire Z as backup? iPhone's can't! You'll need a external charger/charger/car charger where ever you go. but stilll....
Also, as you know the back battery cover of the Desire Z is made from aluminum. It's nice to know it's not plastic. lol but when it starts to get hot, it's not really pleasant to touch. Battery life is very important for me. I need to keep my phone alive for email's, calls, messages, social media and so on. But the Desire Z's battery life is not that strong/long lasting enough for my needs.
Apart from that, another issue I would love to highlight for Apple and HTC gadgets is (Transferring files from PC -Phone OR Phone -PC)
I hate the fact that Apple requires iTunes to transfer all data, photos, videos and whatsoever media which is in there. Plus the SYNC takes ages to load. I gave up? cause I was an iPhone user before I change to Blackberry Curve and now HTC Desire Z. Basically, I've used all brands of phones and I know what's convenient for me for files transferring. In this case, HTC and Blackberry WINS. It's as simple as dragging items into your phone folder. No password or ID required and so on.
I've got more to highlight! About the sound quality for the Desire Z. What happen to the BASS on the phone? I have no idea whether it's my ears problem or what? I don't get to hear any BASS from the Desire Z. Weird! There's no bass control, treble control whatsoever. Am not happy about the sound quality. In this case, I would say Blackberry WINS for the clarity, bass, treble, sound quality etc.
On the other hand, noticed the (black colour square Track Pad) on the Desire Z (Middle) ? I guess we don't really need that. For the pass 2 weeks I never even touch the track pad before. WHY?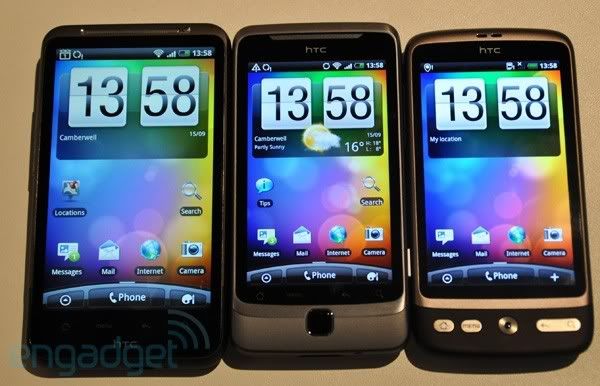 It's touch screen. You'll touch the screen instead of the Track Pad. Unless It's Blackberry.

There's already a HOME, MENU, UNDO and SEARCH touch above the Track Pad.

It's not proportionate. The Track Pad should be at the middle of the phone for the position of our thumb. (eg: like the Blackberry would be a good example)

It's totally not necessary. The Desire HD (Right) would be a better example. NO Track Pad at all. Agree?


About HTC Sense.com. I tried loading the website also to my phone but it seems like I'm having a problem loading it. Dammit! But nevertheless the features (HTC Sense) is really awesome.
What's HTC Sense means?
HTC Sense is an experience designed around many little insightful ideas. Ideas that seem so simple, you think "why hasn't any one else thought of that? It just makes sense." It's a phone experience full of lots of little surprises, delighting you every time.
That's all for now. To be continued. This is #Maxis 10 Reviewers Programme - HTC Desire Z
...