First of all, I would like to thank #Maxis10 for giving me this opportunity to be the chosen one for one of the #Maxis 10 Reviewers programme - HTC Desire Z. I was quite shocked when I received a call saying that I was the chosen one. In fact, I waited for so long and all my friends were chosen except me.
Finally, here I am after the past 6th phone reviews. I was looking forward for the HTC Desire HD but too bad Maxis took HTC Desire Z instead. But still, I will do a comparison on both phones although both comes from the same manufacturing brand company, HTC.
Nevertheless, HEY it's still a great phone! This is Me and other 9 chosen influential bloggers. Print screen @Maxiscomms tweets.
Here are they. I'm on the 9th. (On my left)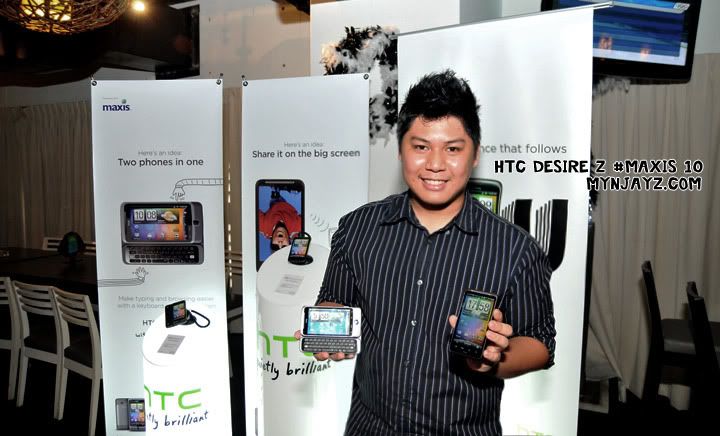 Apart from that, I got to test the HTC Desire HD from a random event after I got my Desire Z. Good thing I can compare it with my HTC Desire Z. After comparing it, both models cost the same but have a different outlook and specs.
By the way, my bother is getting the HTC Desire HD from DIGI. And I'm currently using the HTC Desire Z. Ahh bother indeed brothers. We can exchange phones!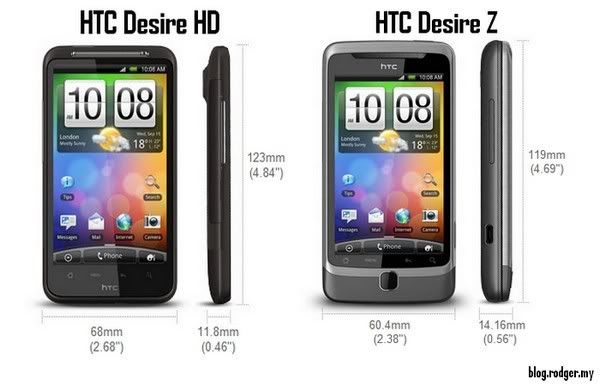 The HD is a FULL touch screen phone. It has a bigger screen, taller, wider, thinner. As you can see from above. OH well, very obvious it beats my HTC Desire Z through the outer looks. For a guy like me, I would prefer more on HUGE Screens. I'm more to a entertainment/lifestyle person. The HD has 8 Megepixel camera with a CPU Processing Speed of 1GHZ. The Z is only 800 MHz CPU Processing Speed and 5 Megapixel for the camera. There's not much difference, it's still good enough for a 5 Mega and a 800MHz CPU processor.
One thing similar for both phones is that, it runs on
ANDROID
2.2 (Froyo) with HTC Sense.
What is HTC Sense? Adapted from
http://www.htc.com/
- HTC Sense is an experience designed around many little insightful ideas. Ideas that seem so simple, you think "why hasn't any one else thought of that? It just makes sense." It's a phone experience full of lots of little surprises, delighting you every time. Will be blogging about this feature on my next blog.
Also, there's something that the Desire Z have and the HD don't! Read more to find out.
In the box:
* HTC Desire Z device
* Stereo headset with microphone
* AC adapter + Charger
* microUSB cable
* 8GB microSD card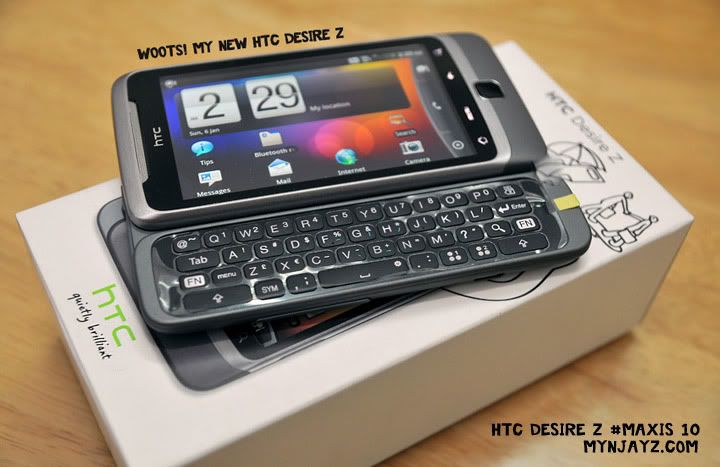 One thing attractive I've observed on this HTC Desire Z is the dual keyboard. Which is a plus point for a touch screen phone. Normally people will choose either a touch screen phones OR Smart qwerty keyboard phones. Here's an idea of HTC Desire Z, Two phones in One. "The Best Of Both Worlds"
What's more important to you? A super responsive touch screen that lets you surf the web with a mere touch or a qwerty keyboard for quickly shooting off texts or emails? With the HTC Desire, Z you get both. The 3.7 inch touch screen is perfect for browsing the web, checking your friends' latest updates, or checking up your email. If you're attempting to do some serious messaging? Pop open the keyboard, the keys are nicely spaced and raised for fast comfortable typing. I prefer more on the keyboard because I have fat fingers. I would tend to often type the wrong alphabets on the touch screen.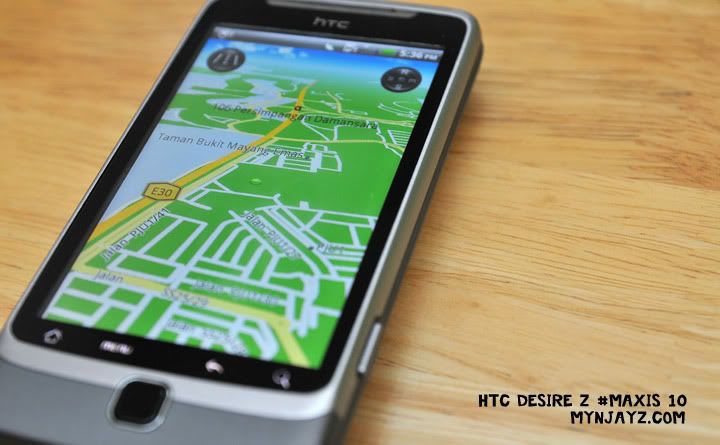 Haven't said that HTC Desire Z has an offline GPS installed in the HTC Desire Z which enables you to search for location even when you're tired of waiting, and paying. As maps slowly download? Get there faster with The HTC Desire Z GPS maps with zero wait, zero data roaming fees where ever you are. Maps on the HTC Desire Z always point you in the right direction. Need an ATM, a gas station or a restaurant to eat? With HTC Desire Z, the offline GPS/MAPS will be your lifesaver!
This is what I have so far when I just got the phone. I will need to take some time using the phone and experience it myself for a week or two. Meantime, here are the specs of the HTC Desire Z.
Detailed specifications
*CPU Processing Speed: 800 MHz
Storage
*Internal phone storage: 1.5 GB
*RAM: 512 MB
Expansion slot:
* microSD™ memory card (SD 2.0 compatible)
Connectors
* 3.5 mm stereo audio jack
* Standard micro-USB (5-pin micro-USB 2.0)
Sensors
* G-Sensor
* Digital compass
* Proximity sensor
* Ambient light sensor
HTC Widgets
* Bookmarks, Calculator, Calendar, Clock, FM Radio, Friend Stream, HTC Likes, Mail, Messages, Music, Navigate, News, People, Search Anywhere, Settings, Stocks, Twitter™, Weather, and more
* Downloadable widgets
Multimedia
* Gallery, Music, and FM Radio
* Share videos, photos, or music from your phone to your TV via DLNA®
Audio supported formats:
* Playback:.aac, .amr, .ogg, .m4a, .mid, .mp3, .wav, .wma (Windows Media Audio 9)
* Recording:.amr
Video supported formats:
* Playback:.3gp, .3g2, .mp4, .wmv (Windows Media Video 9)
* Recording:.3gp
Battery type:
Rechargeable Lithium-ion battery
Capacity:
1300 mAh
Talk time:
* WCDMA: Up to 400 mins
* GSM: Up to 590 mins
Standby time:
* WCDMA: Up to 430 hours
* GSM: Up to 430 hours
Network
- Asia Pacific:
* HSPA/WCDMA: 900/2100 MHz
* GSM: 850/900/1800/1900 MHz
Platform
*Android™ 2.2 (Froyo) with HTC Sense™
Camera
* 5 megapixel color camera
* Auto focus and flash
* 720p HD video recording
* Face detection capability
* Built-in effects include depth of field, vignette, and more
* Geotagging
Internet

3G:
* Up to 14.4 Mbps download speed
* Up to 5.76 Mbps upload speed
GPRS:
* Up to 114 kbps downloading
EDGE:
* Up to 560 kbps downloading
Wi-Fi®:
* IEEE 802.11 b/g/n
Bluetooth®
* Bluetooth® 2.1 with Enhanced Data Rate
* A2DP for wireless stereo headsets
* FTP and OPP (object push) for file transfer
* Other supported profiles: AVRCP, GAP, GOEP, HFP, HSP, PBAP, SPP, Service Discovery Application Profile
Social Networking
* Facebook® and Twitter™ for HTC Sense
* Friend Stream
* Share photos/videos on Facebook®, Flickr®, Twitter™, or YouTube™
* HTC Peep for tweeting
Location
* Internal GPS antenna
* With Locations, explore maps with zero wait, zero dead spots, and zero data roaming fees
Tethering
* USB and Wi-Fi® tethering
Special Features
* Register at HTCSense.com to manage your phone remotely and protect your phone in case of loss
* Check email from all your email accounts in one unified inbox
* Watch Adobe® Flash® on websites
* Easily transfer contacts, calendar events, and text messages from popular brand phones via Bluetooth
Recommended Windows System Requirements
* Windows® 7, Windows Vista®, or Windows® XP
* HTC Sync
After using the phone for a few days, I think I will strongly agree with HTC freak, FLYGUY. Both of em are one wicked beast phones.
Stay tune for more specs reviews/pictures/experience/comparison on my HTC Desire Z only @
MYNJAYZ.COM
.
...