A continuation of my post about the previous
#Maxis 10 Reviewers Programme - HTC Desire Z
Here's another part of review post for the Desire Z. Read what I have to say!
I've been using this phone for almost 2 weeks already since I got it from Maxis. It has been such a great phone to me compare to what I'm currently using before I got the Desire Z, Blackberry Curve 3G. I can give out tons of points/facts of what HTC Desire Z could be a better phone for me. Even the iPhone 4. I personally think that the HTC Desire Z are quietly brilliant.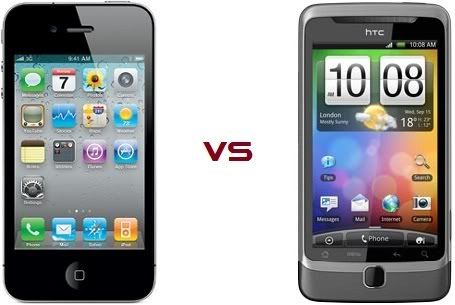 I would admit that both phones are brilliant. Both device has pros and cons. To narrow down the cons in each phone. On my own personal opinion, I will state a few here to compare which is worth buying.
Comparison.
iPhone 4 : Face time, HD 720p Video camera, 5 Mega pixel camera, IOS4, multitask, retina crystal clear screen display, LED flash, internal memory 16GB, 32GB, RAM 512 MHz.
Desire Z : HTC Sense, All in one Inbox, Offline GPS/Maps, 5 Mega pixel camera with different shooting modes, 720p HA video recording, LED flash, ANDROID 2.2 (Froyo), Dual touch screen & qwerty keyboard, RAM: 800 MHz, Memory card slot.
It's pretty obvious that the Android is leading. ngek. Agree?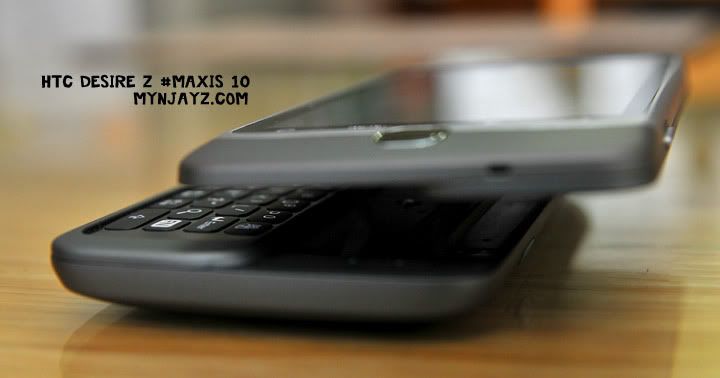 We would get the point of a Z-hinge, if we could tilt the screen up, but in this case, meh, just one more thing that could easily break. Especially worrying is that the thin cable, which connects the LCD display to the chipset, is exposed upon opening and closing, but, hey, a company has to stand out somehow, right?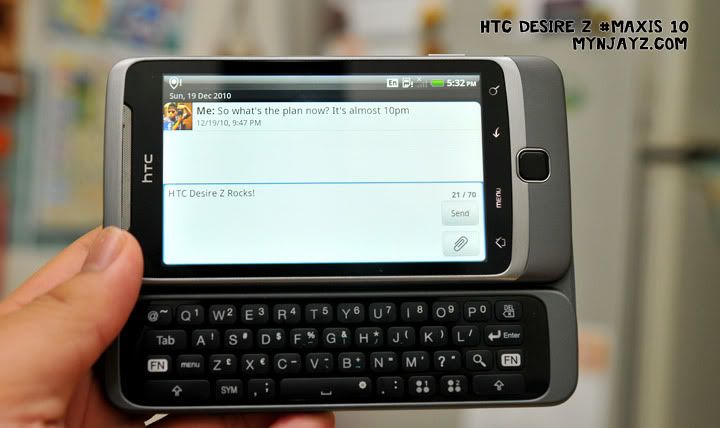 I would flip down the keyboard when it comes to messaging. As you know I have thick and fat fingers. haha I used to miss type the alphabets wrongly on the touch screen. But i like touch screen features when it comes to task except texting/messaging.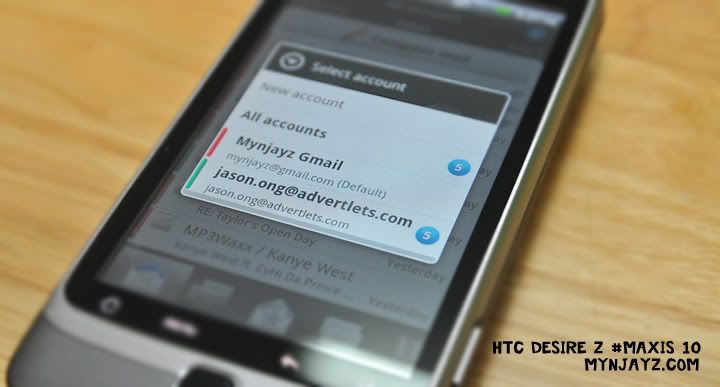 It enables me to put all my email accounts in one inbox.
We all have different email accounts – work, home, social and more email's for other purposes. But now you don't have to keep jumping between them. HTC Desire Z grabs emails from each of your different accounts and puts them all into one inbox. How awesome is that? It's less fussy for me to keep signing in and off as i needa switch email account. I have 2 email account which I'm using quite active for my work & personal life. It had made my life easier :)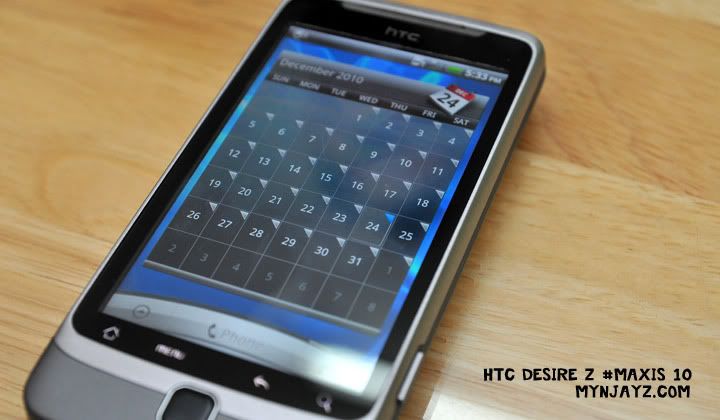 When you have to do lots of things at once, you want a phone that can do the same. With its quick processor, HTC Desire Z lets you access work emails and calendars with Microsoft Exchange, view Microsoft Office documents and research online, all at the same time. It's very organize as I wont miss a friend's birthday or even miss any appointment. In fact, I don't really need a PA already.
Favorites contacts never been this nice before. I like the thumbnail version of how they display my favorite contacts. It brings more feel on using the phone don't you think? iLIKE!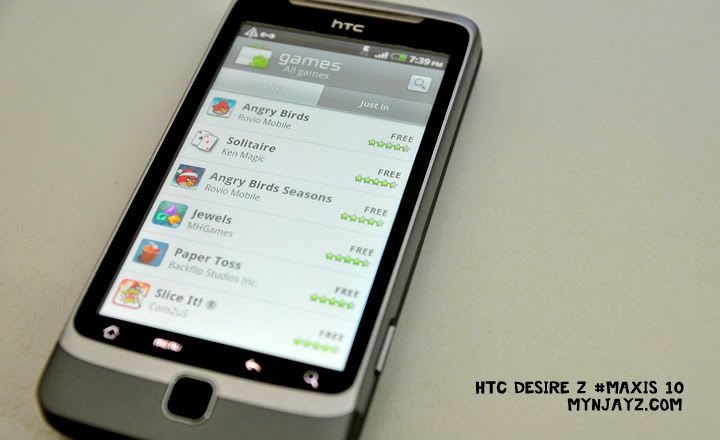 Fast forward another two years, and developing for Android is profitable enough to have filled the Android Market with more than 100 000 applications. There's a lot of Free applications/games available on Android market already.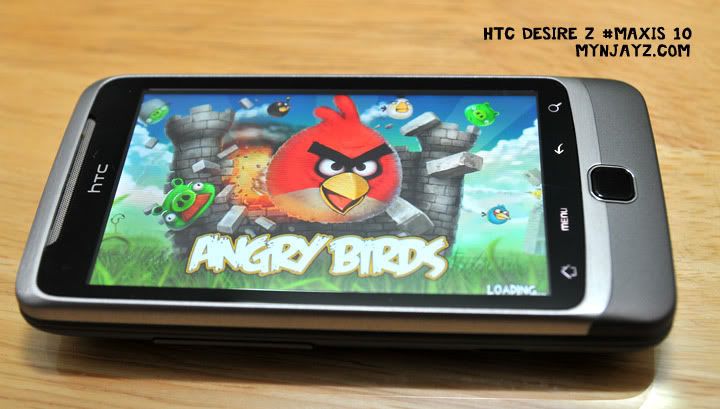 I used to play this game on my ex-iphone 3G. Now, it's on my Android.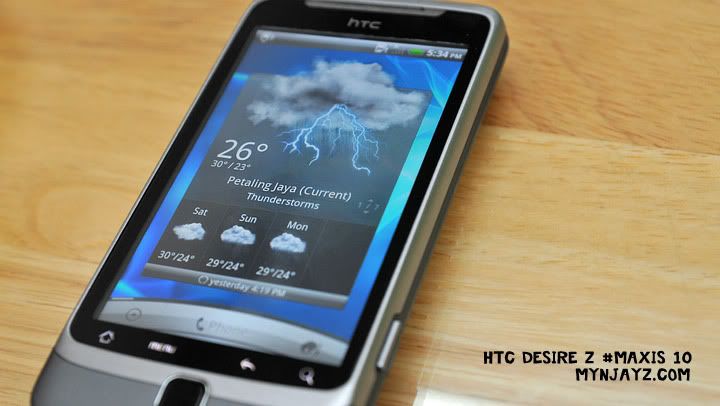 Speaking of weather forecast, the HTC Desire Z gives me very accurate weather predictions. either its 3 days after or 3 days before. Where ever and when ever you travel. Guess it's from the HTC Sense? Hmmm its a very useful feature.
That's all for this post!
Next #Maxis 10 Reviewers Programme - HTC Desire Z blog post. Expect to see some videos from the Desire Z, What's HTC Sense all about, How HTC Desire models evolve since the first model etc. Stay Tuned only at
MYNJAYZ.COM
MERRY CHRISTMAS EVERYONE!
...