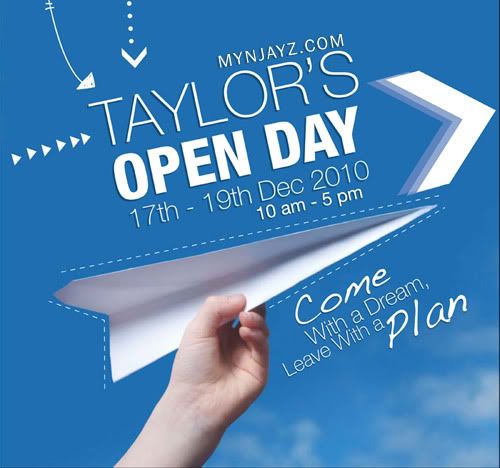 Oh look! It's Taylor's Lakeside Campus Open Day! ( Hari Terbuka Taylor's Kampus Lakeside )
I remembered a year ago I was invited from a friend who's studying in Taylor's College to pay a visit on the New Taylor's Lakeside Campus. Yes, it was still a College status last year. Now, It's a University already!
Check it out my blog post link below regarding Taylor's University visitation.
http://mynjayz.com/taylors-lakeside-campus-visitation
Anyhow my main point is not about that, it's about the Open Day! THUS, please mark your calendar on this weekend 17-19 Dec, it will be Taylor's Open Day at Lakeside campus! Details as below :
When?
17, 18, 19 December 2010 (Friday-Sunday)
Date?
10.00am-5.00pm
Where?
Taylor's University, Lakeside Campus - 1, Jalan Taylors, Lakeside Campus Kuala Lumpur, Malaysia
For those who are looking for a place to study after your SPM? and still wondering what you should pursue on your studies? Confused? Check out what Taylors University have to offer, come meet their Deans, career counsellors and industry experts who will help you chart out a tertiary education that will lead you to your dream career.
Some of the activity that they have on that day:
Hot Air Balloon from 10am to 12pm: FREE Ride.
Test drive a student designed car built by Formula Varsity Race Champion Team from School of Engineering!
Science of Food Workshops.
Taylor's Lakeside Campus Tour.
Career Talks.
Career Test.
Register for Scholarships.

P/S:

Get RM 200 off for Early bird Registration Discount (promotion valid till 19 December 2010 with Terms and conditions apply)
Bring your academic results to apply early before you regret
I shall see you there on the Open Day
:)
More Details of Open Day:
FB event (

link

) and visit

www.taylors.edu.my




Come with a Dream, leave with a Plan.
...