YES. It will be a 4D3N stay in Shanghai. Leaving on the 2nd December 9.00 am flight. TODAY/LATER.
Here am I doing a short update on Hennessy Artistry Shanghai Halo 2010 before my flight. Well, this would be my first time going to Shanghai, China. Exited much. And how could I not accept the offer where I've been one of the selected one, put me into a jet plane to China attending events and party?

Year 2010 have seen the light of many Hennessy Artistry parties all around the globe which includes major cities such as Los Angeles, London, Taipei, New York as well as smaller cities such as Singapore n Kuala Lumpur as well.
This coming December 4th – Hennessy Artistry 'The Global Art of Mixing' will set foot at the recently re branded six multi-level Shanghai Expo Mercedes Benz Arena which seats up to 18,000 – hoping to be equivalent to landmark venues e.g. O2 Arena @ London / Staples Center @ LA. Wooots. Will be going there together with 13 other people, flying off to Shanghai just to attend an event and party. This does sound way too good to be true.
Meantime, it's now 1.30am in the morning. 2nd Dec. Here are some updates you will expect in my journey to Shanghai in within these 4 days.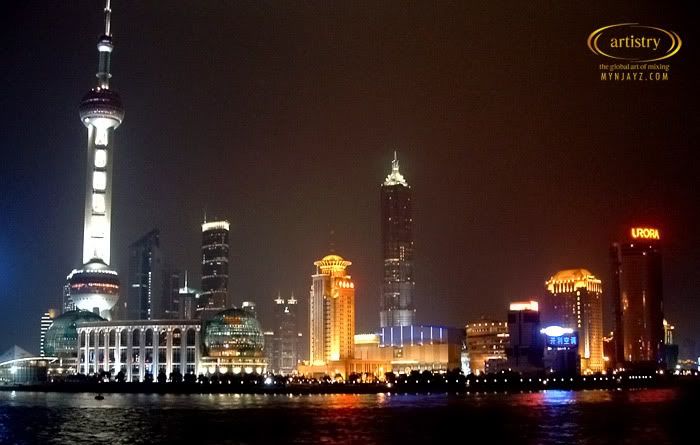 Yes this is SHANGHAI. The Bund. Exited much.
And so, we'll be placed in Grand Hyatt Hotel on the Bund for three nights and best part is – its not twin sharing. It's for me, myself for my own for the whole 4D3N! It's a luxurious 5 star hotel and its uniquely located on the banks of Huang Pu River at the northern end of Bund in Shanghai.
Here's pictures of Grand Hyatt Hotel, Shanghai.
Places we're going for sightseeing consist of Jade Buddha temple, Yu garden, City God Temple, Plaza 66, CITIC, Oriental Pearl TV tower, Shanghai Expo Mercedes Benz Arena and so much more!
So Malaysia had Flo-Rida, Fatman Scoop, Shayne Ward, Boys Like Girls, Kardinal Offishall, Machi, Da Mouth, Lenka, Dominique Tsai n The Ying Yang Twins to name a few. Here's what we have in Hennessy Artistry Shanghai Halo 2010.
Ciara, Harlem Yu (庾澄慶), Seo In Young, and Sa Ding Ding and many more!
Can't wait to go there. It's snowing there highest 10degrees and lowest 2 degrees. It's gonna be a freaking cold place up there but i think I can stand the weather with my fats. I believe so. Also I will be bringing my lappie there and I will be bringing you live updates from
www.mynjayz.com
@
www.mynjayzphotos.blogspot.com
throughout my 4-days stay there!
Not to mention the most important task of this whole trip is to take NICE pictures back home!
Are you as exited as I am?
...