This is my teaser post :
http://mynjayz.com/teaser.hennessy.artistry.shanghai.2010

DAY #1 : Trip to Shanghai + Hennessy Artistry Shanghai Halo 2010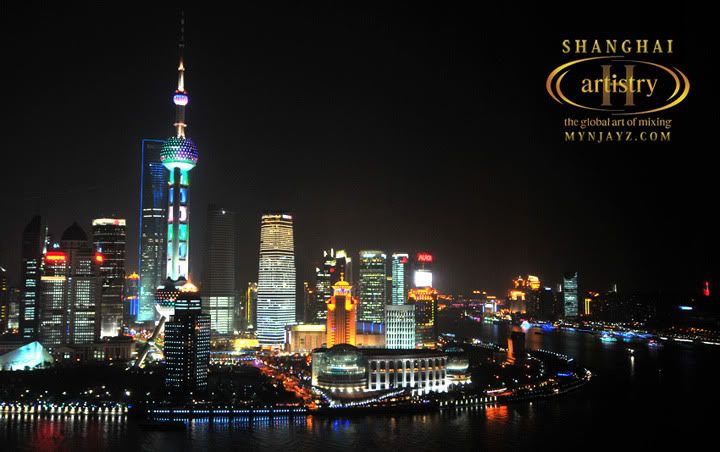 Haven't been sleeping the whole morning/night before my flight early in the morning. Afraid that I would have missed the flight as I need to reach KLIA as early as 7am in the morning. I better off not putting myself in danger. This is a very important trip, a rare opportunity trip.
Yes I manage to be there in the airport in time, flew in time without delay with Malaysian Airlines, reached Shanghai Airport after 5 tiring hours flying in the jetplane. Touched down with a welcome 12 degree Celsius temperature @ 3.00pm.
HELLO, CHINA. kissed ground.
And here's how my DAY #1 summarize trip photo + blog.
KLIA. MAS Airplane.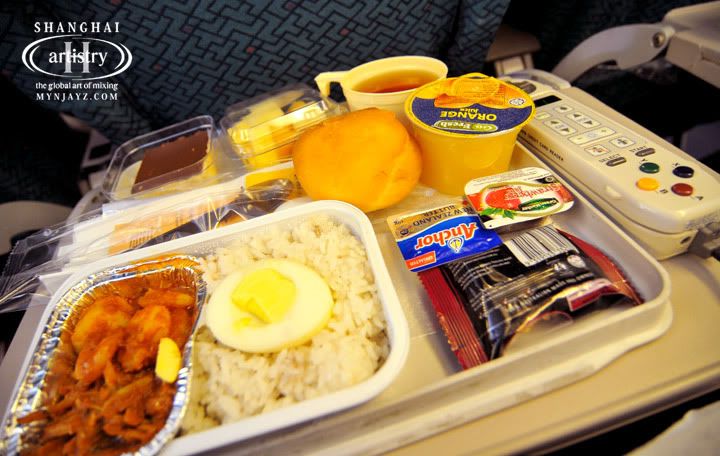 Food served in the plane. Not bad eh.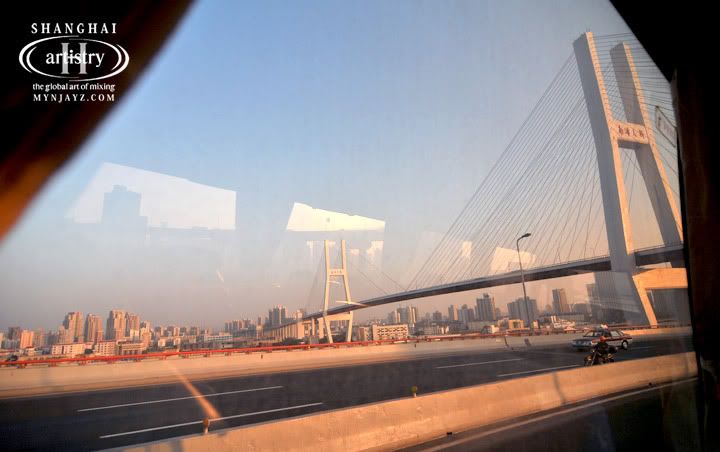 Passed by the famous bridge in Shaghai with LED lights glowing in the dark. which also looks like our PENANG bridge in Malaysia.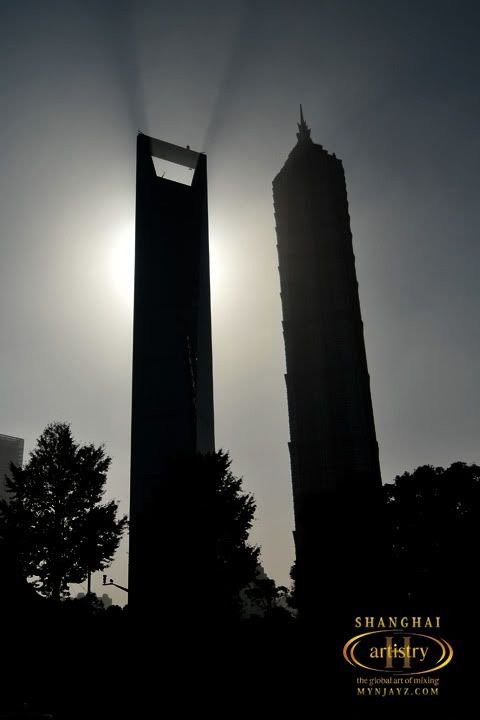 On our way to the Hotel, manage to took a silhouette shot of China's tallest building. Probably the 2nd highest building in the world. Higher than Malaysia's KLCC though.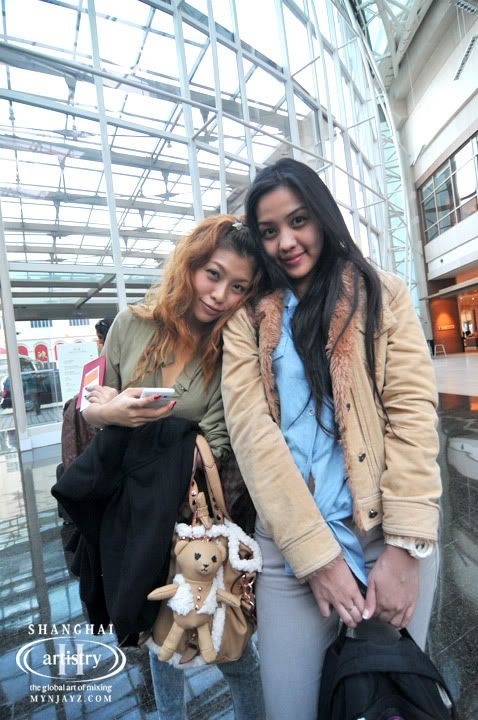 Tired looks of Ringo and Helenness after the 5 hours flight and we're finally here at our hotel.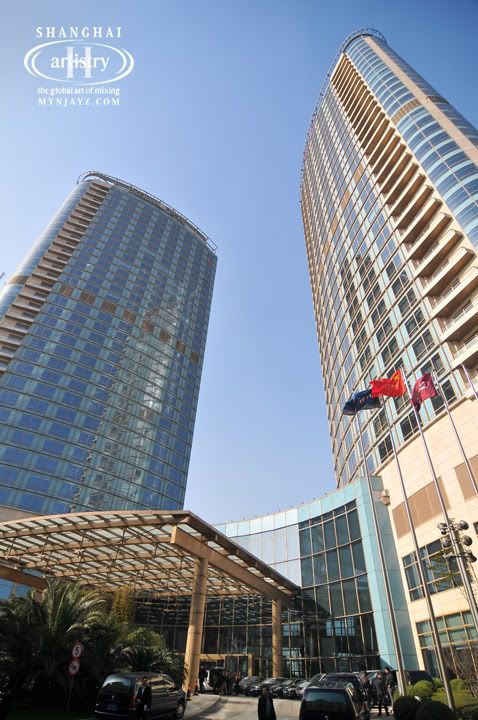 HAYATT Hotel on the Bund. This Luxurious 5 star hotel has the best view of the banks of the Huang Pu river at the northern end of the Bund in Shanghai, China.
BEST part was we were given a room each. Total we have 13 of us, which means 13 rooms in 3 nights! That would cost da BOMB for such hotel. *THUMBS UP* Meantime, lets check out my hotel room.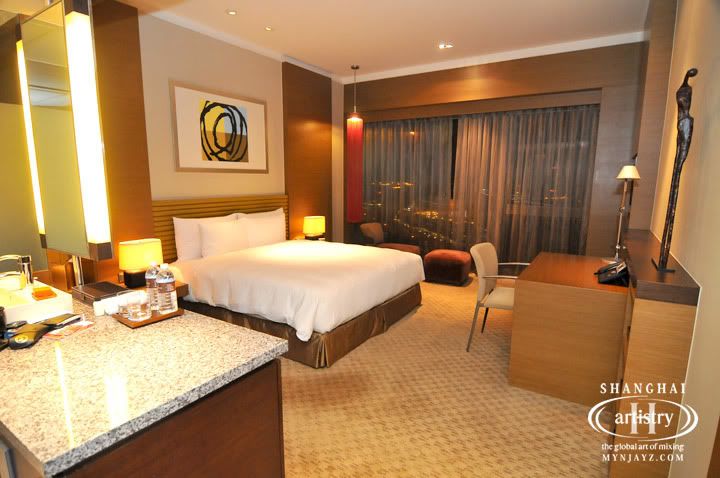 It's located in the 16th floor. Not to bad, compared to Ringo's 28 floor which is almost up to the top on the hotel. Lucky her as well her room has the BEST view of all. Nevertheless, mine is not too bad as well.
Pretty spacious and nice eh?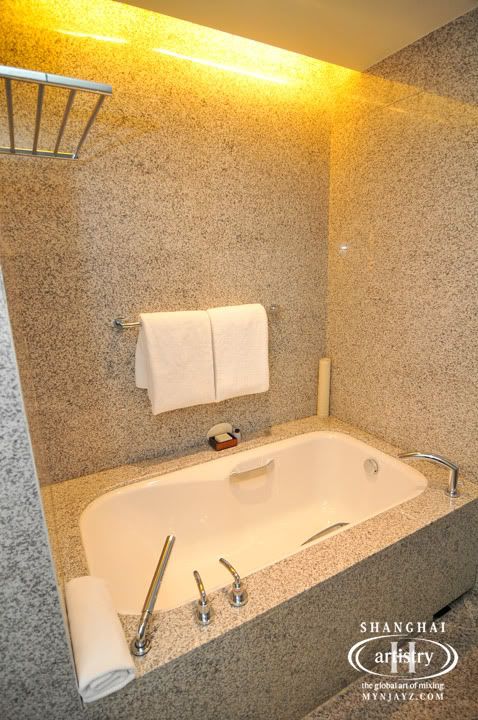 Bathroom equipped with bathtub as well. Where's my music and nuts? haha.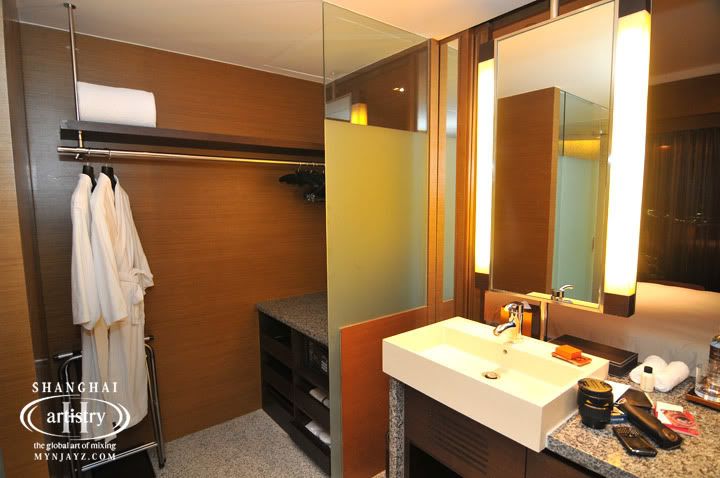 Room is equipped with highspeed wifi, YES but sadly I can't access social media websites like,
FACEBOOK
, YOUTUBE,
TWITTER
, FLICKR and even BLOGGER. Which made me unable to blog the whole trip there in Shanghai. Coulden't be bothered to get the VPN there which I have to idea how!
No LIVE updates, ended up updating it here back in KL.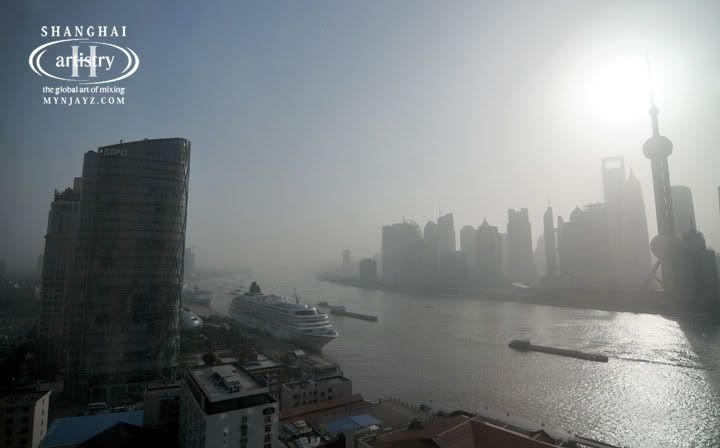 This view was shot at my hotel room window.
Proceed to dinner time at night, we went to this very famous restaurant in Shanghai. Totally forgot what the restaurant called but it was an old classic chinese restaurant. When I said classic means it's really CLASSIC & OLD SCHOOL! Check it out.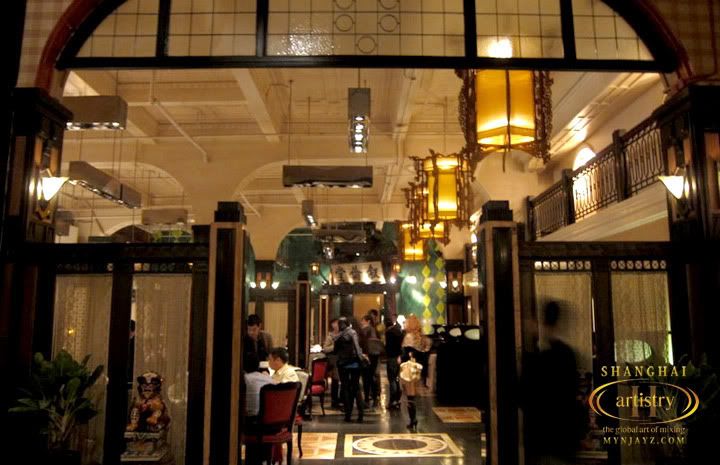 Yeah you get what I mean.
Haven't said that, there's classical opera show performance as well.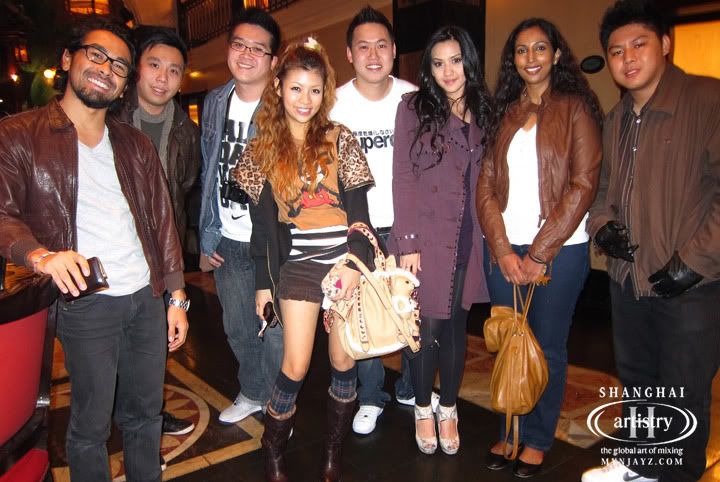 Group Shot from Left: Ali, Jeff, Kelvin, Ringo, JasonK, Helenness, Fazz and JasonO.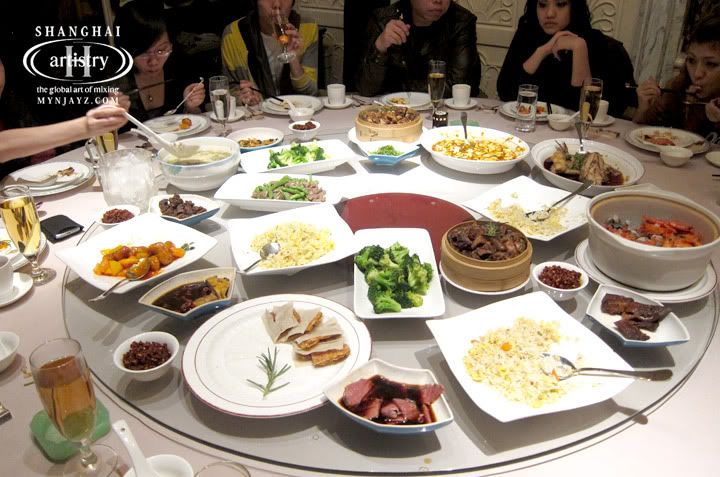 When we were in Shanghai, they seriously fed us a lot. Shanghai Chinese Cuisine. Every meal we ate, there will be roughly more than 20 dishes on our table. For 13 people. STUFFING! Gained weight Yes i did but who cares, I don't often get this opportunity so yeah.
I stuffed whatever I can into my mouth... I is Enjoys!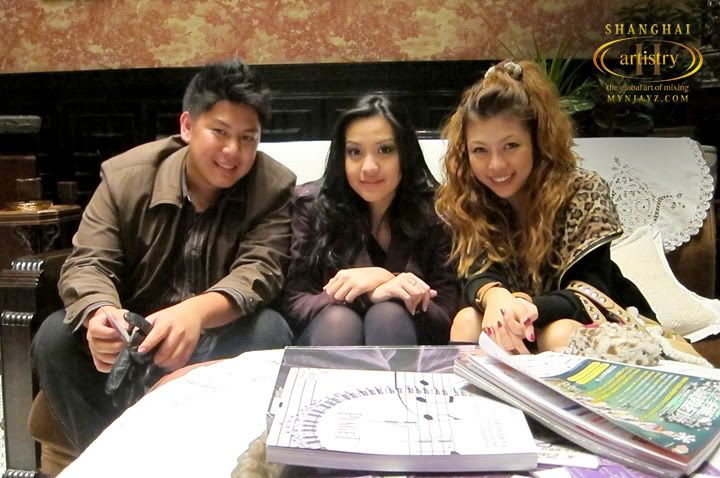 A photo of the selected bloggers from Malaysia! JasonO, HelennessC, and RingoT.
After dinner went around the CITY for nightlife sightseeing. It's cold out there till I need to wear gloves. Weather prediction, 8 Degree Celsius.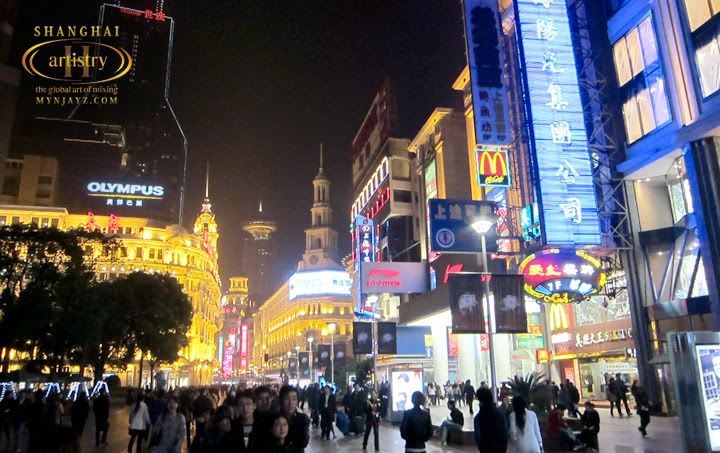 In China, people are not allowed to sell stuff on the streets to foreigners nor ask for money. So, there will be standby small petrol police car around there to catch those people. Pretty efficient!
Such a wonderful city!
The night just started, we went to one of Shanghai's most famous private club lounges called MINT for a couple of drinks. Party everyday.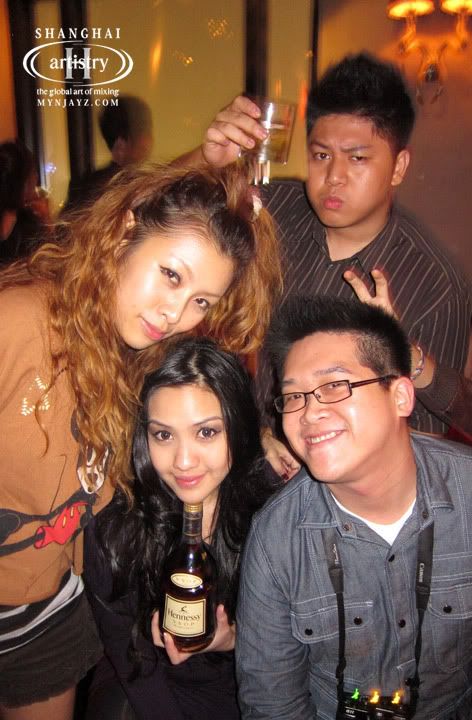 Cheers to Hennessy VSOP & MOET & CHANDON Champagne.
I looked drunk. More like sleepy eh. Okay this sums up my
DAY #1 : Trip to Shanghai + Hennessy Artistry Shanghai Halo 2010
.
What's NEXT?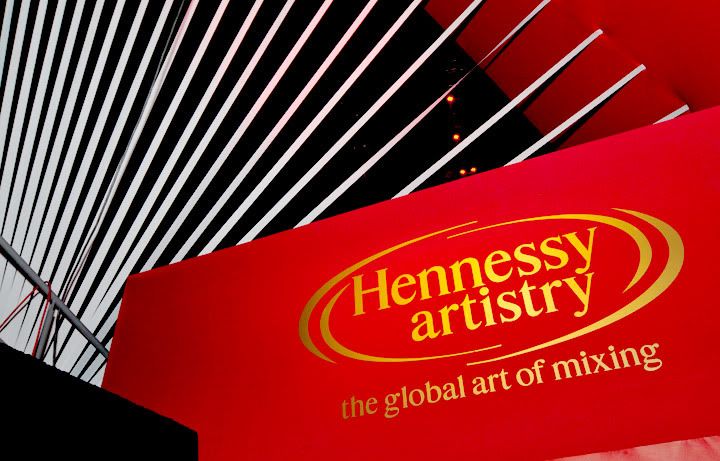 Stay Tuned Day #2 : Hennessy Artistry Shanghai Press Conference @ Mercedes Benz Arena.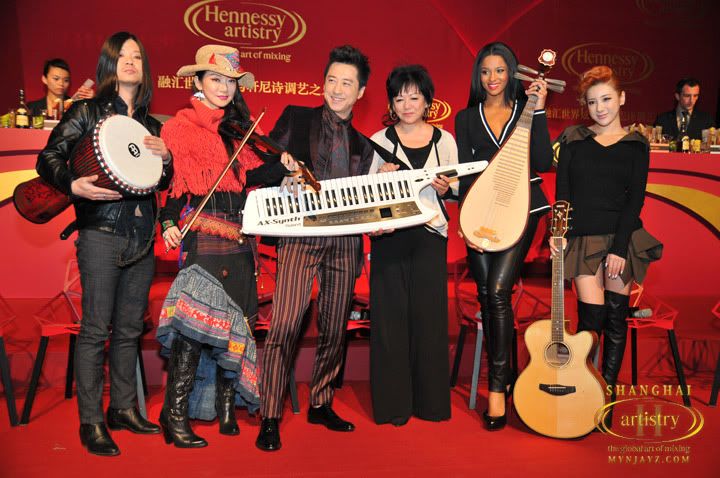 Featuring Artiste like Traditional Sa Ding Ding, Classic Harlem Yu, Ruby, R&B Star Ciara, so cute Seo In Young.
Do Stay tuned to
MYNJAYZ.COM
for more updates on my trip to Shanghai + Hennessy Artistry Shanghai Halo 2010.
...